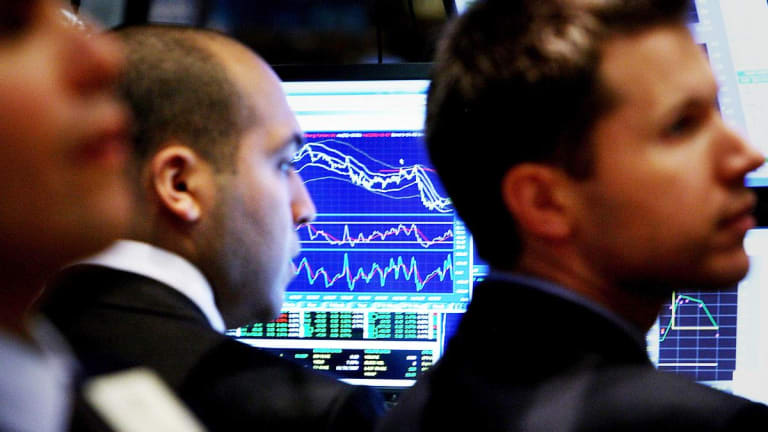 What to Watch as Markets React to Nvidia, Pinterest Earnings and Luckin's IPO
The markets are struggling Friday morning. Action Alerts PLUS senior analyst Jeff Marks breaks down Nvidia and Pinterest post-earnings, Luckin's IPO and a lookahead to retail earnings next week.
Happy Fri-yay!
There's a lot of news circling the markets Friday morning, but we're zoning in on Nvidia (NVDA) and Pinterest (PINS) , Luckin's IPO (LK) and a lookahead to retail earnings. 
Nvidia's Earnings
Nvidia posted earnings that beat expectations after the bell Thursday. 
Adjusted earnings in Nvidia's first quarter were 88 cents a share, beating forecasts by 30 cents. Revenue fell to $2.22 billion from $3.21 billion a year ago and came in roughly in-line with forecasts of $2.2 billion. Gaming revenue of $1.06 billion beat forecasts, while data center revenue declined 10% from a year earlier to $664 million.
Last night, right before the earnings call, shares of Nvidia were up nearly 7%. However, after the call started and CFO Collette Kress disclosed that Nvidia would be going from yearly guidance to quarterly guidance, shares were only up around 2%.
Luckily, Jeff Marks, senior portfolio analyst with Jim Cramer's Action Alerts PLUS investing club, has been keeping a close eye on Nvidia since it's a holding in the portfolio. 
"They're trying to rebuild shareholder trust by taking a quarter to quarter approach. And you know, I happen to like a quarter approach, I thought it was a return to growth in gaming, which is key," said Marks.
Pinterest Earnings
Pinterest failed to impress investors when the company released its first earnings report. 
The adjusted loss in the quarter narrowed to 32 cents a share from 38 cents a year earlier but was wider than forecasts that called for a loss of 11 cents.
Revenue in the first quarter rose 54% to $202 million, ahead of analysts' estimates of $200.7 million.
The company promptly fell 15% in after-hours trading Thursday night. 
"Pinterest, what you need to keep in mind is this, this thing IPO at $19. It closed the day around $24-$25 and then it immediately ran after that. So what you're seeing today is after the first quarter, even though the monthly active users (MAU) were pretty good, that miss on the bottom line that you talked about is really freaking out of people out investors today," said Marks. 
Luckin IPO
Luckin Coffee's initial public offering was priced at the higher end of its target range, setting up a debut Friday on the Nasdaq that will value the China-based rival to Starbucks (SBUX) at more than $4.2 billion.
"[IPOs] can be tough. I do know that they are a competitor of Starbucks, but Starbucks seems to have a pretty strong grip in the Chinese market. So what I would say is that, look, if you're trying to play this IPO, you might have better luck at the Preakness this weekend playing one of the horses," said Marks. 
Related. Jim Cramer: A Surprisingly Predictable Selloff
Watch Jim Cramer's Daily NYSE Show and Replays Below