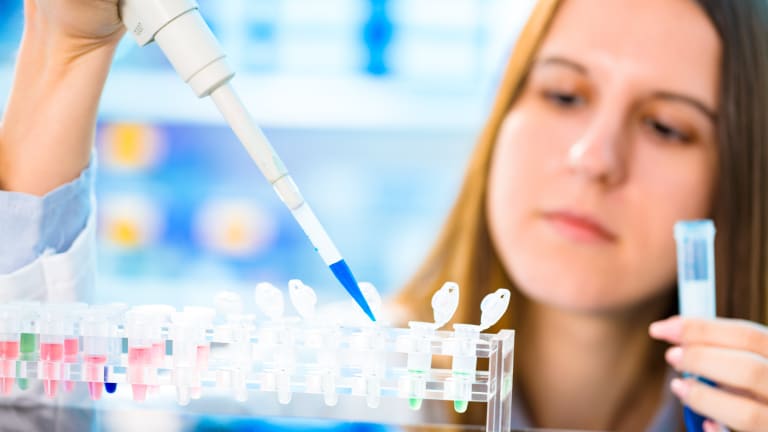 Our Verdict On This ~$6 Biopharma Stock
We provide a 'deep dive' on Pfenex after breaking news this week in the paragraphs below
We provide a 'deep dive' on Pfenex after breaking news this week in the paragraphs below
"People go to LA to "find themselves", they come to New York to become someone new." ― Lindsey Kelk, I Heart New York
Note: To comment on this article or to get and read these full articles free every day before the market open to your 'in box' as published, just hit the + Follow button in the upper right-hand corner of this site.
Today we look at Pfenex (PFNX) which is in the news this week after signing a significant deal with Alvogen for exclusive U.S. commercialization rights to PF708, a proposed biosimilar of Eli Lilly's Forteo. We take a closer look at this small ~$6 stock in the paragraphs below.
Company Overview:
Pfenex is a small California based biotech concern. The firm is focused on developing and improving high value protein-based therapeutics and vaccines. Management hopes to do so in a cost-effective manner that would in turn allow for broad access to people around the globe who require these treatments.
​
They hope to do so through by utilizing their Expression Technology, they state to be one of the most comprehensive expression technology platforms (over 150 host strain phenotypes and 100 cloning vectors based on Pseudomonas fluorescens) in existence. In addition to reduced costs, other benefits include increased efficiency and speed, a success rate of over 80% and increased scalability.
The company came public in the second half of 2014 and has a market capitalization just south of $100 million and trades just under $6.00 a share.
Pipeline:
The company´s pipeline is quite extensive. Pfenex has myriad collaborations including with 12 of 15 top pharmaceutical companies, which has resulted in several current royalty-bearing partnerships. The company also possesses a broad wholly-owned portfolio of product candidates we touch on below.
​
In December the company announced an amendment to its agreement with Jazz Pharmaceuticals (JAZZ) (originally granted worldwide rights to several early stage hematology product candidates) which will allow them to be eligible to receive an additional $43.5 million in milestone payments increasing total deal value to $224.5 million. They are set to receive tiered royalties on any worldwide sales of resulting products. Importantly, in the fourth quarter Pfenex received $18.5 million as part of their collaboration which is indeed material to their financial stability (still able to earn up to $189.25 million).
PF708 is their principal drug candidate to keep an eye on, as it is the therapeutic equivalent of Forteo (did $1.7 billion in sales in 2017). PF708 is being evaluated for the treatment of high fracture risk osteoporosis and to date the company has demonstrated bioequivalence in healthy subjects, high titer protein production, a significantly lower cost of goods and functionally equivalent pen device.
​
​
The phase 3 osteoporosis study is nearing completion, with 181 patients randomized to receive the study drug candidate or Forteo. While the primary endpoint is immunogenicity, secondary endpoints include pharmacokinetics, bone mineral density and bone turnover markers. Data for the primary endpoint should come in the second quarter, while the 505(b)(2) NDA filing is expected in the third quarter. Commercial launch in the United States could come as soon as the second half of 2019. Management believes they have a strong intellectual property strategy with launch planned after expiry of the listed Formulation and Method of Treatment patents.
Next generation anthrax vaccine candidates Px563L/RPA563 are the subject of a BARDA (Biomedical Advanced Research and Development Authority) contract awarded in August 2015. It entails US government funding of up to $143.5 million and a possible procurement contract within 10 years of FDA approval. To get an idea of the value here, the current sole sourced contract is valued at close to $1 billion for a 5-year supply. Thus far the drug candidates have demonstrated long term stability data and maintenance of high purity at 5°C at 40 months. Day 70 analysis from a phase 1a trial showed that Px563L and RPA563 were well tolerated and granted immunogenicity protection with less doses than currently approved competition. A phase 2 study could occur in 2019 with continued funding from BARDA.
Other programs of note include PF582 (their biosimilar to Lucentis which had $3.3 billion of sales in 2017) and PF529 (biosimilar to Neulasta which had $4.5 billion in global sales in 2017). For both programs the company actively considering strategic partnerships that would maximize their value and allow for progression into the next stage of studies. PF582 has already demonstrated similar safety and tolerability (along with consistent pharmacological activity) as compared to Lucentis in a phase 1/2 first-in-human study. As for PF529, a Biosimilar Initial Advisory Meeting has already been successfully completed and FDA feedback is supportive of development under the 351(k) biosimilar pathway.
Analyst Commentary & Balance Sheet:
The company receives sparse coverage from the analyst community. Last November an analyst at JMP Securities lowered his price target to $8 while maintaining his Outperform rating, citing positive interim PK results from the pivotal bioequivalence trial for PF708 (Forteo complex generic) as supportive of approval in the future. On the other hand, putting both Neulasta and Lucentis biosimilar programs on pause was seen as an unfavorable development. Barclays reiterated its Buy rating and similar $8 price target on PFNX in early April
The company ended the first quarter with just over $45 million in cash on the balance sheet. The company then raised approximately $40 million via a secondary offering in May. Pfenex is burning around $10 million a quarter so near/medium term funding needs have been addressed now.
Verdict:
Pfenex seems to merit a small purchase within a well-diversified biotech portfolio. Pfenex has a few upcoming catalysts, a key partnership and a few 'shots on goal'. The company also is well-funded for now. Sparse analyst coverage and its small market size hinders somewhat our enthusiasm for its shares at this moment.
Highly Recommended: For those that want to learn about more advanced option strategies to put in their investor 'toolbox', I highly recommend the free 30-minute report and 7 minute video my Investors Alley's colleague Jay Soloff has put together. Jay has been teaching about and using option strategies successfully for two decades. The free video and report can be downloaded HERE