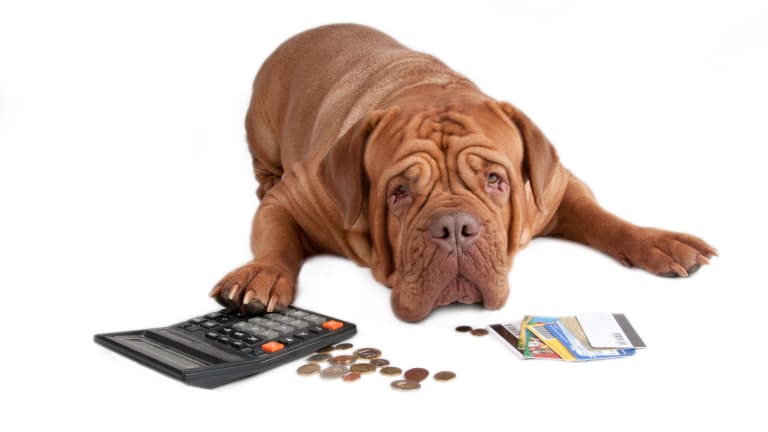 Is This Small Cap Concern For The Dogs?
We take an in-depth look at a fast growing, small cap pet health and wellness company in the paragraphs below
We take an in-depth look at a fast growing, small cap pet health and wellness company in the paragraphs below
"If you pick up a starving dog and make him prosperous he will not bite you. This is the principal difference between a dog and man." ― Mark Twain
Note: To comment on this article or to get and read these full articles free every day before the market open to your 'in box' as published, just hit the + Follow button in the upper right-hand corner of this site.
Today we look at a fast-growing name that might appeal to pet owners. Being an owner of a nine-year Golden I am in that category.​
Company Overview:
PetIQ (PETQ) is an Idaho-based pet health and wellness company currently experiencing rapid growth. Their mission is to make pet lives better via educating their owners on the importance of regular veterinary care and promoting high quality pet products. Their broad portfolio of commercially-available products located in retail stores and via e-commerce channels continues to expand at an impressive pace. The company came public last summer. The stock currently has an approximate market cap of $350 million and its shares sell for $22.00 apiece
The company has strong relationships with readers across all channels, including grocery (Walmart, Target, Kroger, Publix, etc), club (think Costco), pet specialty (such as Petsmart) and e-commerce (ie. Amazon.com). Management continues to grow the business via focusing on consumer awareness of their products, delivering innovation with a superior value proposition, expanding existing partnerships and finally increasing their product line-up with current retailers.
Core Business:
In January the company announced the transformational acquisition of Community Veterinary Clinics/VIP Petcare, a leading provider of nationwide veterinary clinics and services within major retailers in the United States. In order to pull of this strategic move, they paid $100 million in cash, issued $30 million of promissory notes ($20 million of which is contingent upon performance-based financial targets over 2 years) and $90 million in equity interests. The company also received aid from East West Bank and Ares Capital management, who provided $75 million of debt financing.
As a result, the company is able to target a large, very attractive market opportunity that is experiencing steady growth.
The company has a largefootprint consisting of 29 regional offices, 2900 clinic locations, over 40 retail partners and over 40,000 points of distribution.
Currently pet industry is experiencing healthy growth, driven by factors such as people increasingly treating their pets as family, the growing appeal of a ¨premium¨ category of products and the fact that pets are living longer as a result of advancements in care.
It's also worth noting that the pet medication market is in a period of decent growth (compound annual growth rate of 7% expected for next few years) and that pet owners are increasingly shifting their purchases to retail stores.
Management has very aggressive growth plans via expanding VIP PetCare´s Expert Services to the firm´s combined retail partners, with 20 clinics to be opened by the end of June. According to their research 86% of cat and dog owning households shop within PetIQ´s primary channels of distribution. Another interesting fact is that the average veterinary clinic in the United States has over $700,000 in service revenue on an annual basis.
First quarter results show that the company is on the right track, with net sales increasing 71.7% to $115.1 million with the increase in net sales reflecting growth in retail partners (new and existing) and expansion of their products and service offerings. Gross profit rose over 30% to $15.9 million, although it does include a $1.5 million purchase accounting adjustment. These results are made even more impressive when we are reminded that they had a slow start to the flea and tick season due to a very cold spring (category was down 18% over the prior year). Another bright spot in their earnings call was that their prescription drug program had the highest growth rate out of all of their product categories, driven by customers using their pharmacies to fill scripts and opting for chewable prescription flea and tick products instead of less expensive over-the-counter options.
Analyst Commentary & Balance Sheet:
Analysts are somewhat sanguine on the firm's prospects, with a median analyst price target of $29.00 a share at this time. Suntrust released a $30 price target in April with the analyst stating that PetIQ has a long runway of growth ahead for both products and services businesses. Prior it had also been upgraded by Piper Jaffray, with the analyst stating management has conveyed a high degree of confidence in their corporate outlook and that the short thesis contained little new information.t
For the first quarter of 2018 the company reported cash and equivalents of $4.7 million (down from $37.9 million at year end 2017) along with long-term debt balance of $126.9 million made up by their credit facility and term loan. Net loss rose came in at $4 million while adjusted net income totaled $1.3 million (accounts for acquisition of VIP, purchase accounting inventory adjustment of $1.5 million and $0.5 million of stock-based compensation). Adjusted EBITDA came in slightly higher at $5.4 million with EBITDA margin of 4.7%. As for their 2018 outlook, management reiterated guidance for consolidated net sales in the range of $450 million to $500 million (year over year increase of 69% to 87%) and adjusted EBITDA of $40 million to $45 million (year over year increase of 79% to 102%).
Verdict:
I have a small piece of this name in my own portfolio despite the company not being public for 18 months yet. PetIQ is also quite likely to do another capital raise in the near future. At this time, I believe it is only a 'watch item' holding within a well-diversified portfolio at this time albeit one with solid growth prospects. Options are available against this equity, making a Buy-Write option strategy viable. This is how I am currently investing in this name.
Highly Recommended: For those that want to learn about more advanced option strategies to put in their investor 'toolbox', I highly recommend the free 30-minute report and 7 minute video my Investors Alley's colleague Jay Soloff has put together. Jay has been teaching about and using option strategies successfully for two decades. The free video and report can be downloaded HERE