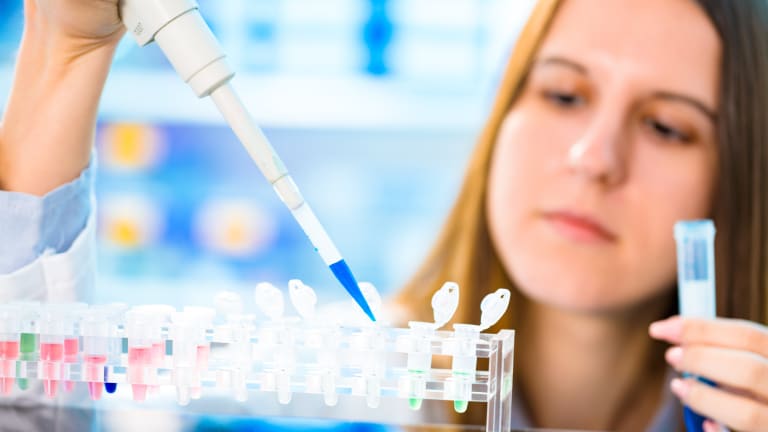 4 Analysts Say BUY This $4 Biotech Stock
A development biotech concern with a big approaching catalyst implying a huge upside potential.
Today, we are going to talk about a development biotech concern with a big approaching catalyst. 4 analysts have chimed in within the last week on this name. The 'least' optimistic analyst firm is implying 150% upside from current trading levels. Let's highlight this 'off the radar' name below, delve into analyst coverage and discuss the company's possible FDA approval in the months ahead.
Company Overview
Verastem (VSTM) is a clinical-stage biopharmaceutical company based in Needham, MA. The company is focused on developing and commercializing therapeutics that improve outcomes for cancer patients. After some recent strength, the shares trade just north of $4.00 a share and have a market cap of just north of $200 million.
Pipeline
​
As can be seen above, the company has a diverse pipeline. The key to the company and stock's short-term direction is a compound called duvelisib whose drug application the FDA accepted under 'priority review' in mid-April. The compound is seeking to be approved for the treatment of relapsed/refractory chronic lymphocytic leukemia/small lymphocytic lymphoma (CLL/SLL) as well as accelerated approval for relapsed/refractory follicular lymphoma.
Analyst Commentary & Balance Sheet
Verastem ended 2017 with just over $85 million in the bank as well as access to a $50 million credit facility. The company burned through approximately $55 million of cash in 2017, so appears well-funded for the moment. Another potential capital raise soon after duvelisib is approved is a possibility.
Over the past week, this stock has gotten a lot of positive attention from the analyst community. Here are analyst ratings I could find that have hit since last week. Cantor Fitzgerald (Reiterated Buy rating - $17 price target), Seaport Global (Initiated Buy rating - $14 price target), Oppenheimer (Assigned new Buy rating - $15 price target) and H.C. Wainwright (Reissued Buy rating - $10 price target).
Here is a sampling of analyst color within these views:
Seaport Global
Investors are giving little credit for duvelisib success, despite positive Phase 3 data in chronic lymphocytic leukemia, positive Phase 2 in fillicular lymphoma, and currently being under priority/accelerated FDA review.
Cantor Fitzgerald
Duvelisib Has a PDUFA of 10/5/18. The NDA for duvelisib in chronic lymphocytic leukemia (CLL) and follicular lymphoma (FL) was filed in February and accepted in early April, with a PDUFA of 10/5/18. The question of E.U. submission may be dependent on partnership, which would be positive for the shares, in our view
Verdict
Like all developmental concerns in this high beta part of the market, Verastem has its risks. However, the company has multiple 'shots on goal', an upcoming catalyst, strong analyst support and is well-funded for the time being. I would not be surprised if the stock runs up into its potential FDA approval in the fourth quarter of this year. I think the stock is worth accumulating at present levels. Given the option premiums available on the stock it also makes and ideal Buy-Write candidate for those investors comfortable with simple option strategies.
Participate in today's poll via @Biotech_Forum on Twitter. Where will this stock of $4 be at the end of this year?Click here to vote!
For those that want to learn about more advanced option strategies to put in their investor 'toolbox', I highly recommend the free 30 minute report and 7 minute video my Investors Alley's colleague Jay Soloff has put together. Jay has been teaching about and using option strategies successfully for two decades. The free video and report can be downloaded HERE