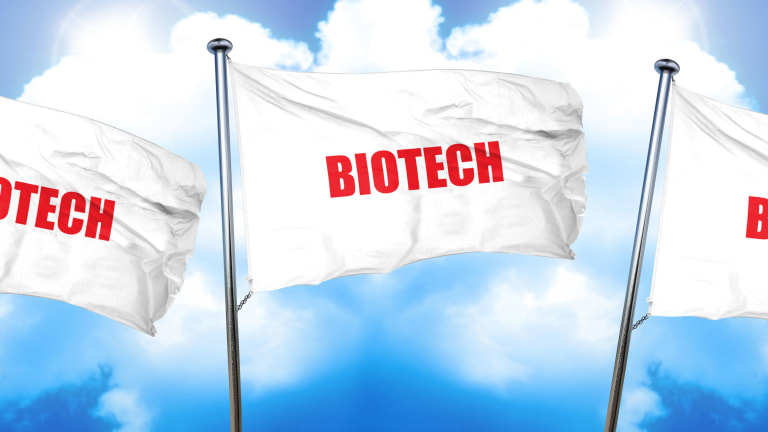 4 Hot Analyst Reads For Wednesday, June 27th
The following is a synopsis of recent analyst activity that could buoy these small cap biotech stocks in trading
The following is a synopsis of recent analyst activity that could buoy these small cap biotech stocks in trading
"I abhor the idea of a perfect world. It would bore me to tears." ― Shelby Foote
Sign Up Free Today: To comment on this article or to get and read these full articles free every day before the market open to your 'in box' as published, just hit the + Follow button in the upper right-hand corner of this site.
Here are four small cap biotech stocks garnering positive analyst commentary over the past 24 hours before the market opens this Wednesday.
Achaogen (AKAO) has garnered some needed love from analysts since a mixed FDA decision Tuesday around the company's primary drug candidate knock the shares down over 20% in trading yesterday. Since then Needham ($20 price target), Mizuho Securities ($20 price target) and H.C. Wainwright ($19 price target) have all reissued Buy ratings on this small cap biotech concern. Here is the commentary from the analyst at Mizuho.
"We see the recent share price weakness as a buying opportunity given 1) our worst-case valuation of $20 per share which only takes into account the cUTI indication, 2) our view that off-label usage is likely to increase over time as physicians become familiar with Plazomicin."
We concur with this assessment and outlined a lucrative option strategy we are employing to buy this dip yesterday.
Atricure (ATRC) is also seeing multiple analyst recommendations over the past 24 hours. Yesterday, Piper Jaffray reiterated its Buy rating and $30 price target. This morning, Needham ($32 price target), Stifel Nicolaus ($30 price target) and Canaccord Genuity ($35 price target, up from $27) all reissue their own Buy ratings on the stock. Canaccord's analyst believes that the "company's top-line growth profile could accelerate while gross margins expand, leading to the beginning of free cash flow generation".
A Five-Star ranked (TipRanks) at Chardan Capital is out this morning with a Buy rating and $35 price target on Catalyst Biosciences (CBIO) this morning after meeting with leadership at the company. Here is the color he provided along with his investment rating.
"We recently had a catch-up call with Catalyst Biosciences management to clarify issues related to manufacturing of the company's key assets: CB 2679d/ISU304 and MarzAA. CB 2679d is a phase I/II (NCT03186677) Factor IX (FIX) candidate for severe hemophilia B, while MarzAA is a phase VIIa (FVIIa) candidate for hemophilia A or B with inhibitors. In our 19 June 2018 research, and following the announcement of neutralizing antibodies (NAbs) seen in the CB 2679d program, we initially indicated (correctly) the manufacturers for CB2679d and MarzAA were different (which likely insulates the MarzAA program) based on a read of filings. Later, due to a miscommunication, we issued an incorrect correction indicating the CB 2679d and MarzAA in trials were provided by the same manufacturer."
We just provided a 'deep dive' on this off the radar small cap concern here on these pages yesterday.
Finally, Cymabay Therapeutics (CBAY) received a few analyst 'shout outs' from analysts late yesterday. Cantor Fitzgerald reissued their Buy rating and $16 price target on CBAY Tuesday afternoon. This was followed by Oppenheimer, who assigned a new Buy rating and $20 price target on this small antifungal concern. Here is what Oppenheimer's analyst had to say about his view on the firm after attending the company's recent analyst day.
"CBAY's investor day focused on seladelpar clinical strategy in PBC (Ph3 registrational trial) and NASH (Ph2b). KOL Dr. Bowlus reviewed PBC diagnosis and described unmet need in patients with inadequate alkaline phosphatase (AP) response or urso intolerance. Seladelpar could be particularly well suited to address PBC patients with higher baseline pruritus; additionally, lowering AP toward normal levels could result in differentiating benefits. Dr. Hirschfield reviewed recent Ph2 data from EASL. The Ph2 is now fully enrolled, and 52-week data may be presented at AASLD. PBC Ph3 plans were presented. In NASH, KOL Dr. Harrison described a large unserved market and the need to push efficacy, potentially through combinations. CBAY presented the rationale for PPARδ, dose selection, Ph2b design." ​
​
Cymabay is one of few and elusive '10-baggers' I have in my own portfolio (avg cost. 94 cents a share). Not surprisingly it is a one-time 'Busted IPO' , a niche which I have found can often provide the occasionally rocket like Cymabay.
And those are four small cap concerns seeing recent analyst activity before the market opens here on Wednesday. Happy Hunting.
Download For Free Now: Many of these stocks covered in our '4 Hot Analyst Reads' every morning make ideal Buy-Write candidates. For those that want to learn about more advanced option strategies to put in their investor 'toolbox', I highly recommend the free 30-minute report and 7 minute video my Investors Alley's colleague Jay Soloff has put together. Jay has been teaching about and using option strategies successfully for two decades. The free video and report can be downloaded HERE .