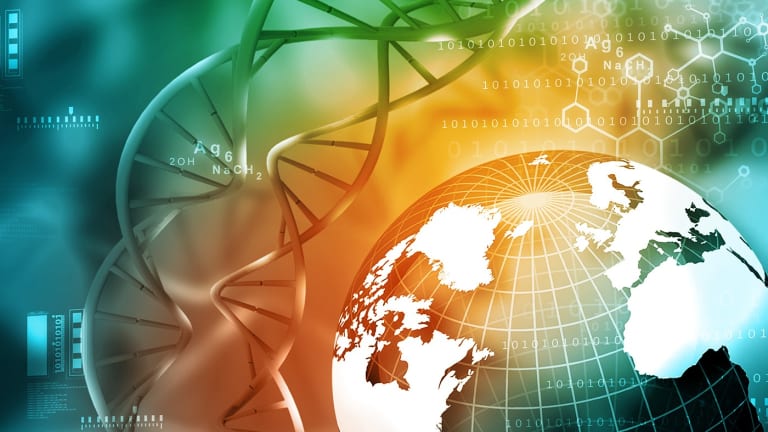 "It is fatal to look hungry. It makes people want to kick you." ― George Orwell, Down and Out in Paris and London
Sign Up Free Today: To comment on this article or to get and read these full articles free every day before the market open to your 'in box' as published, just hit the + Follow button in the upper right-hand corner of this site.
Here are four small biotech stocks garnering new analyst commentary just before the bell this Thursday.
Synologic (SYBX) gets a new Buy rating assigned with an $18 price target this morning from Oppenheimer who provides the following commentary
Wednesday, Synlogic reported a 2Q18 net loss of $(0.59) per share, higher than our estimate of $(0.51). The company is enrolling two Phase 1/2 trials investigating its lead products, SYNB1618 for the treatment of phenylketonuria (PKU) and SYNB1020 for hyperammonemia. Toward the end of the year, the company could establish clinical proof-of-concept for SYNB1020 in cirrhotic patients who cannot adequately metabolize ammonia, which could serve as a major catalyst for SYBX shares. In 2H, we also expect to see first-in-human results from SYNB1618, being evaluated for safety in healthy volunteers. Synlogic is continuing to develop its preclinical pipeline and plans to advance one or more immuno-oncology assets into IND-enabling studies in 4Q. $18 PT."
Wedbush reissues their Outperform rating on Myokardia (MYOK) before the bell today but lifts its price target to $77 from $64 previously. Wedbush's analyst 'is beginning to value royalties on potential sales of mavacamten and MYK-491 in Europe based on increasing confidence that Sanofi (SNY) will elect to commercialize there and is also positive on MyoKardia ahead of the Phase 1b MYK-491 readout in dilated cardiomyopathy later this year, where a favorable safety profile and demonstration of clinical proof of mechanism could add at least $5/share to current levels'
H.C. Wainwright is reiterating their Buy rating and $18 price target on Strongbridge Biopharma (SBBP) this Thursday for the following reasons
"Our price target of $18/share is based on an equally weighted composite of: (a) $22.04/share, as a 35x multiple of taxed and diluted FY25 GAAP EPS of $4.26 discounted back to FY18 at 27%;and (b) an NPV of $13.77/ share (discount rate 14%, growth rate 2.5%). Risks to our investment thesis and target price include: (1) failure of Recorlev in clinical studies; (2) failure of Recorlev to secure regulatory approval; cand (3) failure of Recorlev and/or Keveyis to achieve peak commercial revenue estimates in our model due to market size, penetration size, and/or pricing."
Rounding out our 4 analyst calls of note is this morning, Mizuho Securities maintains its Buy rating and $30 price target on Selecta Biosciences (SELB). Mizuho's five-star ranked (TipRanks) analyst had this to say about her current view on the company.
"We do not see quarterly earnings as the most meaningful indicator of value for development stage biotechs. Selecta will present data from the Phase 2 trial of SEL-212 for the five monthly dose cohorts at the Rheumatology (ACR) meeting on October 19-24, 2018. We think this is likely the biggest catalyst for the shares in 2018 and we view the probability of success as favorable. Phase 3 trial preparations are underway. A head-to-head trial with standard of care Krystexxa is also planned which we believe could be an important differentiator for SEL-212."
And those are four small cap concerns seeing recent analyst activity before the market opens this Thursday. Happy Hunting.
Free Report Available: My colleagues at Investors Alley have just published a free report entitled '10 Simple Rules To Trade Options Like A Pro' for those that want to learn more about profitably adding options strategies to their investing 'toolbox' including Buy-Writes on many of the small caps we cover in these pieces, it is now available free via download HERE.