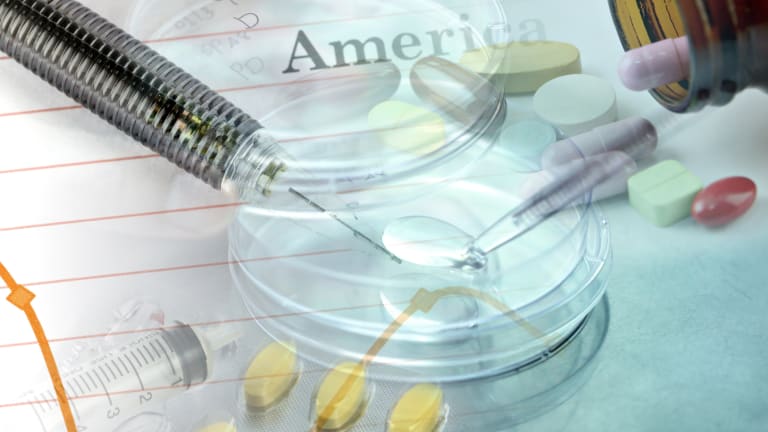 "Love makes the world go round? Not at all. Whiskey makes it go round twice as fast." ― Compton Mackenzie
Sign Up Free Today: To comment on this article or to get and read these full articles free every day before the market open to your 'in box' as published, just hit the + Follow button in the upper right-hand corner of this site.
The biotech sector will try to tack some additional gains to a week of strong performance when the market opens here in a few minutes this Thursday. Given how fast the main biotech indices have climbed over the past 10 days, I would be surprised to see some profit taking hit the sector before the end of this week.
​
​
Before the opening bell, here are four small biotech concerns garnering positive analyst mention today.
SunTrust Robinson is initiating small cap oncology concern Adverum Biotechnogies (ADVM) with a new Buy rating this morning. Robinson's analyst calls the compan a 'gene therapy pure play", with its ADVM-043 lead program in A1AT deficiency targeting 45K and 70K patients in U.S. and Europe and expects Adverum's preliminary Phase I/II data for ADVM-043 to be a "de-risking event" for its shares by the end of 2018, with positive findings likely to send the stock up as much as 80%.' He puts an initial $11 price target on the shares.
Mesoblast (MESO) is seeing some positive analyst commentary before the opening bell today. The company provided a business update on Wednesday. Maxim Group and Oppenheimer reissued their Buy ratings with identical $16 price targets. H.C. Wainwright ($17 price target) and Cantor Fitzgerald ($23 price target) also reissued their own Buy ratings this morning. Here is the color on that business update from Oppenheimer.
"Wednesday, Mesoblast reported quarterly results and provided a business update. The company is making steady progress toward a registrational filing for remestemcel-L in pediatric acute graft versus host disease (GVHD), with a pre-BLA meeting expected later this year. Additionally, top-line results from an NIH-sponsored trial of MPC-150-IM in Class IV heart failure (HF) could be presented at a scientific conference in 4Q, and Mesoblast could utilize the therapy's RMAT designation to pivot positive results into an accelerated filing. We believe the primary market opportunity for MPC-150-IM rests in Class II/III patients, and the company's DREAM-HF trial remains on track to complete enrollment in 2018. With sufficient cash to support operations into mid-2019, we reiterate our Outperform rating and $16 PT."
Labor Day Sale: We are giving 20% discounts and free two-week trials into The Insiders Forum until midnight EST. This service provides a model portfolio of 20 to 25 attractive small and mid-cap stocks insiders are purchasing. Since its launch on 06/30/2016, this model portfolio has generated an overall return of 86.69% more than double that of the Russell 2000 (43.10%). To initiate your free trial into this service, just click here.
Ascendis Pharma (ASND) also seeing multiple positive analyst calls this morning. JP Morgan reiterates its Buy rating and raises its price target on ASND two bucks a share to $81. Wells Fargo is lifting its price target to $88 from $83 previously this morning as it maintains its Buy rating on the stock. Morgan's analyst 'remains positive on shares of Ascendis as she sees a "platform building that in the future will extend beyond orphan endocrinology and could offer meaningful continued upside." Further, timelines remain on track across the endocrinology pipeline.'
Finally, Ultragenyx (RARE) is seeing its price target raised a 'sawbuck' to $90 a share over at Wedbush today which is also maintaining its Outperform rating on the shares. Wedbush's analyst states the ' FDA appears to be favorably disposed toward early approval of UX007 in long-chain fatty acid oxidation disorders', and he 'is advancing his launch time to late 2019 from first half of 2021 and reducing discount rate to 20% from 25%.'
And those are four small cap concerns seeing recent analyst activity before the market opens this Thursday.
Free Report Available: My colleagues at Investors Alley have just published a free report entitled '10 Simple Rules To Trade Options Like A Pro' for those that want to learn more about profitably adding options strategies to their investing 'toolbox' including Buy-Writes on many of the small caps we cover in these pieces, it is now available free via download HERE.