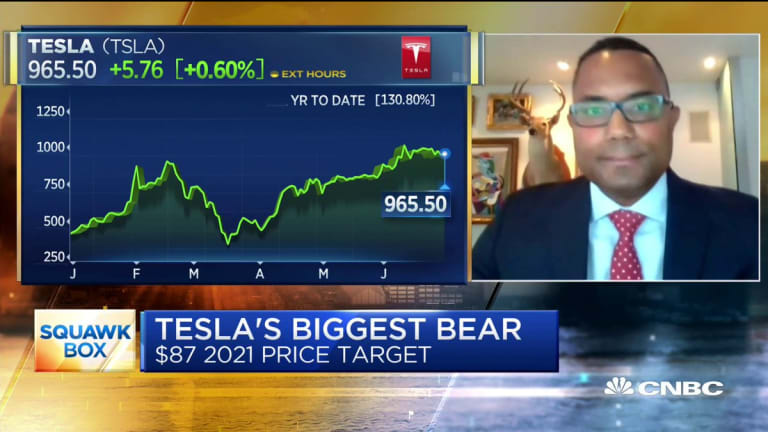 TSLA Stock Increases By More Than One Bearish Analyst's Price Target in Premarket Session
TSLA stock laps bearish price target in mere hours.
After reporting Q2 delivery and production numbers in premarket on Thursday, (TSLA) - Get Free Report stock traded more than $100 per share higher in the premarket trading session from Wednesday's closing share price, surpassing the entire price target of one bearish analyst in just a few hours.
Gordon Johnson, CEO and founder of GLJ Research, recently appeared on CNBC to discuss his $87 price target on Tesla stock. Johnson has been recommending to his clients to sell Tesla stock short for more than a year. 
"When you think about this being a hyper-growth story, the numbest just don't pan out." - Gordon Johnson, June 29, 2020
TSLA's share price has increased by more than 400% since last year's share price on July 2, 2019 of $245.
While Johnson believes Tesla's growth story is over, Tesla CEO Elon Musk recently reiterated on Tesla's Q1 earnings call that he expects Tesla to continue to grow at a compound annual growth rate of roughly 50%.
"Well, it's always difficult to predict what the macro situation is going to be. I think very few people would have predicted the unexpected roundhouse that COVID came up with -- it sort of came out of nowhere. So I think in the absence of something, some massive force majeure event, something quite massive, I think 50% is the likely number. It's possible that is 40%. I would be very shocked, if it's less than 40%, even with force majeure, short of World War III." - Elon Musk on Tesla's future compound annual growth rate