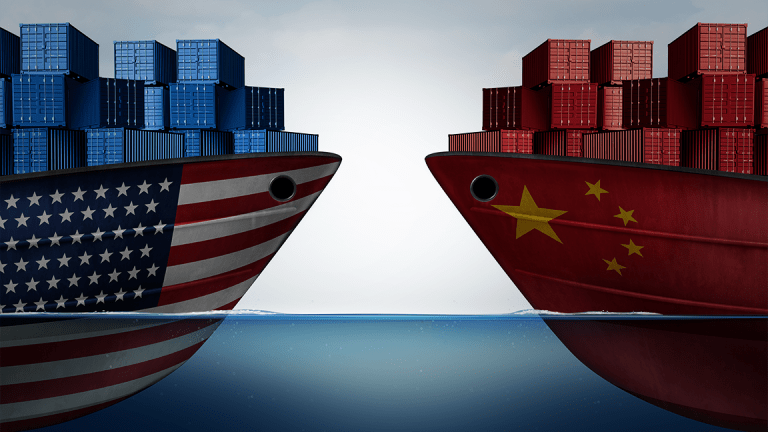 ZTE Suppliers Get a Bump as U.S. Softens Stance Amid China Trade Negotiations
The Trump administration is negotiating trade with China and ZTE may benefit.
The tweet is mightier than the sword. 
When the Trump administration decided to punish Chinese cellphone maker ZTE Corp. (ZTCOY) by banning American companies from selling components to ZTE, many American suppliers dropped significantly. 
One Trump tweet later and those same suppliers were rallying Monday. 
Here's how those suppliers were doing Monday:
Lumentum Holdings Inc. (LITE) - Get Lumentum Holdings Inc. Report - shares rose 4.6%. 
Oclaro Inc. (OCLR) - Get Oclaro, Inc. Report - shares were rising 6.7%.
NeoPhotonics Corp. (NPTN) - Get NeoPhotonics Corporation Report - shares up 3.5%.
Acacia Communications Inc. (ACIA) - Get Acacia Communications, Inc. Report - shares up 13.02%.
ZTE ceased operations after the U.S. banned business with the company amid accusations that it violated international sanctions against Iran and North Korea by providing those countries with access to its technology. 
The company released a statement last week saying it and its partners were in communication with U.S. officials. 
"As of now, the Company maintains sufficient cash and strictly adheres to its commercial obligations subject to compliance with laws and regulations. The Company and related parties are actively communicating with the relevant U.S. government departments in order to facilitate the modification or reversal of the Denial Order by the U.S. government and forge a positive outcome in the development of the matters," ZTE Chairman Yin Yimin said in a statement. 
Not everyone was happy with developments over the weekend, however, as Sen. Chuck Schumer (D-NY) released a statement saying he disagreed with the president's decision. 
"One of the few areas where the president and I agreed, and I was vocally supportive, was his approach towards China. But even here he is backing off, and his policy is now designed to achieve one goal: make China great again," Schumer's statement Monday said. 
ZTE shares were up 1.84% Monday.