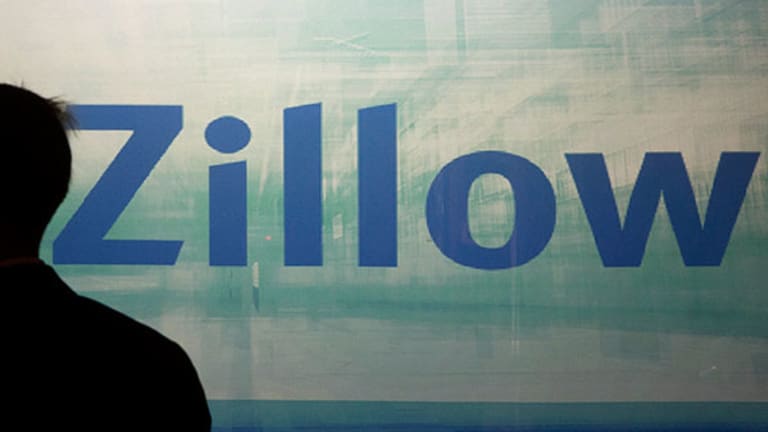 Zillow Shares Recover on Earnings Beat
First-quarter earnings at Zillow, the consumer online real estate service, exceeded Wall Street's expectations, along with record traffic in the quarter.
NEW YORK (TheStreet) - First-quarter earnings at Zillow (Z) - Get Zillow Group, Inc. Class C Report the consumer online real estate service, exceeded Wall Street's expectations, along with record traffic in the quarter.
Zillow reported a first-quarter net loss on a GAAP basis of $6.26 million, or 16 cents a share, compared to a loss of $3.75 million, or 11 cents a share, primarily related to increases in advertising spending, the Seattle-based company said on Wednesday. On a non-GAAP basis though, the company posted an adjusted net income of $873 million, or 2 cents a share, compared to $399 million, or 1 cent a share, in the year earlier quarter. Non-GAAP earnings do not include share-based compensation expenses.
Zillow had record revenue in the March-ending quarter, up 70% from the year prior quarter to $66.2 million, a record for the Seattle-based company. Analysts, according to Thomson Reuters, expected the company to post a loss of 8 cents a share on revenue of $63 million.
Shares were rising 2.6% to $96.11 in post-markets trading following a day in which the stock fell 9% to $93.63 as tech stocks listed on the Nasdaq also fell.
The company also boasted that traffic to the site hit a quarterly and all-time record of 77 million at quarter's end and in April traffic hit 79 million unique users, up 50% year over year, driven by its mobile and Web platforms. More than 460 million homes were viewed on Zillow via a mobile device, which equates to 178 homes per second, the company said.
"The first quarter was a terrific start to 2014 with record traffic, revenue and results that exceeded our expectations and strengthened our lead in the category," Zillow's CEO Spencer Rascoff said in the earnings release. "A key driver of Zillow's success lies in attracting audience and delighting our users with great products and services. In March, traffic hit a new high of 77 million monthly unique users as mobile usage more than doubled year over year, and April just broke that record, attracting 79 million unique users."
"We're continuing to ramp our marketing investment, and plan to be firing on all cylinders through the busy spring and summer home shopping season, which also helps increase value and opportunity for our agent and broker partners," Rascoff said.
Zillow breaks its revenue generators into two primary categories - Marketplace revenue, which includes services and subscriptions related to realtors, and Display revenue, which is primarily ad-based revenue. Display revenue rose 62% to a record $12.9 million, Zillow said.
Marketplace revenue rose 72% to a record $53.4 million in the quarter compared to a year earlier. Within Marketplace, revenue from real estate rose 77% to $46.2 million. The company said Premier Agent subscribers totaled 52,968 as of March 31, 2014, up 56% year-over-year. Average monthly revenue per subscriber in the first quarter of 2014 was a record $286, up from $259 in the same period last year. Mortgages revenue rose 45% to $7.1 million.
Zillow Mortgage Marketplace continued to grow during the first quarter with 5.8 million loan requests submitted by borrowers, up 29% year-over-year, as reviews of lenders reached nearly 75,000.
"Product innovation is the key," Rascoff told TheStreet in an interview on Wednesday prior to the earnings call. "That's what make Zillow unique."
"Zillow is the best place to shop for a home with mobile and that's because we have the Zestimate. And we have information [about neighborhoods and schools]. We have rental listings. We have Make Me Move listing. We have aerial photos," he added.
This week, the company also launched the Zestimate forecast, which will build on the company's proprietary home appraisal formula by forecasting what a home will be worth in 12 months. Zillow initially launched the forecast tool on 50 million homes and has plans to roll it out to the majority of U.S. homes, it said.
During the quarter, Zillow also introduced Mortgage Pre-Approval, a new tool that enables qualified home shoppers on Zillow to get pre-approved for a mortgage quickly and easily, and receive a personalized pre-approval letter in a matter of minutes.
Zillow's largest competitors include Trulia (TRLA) , Move Inc. (MOVE) , the owner of Realtor.com as well as regional players.
--Written by Laurie Kulikowski in New York.
>>Read More:
Whole Foods Plunges: What's Wall Street Saying
http://www.thestreet.com/story/12699350/1/whole-foods-plunges-what-wall-streets-saying.html
There's Still Time to Get a Cheap iPhone and Contract Free
http://www.thestreet.com/story/12699130/1/theres-still-time-to-get-a-cheap-iphone-and-contract-free.html
How the Consumer Wins in the Wireless Wars
http://www.thestreet.com/story/12697611/1/how-the-consumer-wins-in-the-wireless-wars.html
Disclosure: TheStreet's editorial policy prohibits staff editors, reporters and analysts from holding positions in any individual stocks.