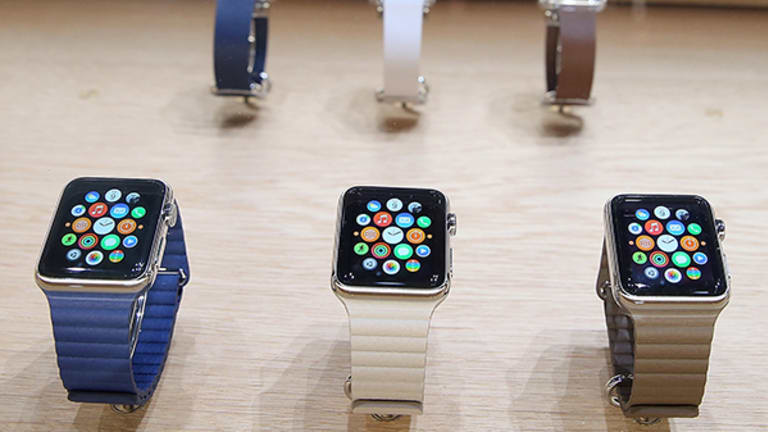 You're Just Too Old and You Just Don't Get the Apple Watch
Let a cool, well-rounded guy like me be the voice of reason.
NEW YORK (Real Money) -- The March 9 Apple (AAPL) - Get Free Report Watch event looms large.
There are two issues out there regarding this tech gadget: old people in financial services don't get the Apple Watch while tech beat writers don't get investing.
Jim Cramer's charitable trust Action Alerts PLUS is long AAPL and the AAP team just reiterated its $150 price target. Get full analysis on the stock. with a free trial subscription.
That mishmash of understanding is clouding the information floating around the Internet regarding Apple Watch. For starters, the old folks in the finance industry think the Apple Watch is just a watch with a battery and multiple cheap foreign-made straps and don't comprehend the likely profound impact of society's embrace of this thing. So what do they do? They downplay its impact to Apple's overall valuation and miss out on the litany of derivative opportunities from the establishment of the Apple Watch ecosystem.
The young, eager-to-grab-a-click tech writers who live for a cryptic Apple event invite are either wildly optimistic on the Apple Watch simply because it's cray or pretty or are pooh-poohing it due to its thick face and short battery life.
So, let a cool, well-rounded guy like me be the voice of reason. As I said right from the start of this year, the Apple Watch is a game-changing product. It's the product that you don't realize you need or want, but will soon realize you need and want it by the summer for $349. And if you aren't yet sold on the Apple Watch then watch this video, then set aside the appropriate funds in the Apple Pay account. 
I think sales of the Apple Watch will reach some of the higher estimates being discussed. According to recent research, Apple will ship 15.4 million Apple Watch units in 2015, giving the company 54.8% of the global smartwatch market. All other smartwatch makers combined will ship just 12.7 million units in 2015. Piper Jaffray has estimated about 8 million units, while Apple reportedly ordered 5-6 million units in the early going. 
But the story of the Apple Watch is much more than mighty Apple alone. The smartwatch is likely to set off a massive investment cycle at major companies to tap into the device's power. I can tell you that from talking with many companies, notably retailers and restaurants, they don't even have the systems in place (or investments earmarked) to leverage the Apple Watch. That will change in 2016 and unlock EPS potential. 
Here are several areas where the Apple Watch could have a profound impact.
Restaurants: On Monday, Domino's Pizza (DPZ) - Get Free Report announced that it has launched an app that will let customers place and track orders from their Pebble or Android Wear smartwatch. Obviously the app will be on iOS soon. Panera Bread (PNRA) , led by a visionary founder in the restaurant business, is rumored to also be working on technology to support the Apple Watch. Look for restaurant companies to begin tripping over themselves to launch and market smartwatch technology that could lead to more impulse purchases and efficiencies inside the restaurant. Consider this. Wouldn't you rather just hold the Apple Watch out the window at a Taco Bell to pay for a taco than exchange cash at the drive-thru?
Lodging: As Home Depot's (HD) - Get Free Report online chief told me recently, he loves removing friction from the consumer's buying experience. Well, what is a pain point for a hotel guest, opening a room door with a plastic, easily lost, bendable card. Say goodbye to that nonsense in the era of the Apple Watch. Imagine the nice chunk of savings a lodging company will save from not having to order those stupid cards.  Ultimately, I think Disney's (DIS) - Get Free Report Magic Band investment was ill-timed and will be phased out. It was a great idea that is currently improving the vacation experience, but the company should have saved the massive investment and waited to piggyback off the Apple Watch. The same could be said for Royal Caribbean, which introduced smartbands last year that unlock room doors and perform various other functions for those onboard.
Already, Starwood Hotels (HOT) has seen the potential to maximize the guest experience, and trim some expenses, via the Apple Watch. The company announced in November a keyless entry capability for iOS (and to be fair, Android) devices that allows a person to enter their hotel room simply by walking past the check in desk.
As Apple Watch-supported kiosks set up shop to check in people at airports or help to pay faster at restaurants it will spur more sales of the hardware. And then it will spark a new round of purchases from iTunes for dedicated watch apps. 
Remember when you didn't need an iPhone and the black Motorola RAZR flip phone was good enough? Pebble, and all of the early wearable adopters, are marked men. They simply do not have the resources to invest alongside Apple, which will over time run them out of the game as it did to Motorola, Nokia (NOK) - Get Free Report and BlackBerryundefined.
This article is commentary by an independent contributor. At the time of publication, the author held no positions in the stocks mentioned.