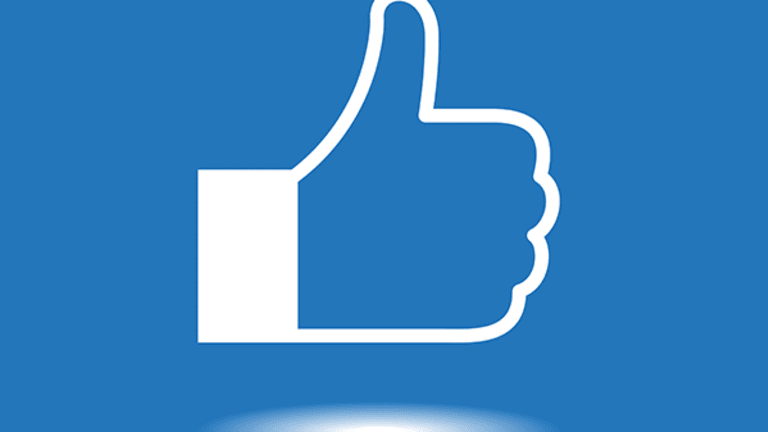 You Can Now Use a Key for Facebook -- Tech Roundup
Facebook users will have the added benefit for two-factor authentication, if they so choose.
Editors' pick: Originally published Jan. 27.
Want to go old school when using social media? Perhaps, so old school that you use a key to lock down your Facebook (FB) - Get Free Report ? 
Well, now you can. Only it's not so much like the key we've grown used to.
For most services, you only need a password to get into your email, subscriptions or in this case, your Facebook account. However, the social media giant has made it so that users can now "link a hardware token to their accounts," according to CNET. 
Basically, it will allow users to log in from different geographies or computers and when the hardware is plugged in via a USB port, the network will know you are the one actually logging in.
It's what the industry refers to as two-factor authentication. In this case, you're using a password and a hardware authentication process. The "key" in this case looks sort of like a flash drive. While this may not seem like the most convenient process, it is one of the most secure for users. 
In order to get their hardware, users can look to companies like Yubikey and Nitrokey for solutions. 
Shares of Facebook closed at $132.18 Friday, down 0.5%. 
It's earnings season, and with a number of big names having already reported -- the banks earlier this month, as well as Microsoft (MSFT) - Get Free Report , Alphabet (GOOGL) - Get Free Report and Starbucks (SBUX) - Get Free Report all reporting Thursday -- most investors will shift their attention to another big name set to report next week: Apple (AAPL) - Get Free Report .
Apple, Facebook, Alphabet and Starbucks are holdings in Jim Cramer's Action Alerts PLUS Charitable Trust Portfolio. Want to be alerted before Cramer buys or sells AAPL, FB, GOOGL or SBUX? Learn more now.
Apple is scheduled to release its results on Jan. 31 after the close, and while total iPhone sales should show a year-over-year gain, the average selling price for the device is expected to fall according to some analysts. 
What does that indicate? Despite the significant overhaul that Apple made on the inside of the iPhone, some buyers just aren't finding it worthwhile to upgrade to the iPhone 7 and 7 Plus. Instead, they are opting for the previous version, the 6S and 6S Plus, which come with a lower price tag.
Of course, sales have still been impressive for the device, but that doesn't mean a number of users aren't holding out on their own devices -- the 6, 6 Plus, 6S and 6S Plus - in hopes that the next iPhone will really knock their socks off. 
This isn't so much a negative mark on Apple's latest phone, as it is a positive mark on its older devices. The company's iPhone is of high enough quality that as long as some customers don't shatter the screen or drop it in the toilet, they will continue to use the device so long as it still functions well. 
The hope from investors is that sales of the iPhone 7 will be strong enough to carry the company into the fall, when the expected iPhone 8 will be launched. If iPhone 7 sales can't bare the load alone, investors may look to Apple Services to help carry some of the burden.
While revenues from Services aren't like the revenues generated from iPhone sales, the impressive growth rate may win investors over. 
Shares of Apple closed at $121.72 Friday, down 0.2%. 
Tesla (TSLA) - Get Free Report CEO Elon Musk is feeling a little bit down lately. And no, it's not because of his Boring Company. Musk has been joining arms with President Donald Trump in the latter's initiative to boost U.S. jobs growth and #MakeAmericaGreatAgain. 
However, with many in the tech space opposing Trump pre-election -- and Musk wasn't exactly supporting him -- some followers that are seeing Musk get behind Trump are a bit baffled. 
Musk was previously a part of Trump's business advisory team, a group of American CEOs and business leaders that the president wants to meet with over the course of his term to help keep a pulse on the U.S. economy.
Given that Musk runs an automaker, he is also joining Trump's new manufacturing initiative, as is Ford (F) - Get Free Report CEO Mark Fields. From the tech space, the list also includes Intel (INTC) - Get Free Report CEO Brian Krzanich and Dell founder Michael Dell. 
For tech followers and Democrats, it's easy to feel that Musk is "going to the other side," so to say. But really, he is fully entrenched in running his businesses and is only trying to improve the situation. 
In response to one poster, who asked what Musk was doing and said the tech leader was losing credibility, Musk responded in a tweet that he's "hearing this from a lot of people & it's getting me down. I'm just trying to make a positive contribution & hope good comes from it." 
In Musk's case, it's hard to blame him. For starters, he's already created a bevy of U.S. jobs - about 25,000 - with more on the way. That's got to please Trump. Additionally, it wouldn't hurt for Musk to stay in the good graces of the new administration, with his companies receiving government incentives and contracts. 
Shares of Tesla closed at $252.95 Friday, up 0.2%. 
This article is commentary by an independent contributor. At the time of publication, the author held no positions in the stocks mentioned.