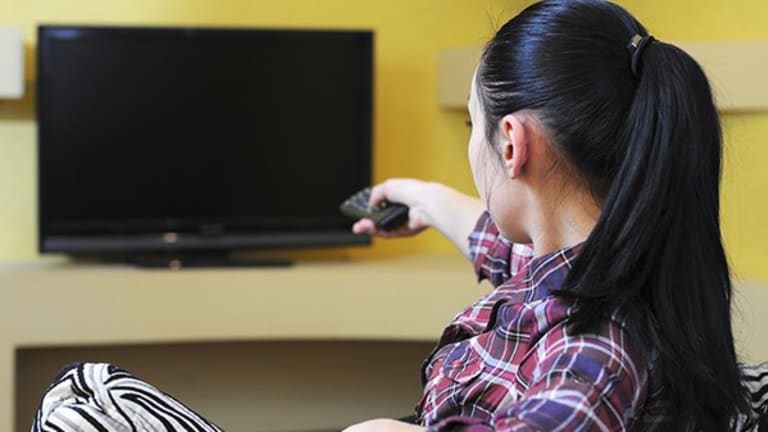 You Are Watching More Commercials on TV
Viewership is in decline for television, and they are stuffing television with more ads to compensate.
Viewership is in decline for television, and they are stuffing television with more ads to compensate.
NEW YORK (TheStreet) -- Have you noticed more commercials during your favorite TV shows?
In order to compensate for the shrinking number of television viewers, cable-TV networks are packing more advertisements into your favorite shows and live events. Specifically, cable-TV networks added 3.8% more ad spots into their programming during the first quarter compared to the same period a year ago, according to a Kantar Media report released Monday.
"You'd think the time [available for commercials] is finite, that there would be some upper limit," Jon Swallen, chief research officer for Kantar Media said. "They've been stuffing more ad time into program for an extended period of time."
In the first quarter of 2015, ad spending totalled $37.4 billion, which was 4% less than a year ago. Spending on the Sochi Olympics, which generated $600 million in ad sales, skewed the results but even then sales were down 2%, which underscores the larger trend of marketers moving some of the television money online.
"Even after taking into account assumptions about the growth of spending on other unmonitored media, it has been a relatively slow start for the ad market in 2015," Swallen said in the release.
The slowdown is having its impact across the media landscape. Sixteen of the 21 media types measured by the advertisement statistic company fell in the first quarter compared to last year. The types fighting the trend include cable networks, Spanish-language TV, and paid search spending, which saw increased ad spending.
The paid search market is a new media type for Kantar, and it includes text ads placed in the search results of Google (GOOG) - Get Report (GOOGL) - Get Report and Microsoft's (MSFT) - Get Report Bing. Paid search experienced the largest growth of the measured media types, rising 7%.
"Paid search is a relatively form of digital media, but it is still attractive advertisers budgets and still growing." Swallen said. "The growth we are seeing is understated."
The biggest decline came from Sunday magazines, which fell more than 33%. The decline does not include digital ad sales for these magazines.