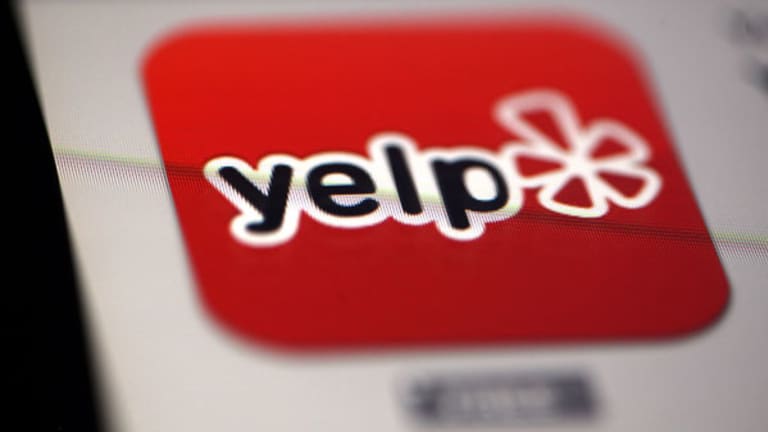 Yelp Plunges: What Wall Street's Saying
Analysts are largely bullish on Yelp, whose stock is sinking despite posting its first-ever profitable quarter.
NEW YORK (TheStreet) –– Despite beating consensus estimates in earnings and revenues in yesterday's earnings release, Yelp (YELP) - Get Yelp Inc Report shares tanked due to lower than anticipated business accounts growth.
Shares were falling 10.8% in mid Thursday trading, having last traded at $67.42.
Second quarter revenue grew 61.4% year-over-year to $88.8 million, beating the consensus estimate of $86.3 million. For the first time, Yelp, a business review site, had a profitable quarter, earning 4 cents per share, up from a 1 cent loss per share a year earlier; analysts polled by Thomson Reuters expected the company to lose 3 cents per share this quarter. Year-over-year, reviews increased 44% to 61 million, monthly unique visitors rose 27% to 138 million, and monthly unique mobile visitors grew 61% to 68 million.
Despite these successful results, Yelp has struggled to expand its reach. It launched websites in Japan and Argentina this year and opened its European headquarters in Dublin. This quarter, Yelp's active local business accounts rose 55% year-over-year to about 79,900, but the roughly 5,900 added businesses was short of some analysts' expectations. The unexpected profit was not enough to outweigh investors' concerns and sent the stock falling.
Here's what some analysts on Wall Street had to say:
Piper Jaffray analyst Gene Munster (Overweight, $90 PT)
"Yelp's strong Q2 report reaffirms our thesis that the company can continue to post solid quarter upside plus slight guidance raises as the business continues to expand. While the valuation has increased meaningfully over the past month, we believe social network stocks have entered a period of momentum and see little near term reason for that to change specifically for YELP. Additionally, while we had concerns in the past that competition could ultimately hurt Yelp, we continue to believe our checks on Yelp's reviews vs. Google give us confidence that Yelp's competitive moat is strong."
JMP Securities analyst Ronald V. Josey (Market Outperform, $114 PT)
"On international traffic, as reviews grow, Yelp should see improved natural search rankings over time and we note that Yelp ended the quarter with ~6.5 million international reviews, +181% Y/Y, across its 63 international markets…While we acknowledge the increased risk in owning shares given recent volatility, we would be buyers of the stock as we believe Yelp is well positioned to continue to gain share of the local advertising market given its 138 million unique users globally and 61 million reviews. Importantly, we believe Yelp can continue to deliver strong revenue growth coupled with significant margin expansion, a rare combination across the Internet sector."
Wells Fargo analyst Peter Stabler (Market Perform, $76-78 PT)
"User engagement metrics (unique visitors, submitted reviews) were again strong, suggesting Yelp's brand power continues to build as the company seeks a dominant local search presence…We think most investors were surprised by the growth rates of Yelp's local advertising revenue drivers: total paying accounts, and average revenue per account. Sequential net adds of 6.3K fell 24% and 28% short of our and consensus estimates, respectively. Though revenue results and improved guidance are clearly positives, we believe the sequential and year/year decline in net add growth rates introduces an element of uncertainty into long-term investor models reliant on account growth as central, critical driver."
Cantor Fitzgerald analyst Youssef Squali (Buy, $84 PT)
"Yelp reported another beat-and-raise quarter, with revenue and EBITDA 3%/40%, respectively, ahead of expectations. Strength was driven by active local business additions and pricing, yielding acceleration in local ad revenue and the first positive net income quarter for the company. The local online advertising opportunity remains massive, and the number of players with scale, brand, network effect and solid execution is very limited, positioning Yelp as a prime beneficiary over time…Yelp launched its 26th and 27th countries with Argentina and Japan, and management highlighted that Buenos Aires is already growing faster than any other Latin American market. Yet, international represented only 3% of total revenues in 2Q and traffic is growing at 80+% Y/Y, representing a sizeable opportunity ahead for Yelp."
JPMorgan analyst Kaizad Gotla (Buy, $100 PT)
"Yelp reported strong 2Q results and raised its full year outlook above our and Street expectations. The company continues to witness strong growth in local ad revenue and all of Yelp's cohorts accelerated in 2Q. Though Active Local Business Account (ALBA) net adds of 5,900 in 2Q were somewhat lighter than our and Street estimates, local ad revenue came in 3% above our $73.7M estimate due primarily to slower growth in lower-ASP deals advertisers which increased blended ARPU by ~7% Q/Q. We think Yelp continues to innovate on closing the loop for advertisers through products such as messaging and reservations on the Yelp platform and we believe the company remains very well-positioned to continue taking share of local ad dollars."
UBS analyst Eric Sheridan (Neutral, $80 PT)
"We maintain our Neutral view given the execution hurdles required to address new markets – brand recognition not on par with the US in most markets & competition for local discovery & eCommerce (Google, TripAdvisor, Priceline, etc.). Additionally, investors will likely cap the stock at after-market levels as questions arise on forward ALBA growth & implications of decelerating unit/revenue growth. Longer term, to address a potentially larger TAM, we believe Yelp may need to introduce additional variable pricing options – Yelp Deals, CPC packages, the YP deal, & SeatMe are all steps in the right direction in our view."
--Written by Laura Berman in New York
>Contact by Email.