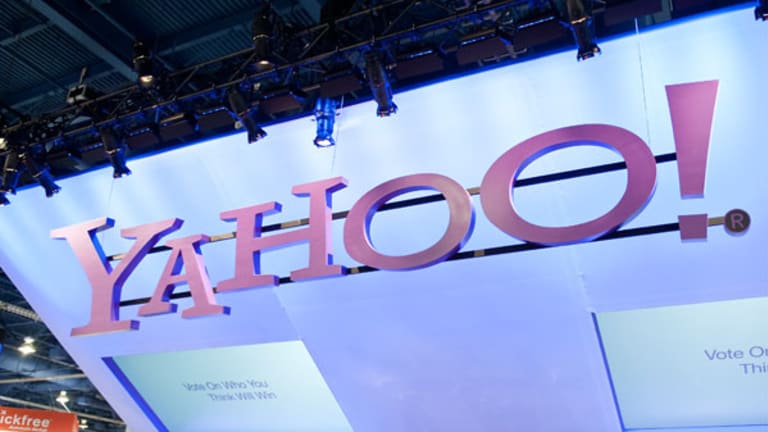 Yahoo!'s Pomp Without Circumstance: What Wall Street Is Thinking (Update 1)
Yahoo!'s fourth-quarter results show the core business isn't getting any better, and it doesn't look like it's going to anytime soon.
Updated from 8:13 a.m. EST to include comments from Pacific Crest.
NEW YORK (TheStreet) -- Yahoo!'s (YHOO) fourth-quarter results showed the Internet company's business isn't getting any better, and it doesn't look like it's going to anytime soon.
Yahoo! noted display revenue fell 6% from last year to $491 million. The number of ads rose 3% year over year but prices continued to decline, falling 7% from the fourth quarter of 2012. Search continued to be the better operating segment, as revenue excluding traffic acquisition costs (TAC), rose 8% to $461 million. Paid clicks, excluding Korea, rose 17% year over year, but the price-per-click fell 3% from the fourth quarter of 2012.
Yahoo! earned 46 cents a share, as the company sold $70 million worth of assets, benefiting earnings by 5 cents a share. For the quarter, Yahoo! generated $1.2 billion in revenue, ex-TAC. Analysts surveyed by Thomson Reuters were expecting Yahoo! to earn 38 cents a share on $1.2 billion in revenue.
For the first quarter, Yahoo! expects revenue to be between $1.06 billion and $1.1 billion, with adjusted EBITDA between $290 million and $330 million.

WATCH: Jim Cramer says Yahoo! Doesn't Have the Best Technology
Shares of Yahoo! enjoyed a significant run over 2013, as the company's Asian assets, Yahoo! Japan and Alibaba, performed much better than the Sunnyvale, Calif.-based company. However, earnings from equity interests fell to $222 million in the fourth quarter, down from $233 million in the third quarter. Despite the blip, Alibaba, which is set to go public later this year, saw revenue rise 51% year over year to $1.78 billion. Yahoo! owns 24% of Alibaba and 35% of Yahoo! Japan.
Yahoo! dipped lower in premarket trading Wednesday, losing 4.2% to $36.61.
YHOO data by YCharts

On the earnings call, CEO Marissa Mayer said 2013 was a year of investment, as the company seemingly acquired every start-up known to man, including ones such as Summly, Aviate and others. "In 2014 we will continue our efforts around people, products and traffic while concentrating our efforts on revenue," Mayer said, noting that she expects the business "to exhibit stable momentum with modest acceleration in the second half of the year."
Though many of Yahoo!'s acquisitions have been focused on mobile, the company has little in the way of revenue to show for it. Mayer noted that mobile revenue is still "not material," though it did nearly double year over year. Perhaps a hint that 2014 may be a year to buy revenue growth, Mayer noted 2014 could see some revenue accretive acquisitions if they make sense. This comes despite spending $1.1 billion on Tumblr in 2013.
Yahoo!'s core business is still not ready to turn around, and that's part of the reason why Chief Operating Officer Henrique de Castro was fired recently. Mayer seems serious about making 2014 a year for revenue growth, with the second half seeing "modest acceleration." Wall Street analysts were still largely bullish on the name, though a few cracks are starting to appear in commentary. Here's what a few of them had to say:
Cantor Fitzgerald analyst Youssef Squali (Buy, $40 PT)
"Yahoo! reported muted 4Q:13 results, losing share in both Display and Search. While management has made significant progress in addressing people, products and traffic, the significant missing piece, arguably, remains revenue growth; and with this management on the job for over a year, the clock is now ticking to show progress against such a goal in the next quarter or two. That said, prospects for an Alibaba IPO and further buyback should continue to support the stock short-term, in our view. We're adjusting our estimates
and PT (to $40 from $38, mainly on lower share count/higher cash generation) and maintaining a BUY rating."
UBS analyst Eric Sheridan (Buy, $46 PT)
"With an increased focus from investors on Chinese macro developments & SEC accounting issues with Chinese companies, the deceleration in Alibaba revenue growth
(+2% QoQ vs UBS at +8% QoQ) warranted a lot of attention from investors (especially given recent upward Street PTs for YHOO on Alibaba valuation). As an offset, Yahoo
management struck a more positive tone on the potential for core advertising growth as we get deeper into 2014 (which actually dovetails with some of our recent ad checks). In the near term, we expect that Yahoo's stock may trade in a narrow range as investors wait for additional information about both Alibaba & the core operations. Longer term, we believe Yahoo will realize significant value from its Asian assets, and a turnaround in the core operation still remains a call option (albeit one that might be closer to realization as greenshoots appear in new ad units)."
BMO Capital Markets analyst Daniel Salmon (Buy, $35 PT)
"It's been challenging to get more productive due to constant sales leadership changes for many years, but with the COO role not being filled, leaders already in place may start to generate traction. We remain optimistic on Tumblr as Yahoo! allows its content to flow through its portfolio of sites and continues to embrace native ad formats. While we saw the rebranding of Yahoo!'s ad tech earlier this month as a non-event, we would get more interested if it were applied to Tumblr or Stream ads to create "native programmatic" as part of a broader "premium programmatic" strategy. This could generate sales efficiencies and accelerate format mix shift away from traditional static display, where pricing pressure is most acute."
Oppenheimer analyst Jason Helfstein (Outperform, $43 PT)
"While Alibaba's C3Q results were weaker than expected, we are increasing our price target to $43 from $38 to reflect a 2015 IPO vs. 2014, previously. No details on what caused the Alibaba slowdown; however, this has been a trend in recent quarters. Regardless, we continue to believe that YHOO shares are the best way to play Chinese e-commerce. Core 4Q Yahoo revenue and EBITDA was in line with Street estimates. However, 1Q EBITDA guidance was 15% below consensus, and we adjust estimates. Management is not providing F14 guidance given uncertainty over growth, most likely related to expiration of MSFT search guarantee, in our opinion. Maintain Outperform, as base-case target assumes 14% upside, based on after-hours trading, with limited downside risk due to Asian assets."
Pacific Crest Securities analyst Evan Wilson (Sector Perform, No PT)
"Even with a bigger core revenue focus in 2014, we think Alibaba results will be the main variable for Yahoo. With crazy-high expectations for its Q4 and IPO valuation, we prefer other names where we have more visibility. We think Yahoo has stopped the bleeding, but we are still not convinced about a return to material growth. We still think investors should focus on players exposed to search, such as Google (GOOG, $1,123.01, Outperform) and Yelp (YELP, $76.09, Outperform), and other stories that are not pure display, such as LinkedIn (LNKD, $212.69, Outperform)."
-- Written by Chris Ciaccia in New York
>Contact by Email.