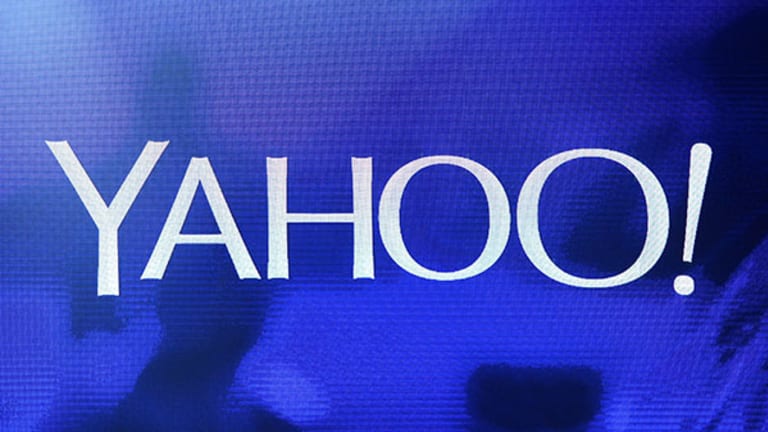 Yahoo!'s Core Business Is Pretty Much Worthless
Yahoo! shares are unable to stem their dive Wednesday amid renewed focus on the value of its core business and future growth prospects.
NEW YORK (TheStreet) -- Yahoo! (YHOO) shares were unable to stem their dive Wednesday amid renewed questions about the value of the Internet company's core business as well as its future growth prospects after Chinese e-commerce giant Alibaba filed to go public.
Yahoo! shares tumbled nearly 6.6% to $34.07 in afternoon trading.
Alibaba filed a prospectus for a public offering using a $1 billion placeholder on Tuesday while remaining undecided on whether to list on the New York Stock Exchange or the Nasdaq. The lobbying by both sides is expected to be fierce. The filing confirmed that Alibaba has 2.32 billion shares outstanding at an internal valuation of $50 a share, or $116 billion in total market capitalization.
Yahoo! owns 524 million shares or 22.6% of those shares outstanding, or about $26 billion. Yahoo! will be required to sell a 9% stake in Alibaba during the offering, raising an estimated $10 billion to $15 billion.
Adding together the roughly $26 billion stake that Yahoo! has in Alibaba to its roughly $9 billion stake in Yahoo! Japan produces an estimated $35 billion in holdings for Yahoo!, making up the bulk of the company's total market capitalization of $35.48 billion. All together, it confirms a very weak market value for Yahoo's core business.
That business will come under increasing scrutiny as Alibaba becomes a much smaller part of Yahoo!'s revenue trajectory with its debut and investors are soon to be given the option of buying directly into the fiercely competitive growth story of Alibaba rather than indirectly through Yahoo!, as the IPO enthusiasts would have previously done.
Wells Fargo analysts are now assuming an approximately $170 billion valuation of Alibaba based on their sum-of-the-parts valuation model, dwarfing Yahoo's current capitalization.
While excitement over the e-commerce giant's IPO has been largely responsible for Yahoo's stock surge over the past year, this driver is seen to be unsustainable.
"Once the noise is gone, the excitement over Alibaba is gone, we'll see what Marissa Mayer really does with the rest of this company and if she can turn it around," says Brian Frank, president of Frank Capital Partners. "My focus is more on valuation, and I think that the market has set a high-bar for Yahoo with the current type of valuation."
"Marissa Mayer might be a superstar, but Yahoo is still a third-tier tech company," Frank said. "She might be able to turn its core business around, but can she turn it into a growth company to justify that type of valuation? I don't think so."
Frank says unless the company can begin producing $1.5 billion to $2 billion of operating income a year, the tech stock growth laggard will continue to look overvalued. Frank doesn't own shares of Yahoo.
"If and when they liquidate their Alibaba stake, it remains to be seen how good of an allocator Marissa Mayer is," Frank added  "She bought Tumblr for about $1 billion -- that's certainly not producing anywhere near a decent operating income yield." 
-- Written by Andrea Tse in New York
>Contact by Email