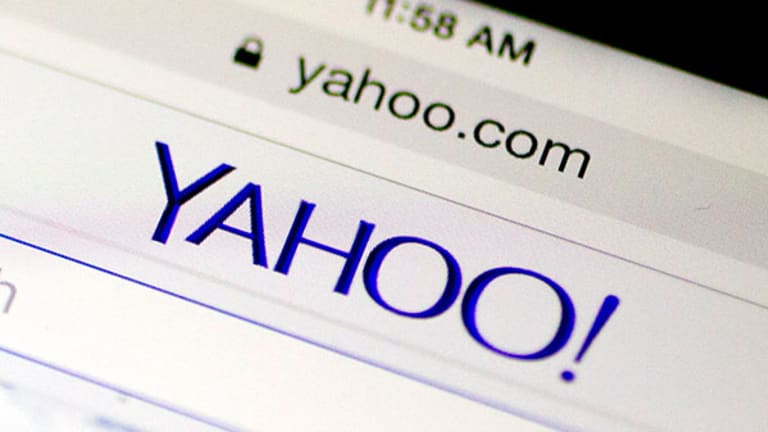 Yahoo!'s Best Days Are Ahead of It -- If You Believe Marissa Mayer
The struggling Internet company's future is bright, says its CEO Marissa Mayer at the annual shareholder meeting Wednesday.
NEW YORK (TheStreet) -- Yahoo!'s (YHOO) best days are ahead of it; that is, if you believe CEO Marissa Mayer.
At its annual shareholder meeting Wednesday, Mayer said the company's future is bright. "We think the best years for the company are still ahead of us," Mayer said in response to a question on whether one should keep owning shares.
The Sunnyvale, Calif.-based Yahoo! has been in a down slope since the start of the year, with shares losing nearly 20% of their value. For comparison, other advertising-centric companies such as Google (GOOGL) - Get Alphabet Inc. Class A Report (GOOG) - Get Alphabet Inc. Class C Report and Facebook (FB) - Get Meta Platforms Inc. Class A Report have seen their shares appreciate by 5.2% and 13.8%, respectively.
Mayer, who has been at Yahoo! for almost three years, has had a tough time turning around the core business.
Its 2014 year-over-year revenue, excluding traffic acquisition costs, fell 1% to $4.4 billion. Shares have been buoyed by the company's 25% stake in Alibaba (BABA) - Get Alibaba Group Holding Ltd. Report, which Mayer has previously said the company will spin off to shareholders tax-free prior to the end of the year. At the meeting, Mayer said the spinoff remains on track to occur in the fourth quarter of this year.
In addition to the stake in Alibaba, Yahoo! also owns a stake in Yahoo! Japan, which has been talked about as a potential spinoff to shareholders as well. But Yahoo! has noted in the past it has "retained advisers to determine the most promising opportunities to maximize value and it is currently a key priority to explore those options thoroughly."
In an effort to help with a "multi-year transformation of the business," Mayer and her team have focused on several key areas -- collectively known as MaVeNs for mobile, video, native and social -- to help adapt the business to the Internet of today and the future. Mayer stated $768 million in revenue came from mobile in 2014, with the MaVeNs group collectively accounting for more than $1 billion in annual revenue.
Chief amongst the MaVeNs group is Tumblr, the company's largest acquisition to-date under Mayer. In 2013, Yahoo! paid $1.1 billion in cash and stock for the blogging platform, but so far, does not have much to show for it. 
Tumblr is approaching 500 million users, according to Mayer, but has yet to crack the $100 million mark in annual revenue. Mayer has repeatedly said Tumblr remains on track to surpass $100 million in annual revenue in 2015.
The company's core focus is to be the guide to the World Wide Web by concentrating on search, content, video and more.
Now, it's up to the company to actually generate revenue growth from that.