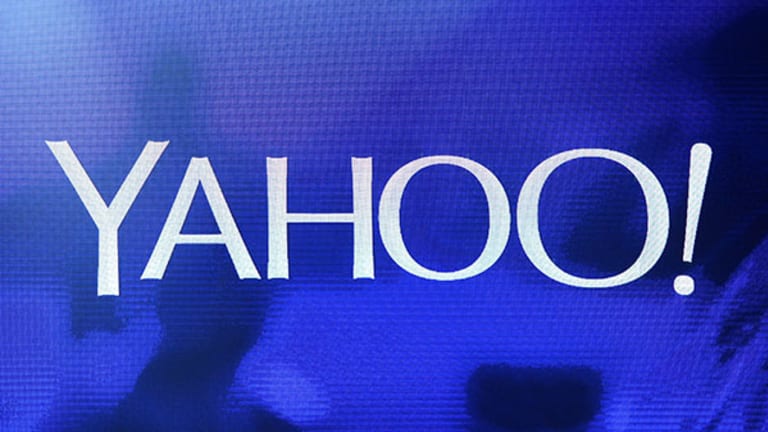 Updated from July 9th to include pricing information from Alibaba IPO scattered throughout.

NEW YORK (TheStreet) -- After Alibaba's initial public offering, Yahoo! (YHOO) and CEO Marissa Mayer may be looking to put some of the $5 billion new windfall from the sale to work buying companies that can boost revenue and engagement.
"It feels like most small and mid-cap Internet companies are possibilities," said one hedge fund analyst, who declined to be named. "Given the recent deal for Community, it seems she [Mayer] is desperate for content." The analyst owns Japanese-based Softbank -- which holds a stake in Yahoo! Japan, and not Yahoo! -- because "of the risk" of what Mayer might do once the company receives the cash infusion from the Alibaba stake sale.
A Yahoo! spokesperson said the company doesn't comment on rumors or speculation.
Yahoo! is required to sell 140 million shares of its Alibaba holdings (down from a previous 208 million) in the IPO, expected to take place Friday morning, which would significantly boost its balance sheet. At the end of the second quarter, Yahoo! held $4.3 billion in cash, compared to $5 billion at the end of 2013, a drawdown of $700 million. 
Much of the speculation about what Sunnyvale, Calif.-based Yahoo! will do with its new cash has centered on the core business, search and advertising, which has declined in recent years, as companies like Facebook (FB) - Get Facebook, Inc. Class A Report , Google (GOOG) - Get Alphabet Inc. Class C Report and others get advertising dollars.
Yahoo! holds nearly 24% of Alibaba, which is expected to start trading tomorrow, after the IPO prices tonight. Alibaba recently upped the price of its offering to a range of $66 to $68 a share, due to very strong demand, something Jeffrey Sica of Sica Wealth Management said was a result of "less retail investors than expected and a lot of institutional investors." That would make Alibaba worth around $160 billion, before it even hits the open market. That would make Yahoo!'s stake worth around $38 billion, while the entire company is worth just $42.5 billion, as of yesterday's closing price. Yahoo!'s current market capitalization takes into account not only the Alibaba stake, but a 35% stake in Yahoo! Japan, as well as its core business.
Yahoo! has more than 450 million mobile users, a statistic Mayer and CFO Ken Goldman have touted several times, as the company transitions to the mobile age. Not only is Yahoo! adding mobile users, growing at 100% in just over two years, they are actively using the company's apps, Mayer noted. "In addition to driving user growth, mobile has also delivered step changes in engagement with the time spent on mobile growing 79% in the last year alone," she said on the second quarter earnings call.
Mayer has said that Search, Communications, Digital Magazines and Video are the four key areas of interest for Yahoo!, as it seeks to reshape itself. In that note, Yahoo! has acquired dozens of smaller companies to help with that front, including names like Summly, Jybe, and the largest, Tumblr, which was purchased in May 2013 for $1.1 billion in cash and stock.
Cantor Fitzgerald analyst Youssef Squali believes that of the 524 million Alibaba shares Yahoo! holds, 430.9 million are still held in Hong Kong, which could boost Yahoo! share prices. "Assuming no capital gains tax on Hong Kong-held shares (pre-US repatriation tax,) we estimate there could be $10-15/share of additional upside to our $42 DCF-derived PT," Squali wrote in a research note.
In the second quarter, Yahoo!'s core business decelerated to $1.03 billion, down 3% year over year, as weakness in the display unit dragged down the modest growth seen in the search portion of Yahoo!. Mayer has reiterated that the company will continue to be acquisition, having previously mentioned "strategic acquisitions," and some tuck-in acquisitions, as Yahoo! has done in the past.
A look on Mergerize, a social platform for making merger and acquisition predictions, shows Yahoo! is expected to be quite active acquiring companies in the next few years. Names like Pinterest, Yelp (YELP) - Get Yelp Inc Report , AOL (AOL) , Quora, Foursquare, and several others are mentioned, as the Sunnyvale, Calif.-based Yahoo! seeks to boost its core business, which includes search and display advertising.
Here are three areas where Yahoo! CEO Marissa Mayer may look to acquire businesses to boost not only the company's engagements, but revenue as well.
User-Generated Content
As Yahoo! seeks to boost not only revenue, but user engagement and eyeballs, user generated content companies have never been hotter. Yahoo! purchased Tumblr, a user-generated-centric platform in May 2013 for $1.1 billion in cash and stock, despite the fact the company only did $12 million in revenue in 2012.
At a recent JPMorgan investor conference, Yahoo! CFO Ken Goldman noted what the company needs to do is continue building out its presence on mobile. "I think the thing we need to do is those eyeballs have been going mobile and clearly that's where we show the growth and so where in mobile whether its video, social and Tumblr," Goldman said at the June conference.
Mayer has tried to buy Yelp in the past, when she was a high-ranking executive at Google, and may look to do so again, now that she's at Yahoo!. "Potential acquirers of Yelp could include: Amazon, Ebay, Google, Microsoft, and Yahoo (plus some international players)," wrote SunTrust analyst Robert Peck in a research note, when discussing the OpenTable (OPEN) , Priceline (PCLN) transaction.
Yahoo! recently announced it would be incorporating Yelp's reviews, business information and star ratings to Yahoo! Search, but the company's business model feeds on itself, providing an economic moat.
Yelp spokeswoman Katrina Hafford had no comment for this story.
In a recent interview with TheStreet, Zillow (Z) - Get Zillow Group, Inc. Class C Report Chairman Rich Barton argued user-generated content companies are very hard to replicate. "The UGC that Yelp has and that TripAdvisor (TRIP) - Get TripAdvisor, Inc. Report has, those are just dreamy," Barton said in a June 11 interview. "The more content you have, it attracts the more users to it. The more users, the more content. Now you have more content, it attracts more content."
For the second-quarter, Yelp earned 4 cents a share on $88.8 million in revenue, as cumulative reviews grew 44% year over year to approximately 61 million. Yelp noted that active local businesses continue to take to the platform, as there are now approximately 79,900 local business accounts on the service, up 55% year over year.
Even though Yelp is expected to generate approximately $375 million in revenue this year, according to analyst surveyed by Thomson Reuters, the company's market cap is $5.5 billion, making it a major acquisition, and potentially Mayer's largest acquisition to date.
Other smaller companies in the user-generated content space that have been mentioned as potential Yahoo! acquisition targets include WordPress, a Tumblr-competitor, and the recipe recommendation and search engine app, Yummly, which sees more than 15 million monthly unique visitors, and generates more than 25 page views per visit on mobile.
Yummly CEO and co-founder Dave Feller would not comment on specific talks. "We are continually evaluating opportunities to leverage our strength in food data, search and discovery to deliver personalized content and commerce experiences for consumers," Feller said in an emailed statement. "While we know that Yummly is an attractive strategic target for some companies, we don't comment on specific dialogues."
Ad Tech
As Yahoo! seeks to boost search revenue, one way to do that is buying ad tech companies, and companies that deal with real time bidding.
SunTrust analyst Robert Peck believes that the theme of larger companies buying these types of companies is playing out in 2014, and will continue to happen in 2015. "The two big ones are ad tech and real time bidding," Peck said in a July phone interview. "There's also mobile ad networks and video. The growth of video, video advertising, mobile ad networks have been prominent. There's a lot of focus on that from clients, and advertisers as well."
Facebook acquired LiveRail, in July, a video ad tech company which connects marketers to publishers on both desktop and mobile. Other ad tech companies have recently been purchased by larger companies, with Twitter recently acquiring Tap Commerce, Namo Media, and late last year, buying MoPub for a reported $350 million.
Though LiveRail is now off the tablet, Ironfire Capital's Eric Jackson (and a contributor to RealMoney, a sister publication to TheStreet) believes Mayer will continue to look in this space. "I think they will look closely at Rubicon (RBCN) - Get Rubicon Technology, Inc. Report and Millennial Media (MM) because they have yet to really make an aggressive move into programmatic buying and that's where the ad world is heading," Jackson said in an email to TheStreet.
Millenial Senior Communications Manager Christina Feeney said the company does not comment on rumors. Rubicon Chief of Staff Matthew Karatz said the company does not comment on speculation.

On Yahoo!'s first-quarter earnings call, Mayer noted the company Yahoo Gemini, "the first unified ad marketplace for mobile search and native advertising," allowing advertisers to be able to buy, manage and optimize mobile advertising campaigns in one place.
The 39 year-old CEO was also excited about the launch of the company's new Yahoo! As Manager Plus buying platform. "The opportunity here is to leverage our powerful combination of ad technology, optimization expertise, rich data and targeting for advertisers to connect with target audiences on the Yahoo! network and elsewhere in our publisher network," Mayer said on the call. "Improving and innovating on our ad technology offerings was a key focus in Q1 and you will continue to see us work hard and invest in ad tech, as we migrate to these new platforms and tools."
Despite the recent product launches, Yahoo!'s core business has remained relatively flat for years, having declined in the second quarter. Second quarter display revenue ex-TAC (traffic acquisition costs) was $394 million, a 7% decrease year over year, as the number of ads increased 24% year-over-year, but the price per ad continued to trend lower, falling 24% over the same time frame. Search revenue jumped 6% year-over-year, rising to $428 million excluding TAC, as paid clicks increased approximately 3% compared to the first quarter of 2013, and price-per-click increased approximately 15% during the same time frame.
For the third-quarter, Yahoo! is expected to generate $1.05 billion in revenue ex-TAC, down 3.2% year over year, reinforcing the need that Mayer and her executive team need to do something to keep the company growing, and attracting the kind of engineering talent to stay competitive in Silicon Valley.
Social Networking
SunTrust's Peck, who is also a contributor to TheStreet, believes that companies with big balance sheets are going to continue putting that to work. "You've seen that with Google buying Nest, Facebook buying WhatsApp, and Facebook buying LiveRail," Peck said in a recent phone interview. "Companies with large balance sheets will continue to augment their audience, and monetization as well."
Pinterest, which recently raised money at a $5 billion valuation, could be the coup de grace for Yahoo!, if it wants to overtake Google and Facebook. According to research firm RJ Metrics, Pinterest is incredibly important for not only eyeballs and engagement, but e-commerce as well. Females, which make up nearly 80% of pins according to RJ Metrics, are getting more active, the longer they are on the platform. "While we see a drop off in male users, 84% of female pinners are still pinning in their fourth year using the platform," the research firm said in a blog post. "What's even more interesting is their level of activity: it turns out that female users only get more active with time."
Pinterest spokeswoman Mithya Srinivasan said the company does not comment on rumors or speculation.
Last year, IBM (IBM) - Get International Business Machines (IBM) Report released its annual Black Friday survey, noting that Pinterest users were indeed more valuable than Facebook, as its users spent more during the holiday shopping period than Facebook's users did. IBM noted that the average Pinterest order value was $92.51, as opposed to $52.30 for Facebook. With holiday shopping referrals from Pintrest accounting for 77% more spend than Facebook referrals, it's clear why Pinterest recently raised funding at a $5 billion valuation.
Pinterest is still relatively small in number of monthly active users (some reports put it at 70 million, while some third-party studies peg it around 40 million and comScore puts it at 60 million), but it's clear that Pinterest users are valuable for a company looking to expand into e-commerce, as Ironfire Capital's Jackson believes Yahoo! will.
The company is also working on expanding its presence elsewhere on the web. The company recently announced a new Follow button, which will "pop up a small dialog with a preview" of a company's latest pins, allowing users to never leave the company's website.
--Written by Chris Ciaccia in New York
>Contact by Email.