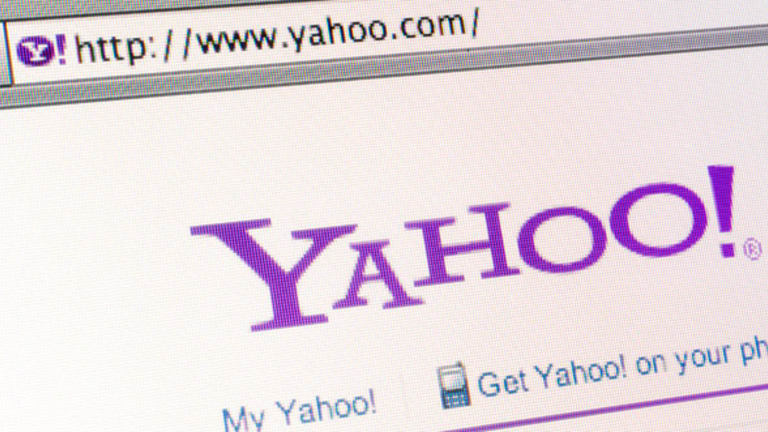 Yahoo! 'Tumbling' Down the Right but Expensive Path (Update 2)
Yahoo!'s acquisition of Tumblr is a smart idea, but at $1.1 billion it better pay off for CEO Marissa Mayer.
Yahoo!'s acquisition of Tumblr is a smart idea, but at $1.1 billion it better pay off for CEO Marissa Mayer.
Updated from 9:29 A.M. to include analyst in the eighth paragraph..
NEW YORK (
) --
Yahoo!
(YHOO)
CEO Marissa Mayer is making an enormously bold bet,
buying
Tumblr
for $1.1 billion, mostly in cash. Tumblr has what Yahoo! needs to turn its core business around. But considering the company only did $13 million in revenue last year, it better pay off, or this could be Mayer's first major flub.
When Yahoo! announced its
Summly
acquisition several weeks ago, Mayer's
was really beginning to reveal itself. Mayer believes that content is king, and Tumblr is just that. There's also the mobile aspect of Tumblr, which Mayer has repeatedly said is something Yahoo! needs to focus on to compete in the future.
Also see: Tumblr Yahoos! Old Dog, New Blog >>
Buying Tumblr helps address the issue of personalized content to help drive display revenue growth, something Mayer has talked about before.
"The combination of more personalized content and increased product innovation will be key in getting us back to a path for display revenue growth," Mayer said during Yahoo!'s fourth-quarter earnings. The CEO also added that Yahoo! would have "some content costs, which you'll see as we make some of these developments."
According to
comScore
, Tumblr had 117 million visitors in April, with more than 100 million blogs, and over 50 billion posts. Tumblr CEO David Karp has built a blogging powerhouse, but has only just started to monetize his user base.
The New York-based Tumblr told
Forbes
it posted $13 million in revenue in 2012, and there have been
reports from AllThingsD, which first broke the acquisition news
, that the company could do as much as $100 million in sales this year.
If $100 million or a number close to that is achieved for 2013, that's roughly revenue growth of eight times what the company did in 2012. That's incredible, and would be enough to definitely
consider
spending $1.1 billion in cash. The problem is that $100 million is still small potatoes to Yahoo!, which did $1.14 billion in
. The issue for Yahoo! over the past few years has never been about its user base (some 700 million monthly users to various properties), it's been about making money off those users. Tumblr addresses expanding the user base, but given its core demographic, it's tough to say when Yahoo! will see a return on its $1.1 billion investment.
Also see: Cramer Divines Vine: Old Dog, New Blog >>
Buying Tumblr (Yahoo! confirmed the deal on Monday), is a good start to turn core Yahoo! around. It helps bring the "cool" factor back to Yahoo!, says Cantor Fitzgerald analyst Youssef Squali. "Tumblr attracts a younger and more engaged audience than the more stayed
sic Yahoo!, bringing 300M+ monthly uniques, 108.6M blogs and 50.9B posts to Yahoo!'s portfolio," Squali wrote in his note. He rates shares "buy" with a $30 price target.
Yahoo!'s share price has jumped this year, gaining 33.3% year to date, and around 70% since Mayer took over as CEO in July 2012, thanks in large part to increased valuations of its Asian assets,
Alibaba
and
Yahoo! Japan
. The share price jump buys Mayer time to figure out how to best utilize Tumblr to turn core Yahoo! around, but it's not going to be easy.
On Mayer's
, she promised "not to screw it up."
"Tumblr is incredibly special and has a great thing going," Mayer added. "We will operate Tumblr independently. David Karp will remain CEO. The product roadmap, their team, their wit and irreverence will all remain the same as will their mission to empower creators to make their best work and get it in front of the audience they deserve. Yahoo! will help Tumblr get even better, faster."
Yahoo! is holding a press conference on Monday in New York at 5 p.m. EDT, presumably to discuss the merger, though no official details have been announced.
TheStreet
will be attending the press conference live.
I recently
three places for Mayer to consider spending Yahoo!'s cash, including
Zynga
(ZNGA) - Get Report
,
Yelp
(YELP) - Get Report
and
Pinterest
. Those companies are poised to produce significantly more in annual revenue than Tumblr, though all three would've come at a higher cost than the $1.1 billion deal for Tumblr.
Yahoo! is chasing a younger audience here, the 18-to-34 age group that primarily uses Tumblr. For now, it's been reported that Yahoo! will give Karp and his team independence, except for some back-end stuff, and expanded opportunities for distribution. That's the right idea until Mayer, Karp and their respective teams figure out how to best monetize Tumblr's vast user base in a meaningful way.
--
Written by Chris Ciaccia in Newport Beach, Calif.
>Contact by
.