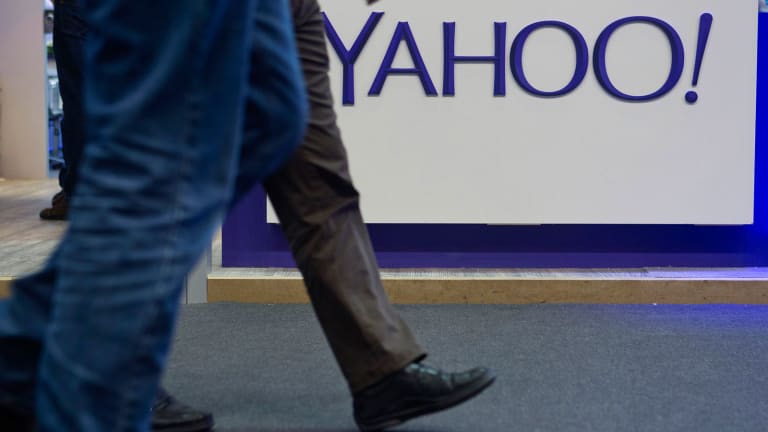 Publish date:
Yahoo! May Have Found a Company That Wants to Buy It -- Tech Roundup
Time Inc. might buy Yahoo!'s core business, a new messaging app is adding 350,000 new users every day, and wearable device sales exploded higher in 2015.
Time Inc. might buy Yahoo!'s core business, a new messaging app is adding 350,000 new users every day, and wearable device sales exploded higher in 2015.
Following Alibaba's (BABA) - Get Report  initial public offering in 2014, shares of Yahoo! (YHOO) -- which owns a significant stake in the company -- continued higher and higher while the company grew larger in value thanks to Alibaba's appreciating stock price. 
Many investors were bullish on the stock, believing Yahoo! would simply spin off its stake, collect a windfall in profits (possibly tax-free), and return to its former tech titan ways -- especially if the company could reboot its struggling core business. 
My, how things have changed. Shares are down 40% from its late-2014 highs, the core business continues to flail and the company can't seem to figure how to spin off its now-declining asset. Alibaba stock has declined almost 50% from its intraday all-time high of $120. 
Yahoo! has been in contact with potential buyers, including AT&T (T) - Get Report , Comcast (CMCSA) - Get Report and Verizon (VZ) - Get Report , hoping to offload its core business. However, another candidate has reportedly entered the fray: Time Inc. (TIME) .
As reported by Bloomberg, Time -- despite being an underdog compared to the other, larger companies -- could be a big beneficiary if it's able to complete the transaction in a tax-free manner. 
Time, ironically, seems to be the one thing Yahoo! CEO Marissa Mayer doesn't have, as investors' frustrations grow stronger the longer the share price remains depressed.
Shares of Yahoo! closed at $30.67 on Tuesday, down 1.6%. 
Let's try a little "Financial Jeopardy" on this one:
This messaging app recently hit 100 million monthly active users, and is growing its user count by 350,000 new sign-ups each day. 
Answer: What is Telegram?
Messaging Apps have become widely popular, especially among younger users, as well as users in emerging economies because all that is needed is a WiFi connection as opposed to a carrier network. 
Those looking at Telegram's user numbers might draw conclusions to a potential acquisition, thinking most likely about WhatsApp, now a part of Facebook (FB) - Get Report . 
Facebook acquired WhatsApp for an astounding $21.8 billion in cash and stock two years ago. At the time the company had a whopping 450 million users and has continued to grow at a rapid pace. 
While Telegram isn't quite to that level, it won't take long to generate a massive user base if its current growth rate continues. 
Although Fitbit (FIT) - Get Report beat analysts' estimates on Monday night when it reported earnings, its guidance failed to impress. As a result, the stock plunged to just a hair above its 52-week lows, and it could remain in the "penalty box" for quite some, according to TheStreet's Jim Cramer, co-manager of the Action Alerts PLUS portfolio. 

Although guidance came in light, the company's strong growth did reaffirm recent data published by the International Data Corporation, which showed 2015 wearable device sales climbed a whopping 171.6% to 78.1 million units compared to 2014. 
Fourth-quarter sales climbed 126.9% in 2015 over the same period in 2014. 
The market goes beyond Fitbit, though, including Apple (AAPL) - Get Report , Samsung (SSNLF) and Garmin (GRMN) - Get Report . Xiaomi showed the fastest year-over-year growth, with sales up 951.8% to 12 million units in 2015 vs. 1.1 million units in 2014. 
According to the IDC data, Fitbit garnered 26.9% market share for 2015, compared to 15.4% for Xiaomi and 14.9% for Apple. In the fourth quarter, Fitbit upped its market share of sales to 29.5%, compared with 15% for Apple and 9.7% for Xiaomi. 
Still, questions linger as to whether wearable devices will continue that rapid growth or peter out in the same way as  smartphone and tablet sales. 
Shares of Fitbit closed at $13.08 on Tuesday, down 20.6%. 
Shares of Viacom (VIA) - Get Report spiked in Tuesday trading after news the company may make a strategic, minority investment in Paramount Pictures. Initially, shares shot out of negative territory and climbed 5% on the news. 
"We have received indications of interest from potential partners seeking a strategic investment in Paramount Pictures and I have decided to pursue discussions with a select group of potential investors," Philippe Dauman, executive chairman, president and CEO of Viacom, said at the Jefferies Media and Communications Conference Tuesday. 
Mario Gabelli, one of the company's largest shareholders, suggested the company make a series of moves to launch a Netflix (NFLX) - Get Report  type of platform. 
Viacom is likely looking to tap into some growth and unlock value in Paramount's rich content and deep pipeline. 
Shares of Viacom closed at $41.01 on Tuesday, up 1%.
This article is commentary by an independent contributor. At the time of publication, the author held no positions in the stocks mentioned.