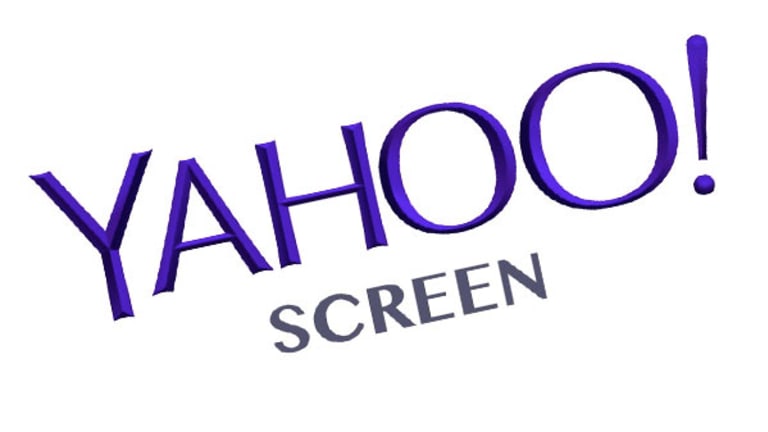 Yahoo! Looks to Original Content For Growth
Yahoo! announced on Monday evening that is was launching two original comedies, part of its new lineup of long-form shows as it looks to push further into video.
NEW YORK (TheStreet) - Yahoo (YHOO) announced on Monday evening that is was launching two original comedies, part of its new lineup of long-form shows as it looks to push further into video.
The two shows, Other Space and Sin City Saints, will launch on Yahoo Screen next year. Each series will be eight episodes long and 30 minutes each in duration that can be viewed via desktop, on the Yahoo Screen mobile app or via Apple (AAPL) - Get Free Report TV or Roku streaming devices.
CEO Marissa Mayer and CMO Kathy Savitt announced the shows at the Digital Content NewFronts event in New York. During the presentation appearances, included by New York Jets coach Rex Ryan and Minnesota Timberwolves player Kevin Love, according to The Wall Street Journal.
The two shows were a part of the 100 projects that Mayer and Savitt had reviewed as part of an initiative for the search company to find its own hit original series. The Journal had reported in early April that Yahoo! was looking to acquire four Web series that would rival episodic shows from Netflix (NFLX) - Get Free Report and draw viewers to the site with original programming.
According to a blog post by Savitt on Monday, Other Space, created by three-time Emmy nominee Paul Feig (Freaks and Geeks, Bridesmaids, The Office) is a "galactic adventure set in the early 22nd century, when the human race has mapped most of the known universe, failed to find alien life, and frankly gotten a little tired of the whole thing. A spaceship on a routine collection mission stumbles into the greatest discovery in history: an alternate universe, far stranger and way more dangerous than ours. Now the ship's crew -- a collection of over-matched rookies, feuding siblings, burned-out veterans and obsolete robots -- has to explore this new universe to try and find a way back home alive."
Sin City Saints from executive producer Mike Tollin (One Tree Hill, Smallville and Varsity Blues) and two-time Emmy nominated director Bryan Gordon (Curb Your Enthusiasm, The Office, Party Down), is "an off-beat comedy set in the front office of a fictional pro basketball expansion team. The show will revolve around Jake Tullus, a Silicon Valley tycoon whose lifelong dream was to buy a pro basketball team but quickly finds he's in over his head. The group he assembled won't be much help. Sin City Saints will follow the triumphs, travails, and transgressions of Las Vegas' first major league sports franchise," according to the post.
Since launching its comedy lineup seven months ago, Yahoo! has seen 500 million streams on through Yahoo Screen in the U.S. alone, Savitt wrote in the post, with popular shows like Saturday Night Live and Comedy Central. "We're thrilled to kick off our long-form programming with critically acclaimed creators Paul Feig, Mike Tollin and Bryan Gordon, and we will continue to work with entertainment's top creators to bring you fresh, innovative and original shows you can watch anytime, anywhere," Savitt said . "There's more to come, so stay tuned!"
Mayer said on the company's earnings conference call earlier this month that Yahoo! plans to expand its original video content with "much more focus and quality" in 2014.
"Our constraint on video has always been inventory and our investment in building our library in the Yahoo! screen brand is helping us to address this. We have continued to grow users and monthly streams and that's beginning to translate into revenue growth. While we are only getting started, we're very focused on this growth business in 2014," Mayer said.
"Yahoo! has produced more than 70 original web shows. Moving forward, we will continue to bring our users great original content. We will do so with much more focus and quality. Smart, more strategic investments in video can really help us grow our user offerings, traffic and ultimately revenue," Mayer added.
Separately, similar to its deal with Comcast (CMCSA) - Get Free Report, Netflix and Verizon (VZ) - Get Free Report signed a direct connection deal, according to a tweet last night by BTIG Research analyst Walter Piecyk that said Verizon CEO had confirmed the company signed a "direct connection deal with Netflix like Comcast's."
Netflix spokesman Joris Evers also confirmed in a tweet that: "We have reached an interconnect arrangement with VZ that we hope will improve performance for customers over the coming months.
Verizon spokesman Bob Varettoni also tweeted confirming the deal, adding that terms were confidential.
--Written by Laurie Kulikowski in New York.
Disclosure: TheStreet's editorial policy prohibits staff editors, reporters and analysts from holding positions in any individual stocks.