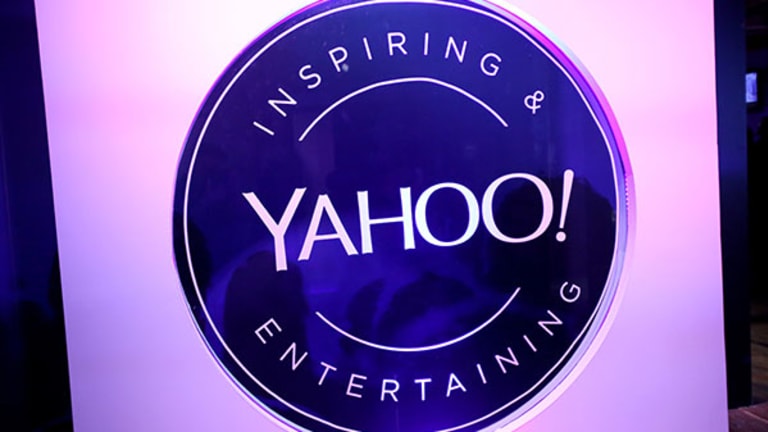 NEW YORK (TheStreet) -- Yahoo! (YHOO) investors may have constant concerns about the company's core business grinding to a halt, but a spinoff of its remaining stake in Alibaba (BABA) - Get Alibaba Group Holding Ltd. Sponsored ADR Report shouldn't add to the worries, analysts said.
Shares of Sunnyvale, Calif.-based Yahoo! fell sharply prior to the market close on Tuesday, as news trickled out that the Internal Revenue Service was looking at amending its rulings on spinoffs.
Isaac Zimbalist, a senior technician reviewer at the IRS, stated that the issue of spinoffs needs to be studied, while requests that already were received by the IRS would move forward.
Yahoo! investors took this to mean that Yahoo!'s spinoff of its remaining stake in Alibaba along with Yahoo! Small Business into an entity known as SpinCo. could be at risk.
Shares fell more than 7% on Tuesday, closing at $40.98, their lowest level since October 2014.
Yahoo! said that the comments from Zimbalist weren't applicable to it, and the spinoff of the assets remained on track to happen by the end of the year, as Yahoo! previously indicated.
"An IRS representative stated Tuesday that the IRS plans to study its rules for issuing private letter rulings regarding the active trade or business requirement in spin-off transactions and will hold off processing new ruling requests," said a Yahoo! representative in an email statement. "Yahoo understands that the IRS's statement is not specific to Yahoo's planned Q4 2015 spin-off of its remaining stake in Alibaba Group and Yahoo Small Business, reflects no change in applicable law, and does not affect previously filed ruling requests. Yahoo filed its pending ruling request with the IRS in Q1 2015."
Yahoo! shares were rising in premarket trading Wednesday, up nearly 3% to $42.20 on the back of the company's statement.
Here's what analysts had to say regarding the news:
SunTrust analyst Bob Peck (Buy, $59 Price Target)
"Yesterday, headlines from a speech by Isaac Zimbalist, a senior technician reviewer at the IRS Office of Associate Chief Counsel, delivered at a D.C. Bar Association event raised questions on whether the spin of Alibaba shares from Yahoo! would be tax free based on potential rules changes. It is extremely unclear what exactly the IRS may be studying, or what impact it could have to Yahoo's proposed spin. We believe that ambiguous statements from a non-senior employee at a DC event is not how the IRS would communicate breaking or "material news." We think at ~$41 Yahoo! shares are already being priced at a worst case 40% tax rate scenario and we see this as a buying opportunity for investors."
Cantor Fitzgerald analyst Youssef Squali (Buy, $60 PT)
"We view commentary from the IRS's Office of Associate Chief Counsel late afternoon yesterday regarding changes to the tax treatment of certain spinoffs as raising a cloud of uncertainty around Yahoo!'s plans to hold a tax-free spinoff of its shares in Alibaba. This uncertainty pressured the stock shortly before the close yesterday, but we reiterate our BUY rating on the shares. An analysis of varying tax treatments of SpinCo yields ~$16/share negative impact under a worst case scenario relative to our $60 fair value. At $41/share, we find the stock compelling on DCF and SOP bases."
Oppenheimer analyst Jason Helfstein (Overweight, $58 PT)
"Just before the close, Bloomberg BNA reported the IRS is considering changing its ruling practice for section 355 tax-free spin-offs. The IRS is deciding how to rule on spin-offs where the operating asset is small compared to the non-operating asset. In Yahoo's case, its Yahoo Small Business with ~$50M of EBITDA "the active business," vs. its $35B Alibaba stake. We are unclear how the IRS will decide on affected rulings already in-house. We assume YHOO/BABA is already submitted, but have not confirmed with management. Based on YHOO's closing price, we believe the market is now pricing in an unfavorable ruling."