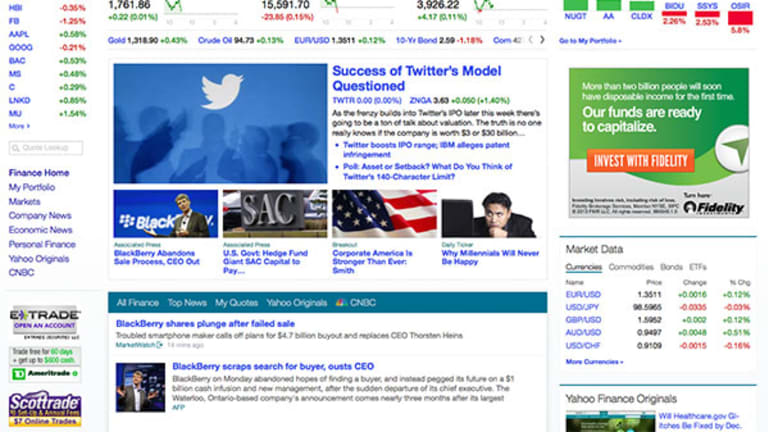 Updated from 7 a.m. EST to provide comments from Yahoo! in the third paragraph.
NEW YORK (
) -- I
with
Yahoo!
(YHOO)
CEO Marissa Mayer not to ruin Yahoo! Finance when I heard the venerable finance portal was making a makeover. It appears my prayers were answered.
Yahoo! unveiled its newest version of both Yahoo! Finance desktop and a new Yahoo! Finance app for
Apple's
(YHOO)
iOS operating system this morning, putting the property more in line with other revamped Yahoo! properties, including the homepage. Not only is Yahoo! Finance updated, there's now more real-time data from different providers to give users a much more "now" feeling when looking at quotes, tickers and news.
Update: A Yahoo! spokesman emailed me to tell the new Web experience would be delayed, but the app is available in Apple's App Store Wednesday
.
At the top of the page, you'll see dynamic charting, allowing users a more visual and aesthetically pleasing experience when looking at financial news. Mayer has continued the theme of personalization, with Yahoo! Finance getting more personalized quotes and access to users' portfolios right at the top of the page. You can change the screen to go from your personalized look to stocks that you're following, which is done by clicking on a star next to the ticker. There's a place to click to bring up your personalized portfolio, showing how it's doing in real time.
In addition to the obvious increased emphasis on white space and real-time data, there is a redesigned editorial module. Users can toggle Yahoo! Finance to focus on different topics, including more personal finance content. The goal behind this is to get the right content in users' hands, optimizing the content for breadth and source.
Disclosure: TheStreet is a Yahoo! Finance content partner.
As with the revamped desktop version of Yahoo! Finance, the mobile apps, optimized for iOS 7 and available today, have been remade for a design-first feel, giving them a more beautiful, highly personal. Users will have the same follow lists across all devices, with personalized stories based on their follow lists, just as on desktop. As with other Yahoo! properties, Yahoo! Finance users will have the same experience on desktop as they do mobile.
As a new feature with the mobile app, Yahoo! will now be issuing alerts based on the users' portfolio, designed to notify them of an important event on that particular stock, similar to what
Bloomberg
does with its app.
Users can pinch and zoom on the page and charts, though there are no immediate plans to offer technical analysis on the charts just yet on mobile.
The new Yahoo! Finance iPad app will replace the MarketDash app, while the new iPhone and iPod Touch app will simply update the previous Yahoo! Finance app.
I acknowledged that Yahoo! Finance was long in need of a vast overturn, but people in finance are often resistant to change when it comes to their routines and habits. They can adapt to changing markets with the blink of an eye, but don't ask them to do something differently in a daily routine. Mayer's team has revamped one of the most renowned financial Internet properties, without drastically changing it. She's managed to make it visually more appealing, while still encompassing all of the treasure troves of data it has to offer.
I have only one thing left to say: Well done, Yahoo!. Well done.
--
Written by Chris Ciaccia in New York
>Contact by
.