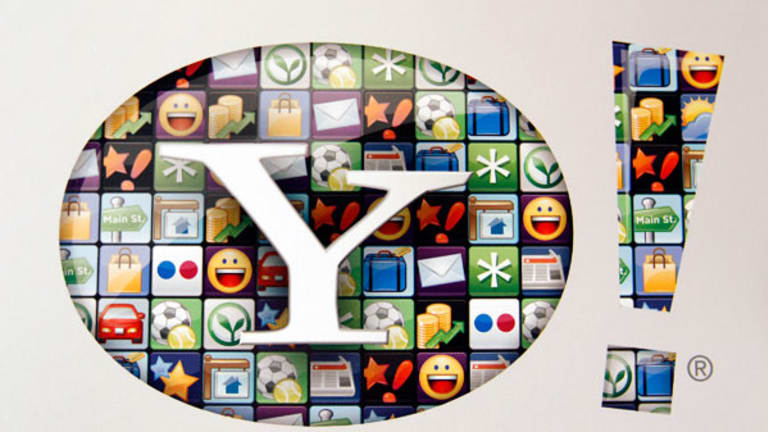 Yahoo! Drops on Advertising Worries (Update 1)
Yahoo! fell after fourth-quarter earnings showed advertising revenue continued to be a problem.
Updated from 4:21 p.m. to include first-quarter guidance in the eighth paragraph.
NEW YORK (TheStreet) -- Yahoo! (YHOO) shares dropped 2.9% to $37.10 in after-hours trading after the Internet giant posted fourth-quarter earnings that were better than anticipated, but advertising continued to be a sore spot for the company.
Breaking down the companies operating segments, Yahoo! noted display revenue fell 6% year-over-year to $491 million, as the number of ads rose 3% year-over-year, but prices continued to decline, falling 7% compared to the fourth quarter of 2012.
Search was the standout performer, as revenue excluding traffic acquisition costs, or TAC, rose 8% to $461 million. Paid clicks, excluding Korea, rose 17% year-over-year, but the price-per-click, fell 3% compared to the fourth quarter of 2012.
Yahoo! earned 46 cents per share on $1.2 billion in revenue ex-TAC. Analysts surveyed by Thomson Reuters were expecting Yahoo! to earn 38 cents a share on $1.2 billion in revenue. Earnings from equity interests fell to $222 million in the fourth quarter, down from $233 million in the third quarter.
"I'm encouraged by Yahoo's performance in Q4 and 2013 overall. We saw continued stability in the business, and our investments allowed us to bring beautiful products to our users and establish a strong foundation for revenue growth," said Yahoo CEO Marissa Mayer. "In Q4, we launched the new Yahoo Mail, Yahoo Finance, and our new Flickr photo books, while quickening our pace of experimentation. We are extremely heartened by the year-over-year traffic increase we experienced in 2013, an early sign of return on our investments and the acquisitions we've made."
During the fourth-quarter, Yahoo! noted earnings from equity interests fell to $222 million from $233 million in the third quarter. Yahoo! owns 24% of Alibaba and 35% of Yahoo! Japan, both of which have been a large reason for the run up in Yahoo! shares over the past year, as Alibaba gets ready to go public.
Yahoo! ended the quarter with $5 billion in cash, down from $6 billion at the end of fiscal 2012. During the quarter, Yahoo! bought back $231 million worth of stock, and spent $60 million on acquisitions.
For the first-quarter, Yahoo! expects revenue to be between $1.06 billion and $1.1 billion, with adjusted EBITDA between $290 million and $330 million.
Yahoo! will hold a live stream of its earnings starting at 5 p.m. with Mayer and CFO Ken Goldman.
Shares of Yahoo! closed the regular session sharply higher, gaining 4.3% to finish at $38.22.
--Written by Chris Ciaccia in New York
>Contact by Email.