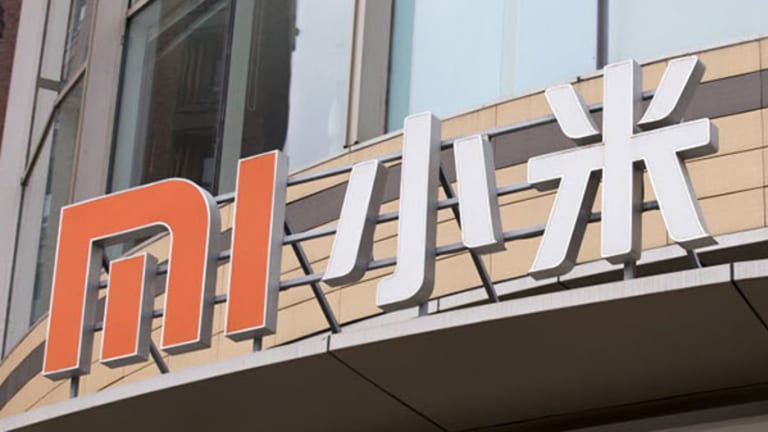 Xiaomi Leaps Past Samsung as China's New Smartphone Sales Leader
No sooner did Xiaomi leapfrog Samsung as China's smartphones sales leader than Apple's new iPhone 6 and 6 Plus begin to invade and overtake the market.
NEW YORK (TheStreet) -- Xiaomi was the top-selling smartphone brand in the world's largest smartphone marketplace last year, surpassing Samsung on the back of low-cost smartphones.
According to the latest figures from research firm IDC, Xiaomi grabbed the sales crown away from Samsung (SSNLF) . IDC says Xiaomi was not only the sales leader for the fourth quarter but it was also the leader for all of 2014.
For the year, IDC reports Xiaomi led the field with a year-over-year growth of 186% and a 12.5% share of all smartphone shipments in China. A year ago, Xiaomi registered only a 5% market share.
In 2014, Samsung products dropped to second place with 12.1% market share, compared with last year's commanding 18.7% showing.
Lenovo, with 11.2% share, Huawei  with 9.8% and Coolpad with 9.4%  filled out the country's top five shippers in China, but only Huawei showing modest growth over its 2013 numbers.
"Xiaomi's focus on selling low-cost phones with decent specifications, as well as the hype that it created through its flash sales, helped it to obtain the top position," said Tay Xiaohan, IDC's Senior Market Analyst for the region.
Xiaomi garnered a 13.7% share of China's market in the fourth quarter of 2014, up 150% year over year. Some detractors accuse Xiaomi of copying a number of visual and operational elements from Apple (AAPL) - Get Apple Inc. Report  iPhone design for use in its own smartphone products.
Not far behind Xiaomi is Apple, which had 12.3% of the smartphone market in the fourth quarter of 2014, a nearly 100% increase year over year. IDC found the results closely relate to the late-year launch of the iPhone 6 and 6 Plus in China. Apple had registered only a 5% market share in the previous quarter and didn't make it onto previous top five shipments lists.

Huawei ranked third, owning 11% of the market, mainly because of its wide range of models in low-end and mid-range price ranges which sold very well in the quarter. Lenovo was fourth thanks to its strong focus on phones selling for less than $150, capturing 9.5% of the market.
Samsung, with 7.9%, dropped to fifth position in the quarter, as it faced increased competition from Apple as well as all of the Chinese vendors concentrating in the low- to mid-end segments.
Overall, IDC says 107.5 million smartphones were shipped to China in the fourth quarter of 2014 for a total of 420.7 million smartphones shipped in China last year. That represented 19% fourth-quarter year-over-year growth compared with 11% growth in the third quarter of 2014.
"Although the 3G phone shipments in China were affected by the reduction in operators' subsidy, the market was able to grow in Q4/2014 due to its growth in 4G phones,"  according to IDC's Tay. "While the share of phones sold through operators dropped, the number of phones sold through eTailers increased (from single to double-digit share). Apple's launch of larger screen sized phones also helped to contribute to the increase in shipments.".
IDC expects 10% year-over-year growth in China in 2015, but Tay believes there's still room for growth: "Operator-centric vendors such as ZTE, Huawei and Coolpad have increased their shipments and established online brands. If they can find an effective balance between their online/offline strategy and find a unique positioning for their online brands, this can be a possible channel that they can use to increase their shipment numbers in 2015."
-- Written by Gary Krakow in New York.
To submit a news tip, send an email to tips@thestreet.com.
Gary Krakow is TheStreet's Senior Technology Correspondent
This article is commentary by an independent contributor. At the time of publication, the author held no positions in the stocks mentioned.