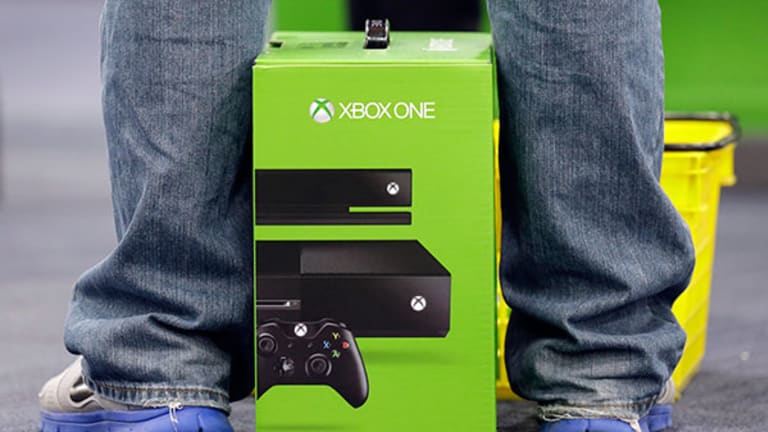 Xbox One Problems Fixed With Brute Force
Microsoft is offering to replace Xbox One consoles with faulty disc drives but some users have discovered a quicker fix.
NEW YORK (TheStreet) -- Microsoft (MSFT) - Get Microsoft Corporation (MSFT) Report sold more than 1 million of its Xbox One game consoles in the 24 hours it was available, but the new consoles have been plagued with problems.
After opening the box and setting up their new consoles, users were greeted by a big download of updated software before ever playing a game. Fortunately - or unfortunately - that's become commonplace for modern electronics. Some of the Xbox One consoles have been plagued with a faulty Blue-Ray disc drive, that's led to some Xbox One consoles having problems reading the discs. The problem is described as an annoying "crunching" sounds when you try loading a disc into the console. The apparent cause is a misaligned gear.
Microsoft has acknowledged there's a problem, and the company is offering to replace the faulty consoles and reward those owners with a free download of one of the newly launched games from Microsoft studios.
However, a simpler solution seems to have cropped up. As described on a number of blogs, a problematic Xbox One can be fixed by turning the box upside down, and simply smacking it it a few times just above where the Blu-ray drive is installed.
Just like the instant repair methods used during the early days of radio and television a good whack or two actually set things straight. At least in the short run. There's no word on whether this solution will keep everything working just right.
A gamer named Dave D tried this method and videotaped his results on YouTube:
Microsoft has yet to comment on the the brute force fix. The company has released a much requested glossary of voice commands that the Xbox One's Kinect feature can understand ending a lot of misguided guesswork.
Microsoft shares were down 0.27% to $37.54 in early morning trading in New York.
Written by Gary Krakow in New York.
To submit a news tip, send an email to tips@thestreet.com.