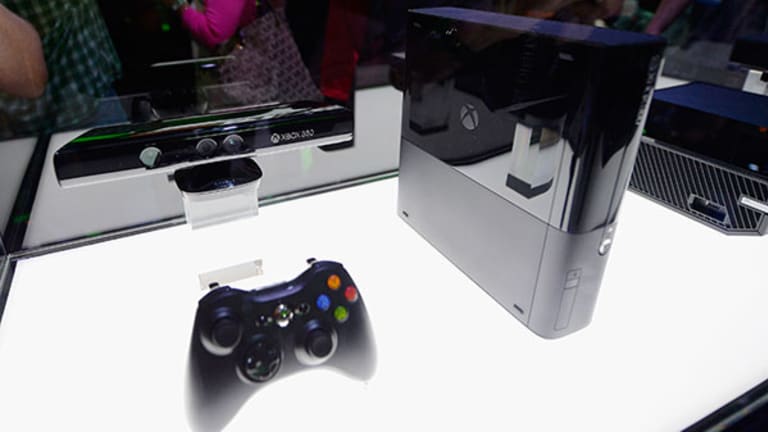 Xbox One May Not Last Under New Microsoft CEO (Update 2)
Shares of Microsoft have soared this year, far outpacing the S&P 500. Given the run and the uncertainty surrounding the new CEO, one analyst downgraded the stock.
Updated from 11:13 a.m. EST to provide more analysis about Xbox One in the sixth paragraph.
NEW YORK (TheStreet) -- Microsoft (MSFT) - Get Microsoft Corporation Report shares dipped 1.6% to $37.23 following a downgrade from Bank of America Merrill Lynch, as worries about the software giant's transition to a new CEO persist. Some businesses, including the venerable Xbox, could be on the chopping block if an outsider is brought in.
Analyst Kash Rangan downgraded shares to "underperform," but kept the $36 price target, noting that the substantial run in the company's share price, up 41.7% year-to-date, and concerns about a new CEO and who it might be, are reasons for the downgrade. "The real issue amidst downward revisions, flat FY12-14 EPS, and declining margins is that regardless of CEO, investors must grapple with risk of undoing the 'devices & services' strategy of an $80bn behemoth just when a major reorg has already been set in motion," Rangan wrote in his note. "On the other hand, trying to move quickly with the status quo strategy could burden the new CEO (while integrating Nokia) and disappoint investors. We see two stock scenarios in the near term in which we equally divide probability of CEO selection among 5 candidates (1 external and 4 internal)."
In the first scenario, Rangan believes that if Microsoft picks Ford (F) - Get Ford Motor Company Report CEO Alan Mulally, there could be a big boost to the stock, perhaps as high as 10%.  Mulally could shutter certain businesses, such as the online search business (Bing). There's also the possibility that Mulally, formerly of Boeing, could sell certain businesses, including Xbox.  Microsoft's new Xbox One is slated to launch later this week at a suggested retail price of $499.99.
This pales in comparison to Sony's (SNE) - Get Sony Corp. Report PlayStation 4, which sold more than 1 million units of its PlayStation 4 gaming console in its opening weekend.  The PlayStation 4 costs $399.99, but the Xbox One includes the Kinect in the price, whereas the PlayStation 4 camera is an additional $60.
Mulally could also cut operating expenses by around $6 billion to $7 billion, and then use the savings from all those initiatives to fund share buybacks, which would help the share price near-term. However, this could have some long-term risks that Microsoft employees, particularly company co-founder Bill Gates, may strongly disagree with. "We question the easy conventional wisdom that Chairman Mr. Gates would allow MSFT to cede these businesses," Rangan noted. "Incoming CEOs are less likely to set the bar high but would rather express measured optimism and temper the time/magnitude of delivering results."
It's unknown exactly how much revenue Xbox brings in to Microsoft or whether it's profitable.  However, Brian Blau, research director, Consumer Technology and Markets at Gartner, noted Xbox might be a mixed bag. "It's been a secret for a long time and there are some who say MSFT loses money each year on Xbox, but I've heard that is a real stretch," Blau said in an email. "I've heard that some aspects of Xbox are profitable, but have to say I don't have any hard data on Xbox revenues or expenditures."
Aside from Mulally, there's been a ton of speculation surrounding the CEO spot, since Steve Ballmer surprisingly announced he'd be resigning from the top spot earlier this year.  If Mulally or another outsider isn't picked and the top spot goes to an internal candidate, then Rangan believes shares are likely to have the opposite reaction, with perhaps as much as 10% downside.
The top internal candidates are Kevin Turner, Microsoft's chief operating officer, Stephen Elop, formerly of Nokia (NOK) - Get Nokia Oyj Report, and Tony Bates, who used to be the CEO of Skype, which Microsoft bought in 2011.
Elop may be the most radical of all the in-house candidates.  Speculation surrounding Elop has suggested that he would release Office for Apple's (AAPL) - Get Apple Inc. Report iOS and Google's (GOOG) - Get Alphabet Inc. Class C Report Android operating system.  There are versions of Microsoft Office available for iOS, but it's Office 365.
If an internal candidate is chosen, it's possible, and highly likely, that the aforementioned cost cuts and segment sales will go by the wayside.  "In a status quo strategy, wielding the axe to cut $12bn of opex (40% of opex base; hypothetically -30% S&M, -50% R&D and -20% G&A) seems like a stretch in FY15. MSFT could trade -10%," Rangan wrote.
--Written by Chris Ciaccia in New York
>Contact by Email.