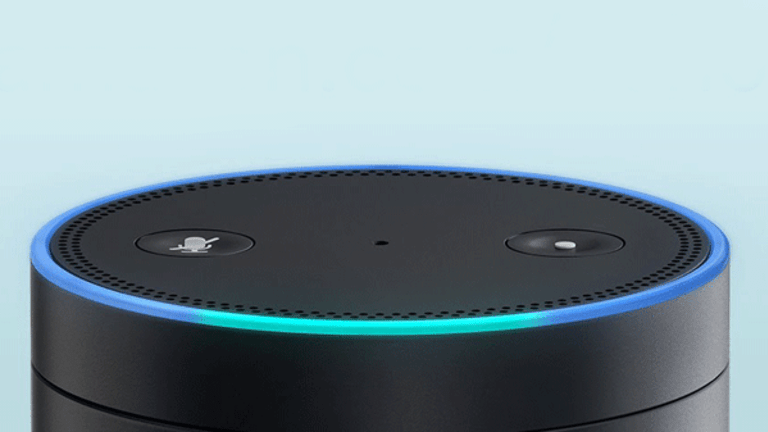 Wynn Resorts to Fill Rooms With Amazon Echos -- Tech Roundup
Wynn Resorts will fill each of its 4,748 rooms with Amazon's AI digital assistant product, Echo.
Amazon (AMZN) - Get Report is headed to Vegas. Well, sort of. More accurately put, Amazon's Echo product is headed there and it's staying at a Wynn Resort (WYNN) - Get Report . 
The company's AI-based digital assistant will be equipped in each Wynn Resort room, which is good for more than 4,700 devices. 
"In partnership with Amazon, becoming the first resort in the world in which guests can verbally control every aspect of lighting, temperature and the audio-visual components of a hotel room is yet another example of our leadership in the world of technology for the benefit of all of our guests," said Steve Wynn, the company's chairman and CEO. 
The assumption is that guests will enjoy the added perks, while the hotel will likely benefit too. Previous technological advances when it comes to guest entertainment has led to impressive in-room revenue generations. 
Although it's unclear whether the Echo will be used for these purposes or not, one would assume ordering room service or other conveniences won't be far off. 
While some have raised security concerns, it's thought that many guests won't be too worried about it. 
Shares of Amazon closed at $768.82 Wednesday, down 0.7%.
Many people are familiar with Apple's (AAPL) - Get Report Siri or now Amazon's Alexa. The two intelligent assistants listen to and respond to users' requests and questions. And as chat bots continue to pop up throughout the tech space, it hasn't been a smooth ride for everyone. 
While we may know Siri and Alexa, perhaps it's a good thing not too many people got to know Tay. "Tay was meant to be a cheeky young person you could talk to on Twitter," according to CNN. 
However, once users were successfully able to get the AI bot to make inappropriate and racist remarks, Microsoft (MSFT) - Get Report knew it was time to pull the plug.
But that doesn't mean the company is giving up on the task. This time, the company unveiled Zo, it's latest experiment in AI chat bots. Zo can be used on the messaging app Kik, as well as on its website. 
Tay had been introduced over Twitter (TWTR) - Get Report earlier this year. But in hindsight -- given the number of users and how public Twitter is -- this was a bad place to start. Instead, Kik offers a more tame environment, with much more one on one interaction. 
Hopefully this time around, Zo ends up being far more appropriate than Tay. 
Shares of Microsoft closed at $62.68 Wednesday, down 0.5%. 
Twitter's user growth issues have been well-broadcasted over the past year, as the microblogging platform has had stagnant results despite trying several different initiatives. 
The latest moves have involved streaming specific events, such as presidential debates and Thursday night NFL games. 
As always though, the company continues to look for new ways to boost its popularity among the world and this time, it's turning to a different form of video: live streaming. 
Twitter was one of the first large companies to really embrace live streaming when it acquired Periscope. It allows users to stream live video of what they're doing to their friends, family and followers. 
Only live video didn't catch on the way that management likely hoped. Or at least enough to spur substantial user growth. Part of that is likely because live streaming was never that simple of a process for users. 
They couldn't stream right from the Twitter platform. Instead, they had to do it from the Periscope platform. Not that downloading and registering for a new platform is all that difficult, but many didn't want to do it. It should be noted though, that viewers could watch Periscope streams without registering. 
Now however, Twitter has integrated the live streaming function so that it can be done right from the Twitter app. I'd say this is a good start for the company, and as soon as it starts requiring users to signup to use all of its services, maybe user growth will return. 
Shares of Twitter closed at $18.93 Wednesday, down 2.3%. 
This article is commentary by an independent contributor. At the time of publication, the author held no positions in the stocks mentioned.