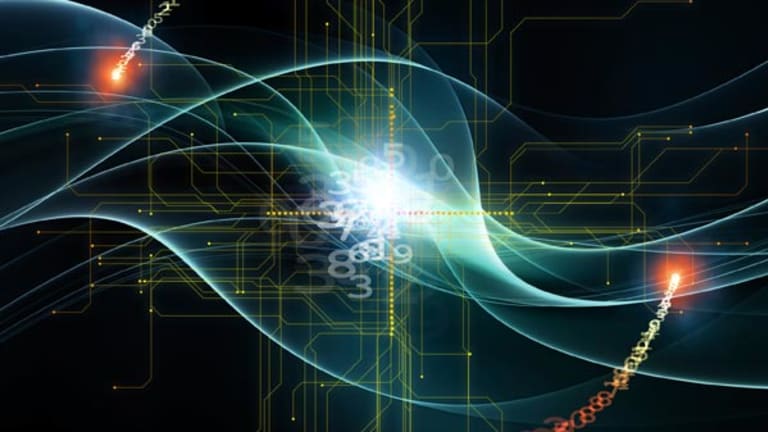 Workday Surges: What Wall Street's Saying
Workday shares surged after the cloud computing company posted a narrower-than-expected loss, and expects fiscal 2014 revenue to be sharply higher than what Wall Street is looking for.
Workday shares surged after the cloud computing company posted a narrower-than-expected loss, and expects fiscal 2014 revenue to be sharply higher than what Wall Street is looking for.
NEW YORK (TheStreet) -- Workday (WDAY) - Get Report shares surged after the cloud computing company posted a narrower-than-expected loss for its first quarter, and expects fiscal 2014 revenue to be sharply higher than what Wall Street is looking for.
For the three months ended in April, the maker of HR software reported a non-GAAP loss of 13 cents a share on $159.7 million in sales, up 74% from the year-ago period. Billings, an important metric for cloud computing companies, surged 94% year over year to $208 million.
Analysts surveyed by Thomson Reuters were looking for a loss of 15 cents a share.

WATCH: More market update videos on TheStreet TV | More videos from Joe Deaux
"Our fiscal year is off to a great start with strong customer demand for our newest application, Workday Recruiting, and double digit customer growth for Workday Financial Management," said Aneel Bhusri, co-founder and CEO, Workday in the press release. "Our technology innovations, including our recent move to a single code line for development, enabled us to update all customers on Workday 22 in less than six hours -- creating more value for our customers and setting new expectations for the industry."
"We are very pleased with our strong first quarter results," said Workday's CFO Mark Peek, in the release. "Looking ahead, we expect our second quarter revenues to be within a range of $173 and $178 million or growth of 61% to 65% as compared to the prior year. Total revenues for the year are anticipated to be in the range of $730 and $750 million or growth of 56% to 60%. Total billings3 in the first quarter were $208 million and benefited from several new large customers. We expect total billings for the second quarter to decrease sequentially. For the year, we expect total billings to be approximately $890 to $910 million."
For the second quarter, Workday expects revenue will be between $173 million and $178 million, and for the full year, it expects sales will be between $730 million and $750 million. Analysts were looking for $171.3 million and $735.4 million in sales, respectively.
Shares of Pleasanton, Calif.-based Workday were surging in early Wednesday trading, gaining 5.9% to $87.00.
Following the conference call, analysts were exceptionally positive on the cloud computing giant, as it seeks to enter new markets and take on the likes of Oracle (ORCL) - Get Report, salesforce.com (CRM) - Get Report, and other cloud computing giants. Here's what a few analysts had to say.
UBS analyst Brent Thill (Buy, $111 PT)
"Like other leading SaaS vendors, WDAY saw no Q1 seasonal slowdown and delivered a strong beat & raise qtr. In particular, billings grew 94% y/y and 2% q/q (was expected
down 19% q/q) - beating UBSe by $43M and 26%; $15-20M worth of large new customers committed early, and full yr guide was raised $40M. Customer and deal metrics continue to improve, evidencing vast unmet demand that is filled as WDAY rolls out new functionality & products. In higher education sector, the Student pdt, which will not be complete until end of FY17/CY16, is driving clients to buy the full HCM/Fin'ls suite today. With ORCL & SAP still far behind in the Cloud, we expect WDAY to extend its lead and capture a large share of the $50Bn+ TAM from <$1Bn today."
BMO Capital Markets Joel Fishbein (Market Perform, $83 PT)
"Workday continues to demonstrate best-in-class growth and momentum continues to gain steam. We believe this set-up for the stock remains favorable even as numbers yet again move higher, and we expect upside remains to management's new FY15 targets. New customer additions continue to be strong in both core HCM as well as financials; however, progress with respect to new financial customers is steady, not inflecting, and it's important to note that much of the upside in the quarter appears to have been driven by government and education (rather than commercial) as well as professional services. At some point, we believe investors will need to see momentum in financials overtake that of core HCM. Overall, a strong quarter that leapt over a very high bar."
Canaccord Genuity analyst Richard Davis (Buy, $105 PT)
"Even by the high standards of Workday's historical execution, the firm posted exceptional results on literally every metric. The firm saw better-than-expected success in terms of financials wins and some pull-forwards of a few large deals. This is a good thing because front-end loaded years are always better than back-end loaded ones. Workday remains an extremely high quality, high growth large cap stock that has corrected less than its comps. In our experience, you buy these types of stocks once the market stabilizes. BUY."
Oppenheimer analyst Brian Schwartz (Outperform, $110 PT)
"Workday reported a very impressive 1Q beat and raise. Beyond the 94% reported billings growth, other metrics were impressive too, including 73% growth in short-term deferred revenue, record number of new customer wins, and adding Cushman and Wakefield and Nationstar Mortgage as new financials logos. Big deals partially drove the quarter upside, consistent with our preview, and support our thesis that Workday is exceptionally positioned to become the next tier 1 supplier by replacing aging enterprise systems with integration issues (analysis/reporting/ support) for the inevitable rearchitecting of business applications for cloud, mobile, social, data. Bottom Line: We view WDAY as the preeminent SaaS vendor this decade and believe it's successfully executing in its markets with a significant runway for growth."
Also See: How the iPad Can Get Even Bigger
Also See: Michael Kors Surges on Earnings Beat
--Written by Chris Ciaccia in New York
>Contact by Email.