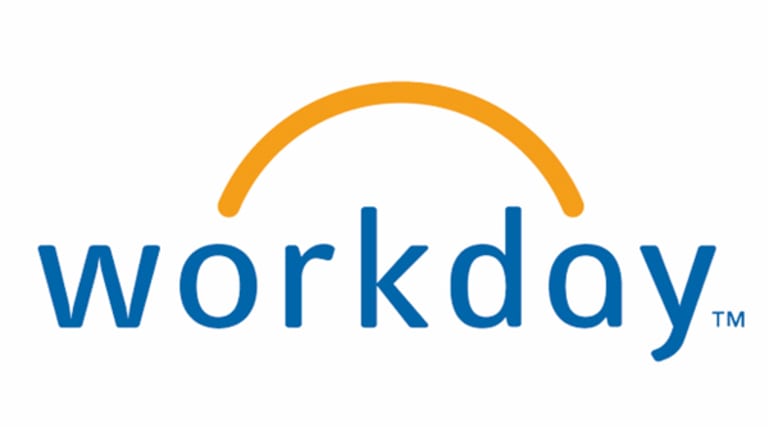 Publish date:
Workday Soars: What Wall Street Is Thinking (Update 1)
The cloud computing giant reports third-quarter earnings that soar past expectations and it issues exceptionally strong guidance. Here's what a few analysts on Wall Street had to say.
The cloud computing giant reports third-quarter earnings that soar past expectations and it issues exceptionally strong guidance. Here's what a few analysts on Wall Street had to say.
Updated from 8:21 a.m ET to include comments from portfolio manager in the fifth paragraph.
NEW YORK (TheStreet) -- Workday (WDAY) - Get Report shares soared 8% to $79.17 in early trading Tuesday after the cloud computing company posted third-quarter results that blew past expectations and issued guidance that was exceptionally strong.
Pleasanton, Calif.-based Workday reported revenue of $127.9 million for the quarter, up 76% year over year, as subscription revenue rose 82% to $93.9 million. The company lost 12 cents a share.  The results beat estimates of analysts surveyed by Thomson Reuters who were expecting a loss of 17 cents a share on $118 million in sales.
Outside of subscription revenue, Workday said it had $352 million at the end of the quarter in unearned revenue, another important metric for cloud computing companies as it shows future business.
Guidance for the coming quarter was strong, with Workday saying it expects revenue to be between $133 million and $138 million.  Analysts forecast $129 million in revenue for the fourth quarter.
"This quarter is further confirmation there is a vast opportunity to replace the installed base of legacy enterprise software with software-as-a-service," said DoubleLine CapitalEquity LP partner and portfolio manager Brendt Stallings, who owns shares in one of DoubleLine's funds, in an email to TheStreet. "Workday's management team built one large enterprise software company (Peoplesoft) and looks like they are on their way to do it again." DoubleLine has more than $60 billion in assets under management.
Several analysts on Wall Street bumped up their price targets following the report. TheStreet's Jim Cramer was positive on the name last week ahead of earnings, saying it was a buy on any weakness ahead of the results.
Here's what a few analysts had to say following the results:
Canaccord Genuity analyst Richard Davis (Buy, $90 PT)
"While high valuation momentum stocks have taken a breather this quarter as many investors locked in good YTD performance, Workday, the company, continues to execute quite well. The firm is a large deal shop, selling to large firms in big chunks. Our view is that the pivot point for the business will be several reference customer successes with financials. If that happens around summer 2014, Workday is very likely to see a cascading list of customers switch from Oracle and to some degree SAP and perhaps a few Microsoft customers.
With the stock valued at an eye-watering 17x 2014E revenues, Workday will need to deliver those kind of epic results for the stock to continue working. At this point, we expect that to happen and for WDAY shares to continue to bulldoze doubters and short-sellers."
Jefferies analyst Ross MacMillan (Buy, $92 PT)
"Workday's strong F3Q 2014 (Oct.) results beat our estimates across-the-board and both F4Q guidance and the preliminary outlook for FY15 revenue growth were above our forecasts. New customers adds and an aggressive plan for go-lives suggest building Financials product momentum. Maintain Buy as we believe WDAY has amongst the most attractive share gain potential in software."
Oppenheimer analyst Brian Schwartz (Outperform, $92 PT)
"Workday reported an excellent 3Q, highlighted by these impressive metrics: 1) 99% billings growth; 2) 82% subscription revenue growth (5x faster than its peer group average); and 3) added 50+ new customers bringing total to 550+. With Big Data now generally available, Recruiting and Student on the way, and Financials beginning to gain traction upmarket, we believe that these new product cycles could drive significant bookings upside in the next 12-18 months. Bottom Line: Led by a visionary management team, we remain bullish on WDAY as future product cycles should drive increased platform adoption, and secular SaaS trends point favorably in their direction, as the company continues its journey to being the next tier-1 software supplier. Reiterate Outperform."
UBS analyst Brent Thill (Neutral, $85 PT)
"FQ3 billings $154M (+16% q/q vs. flat guide) beat UBSe $132M. Other metrics beat (actual/UBSe): def rev $352M/339M, rev $128M/119M (subs $94M/92M, service $34M/27M),
EPS -$0.12/-0.16, CFFO +$7M/-17M. Strength was driven by net new customer adds (>50 in FQ3 vs. ~50 in FQ2, i.e., no Q3 seasonality), continued progress with mid-market customers (both new wins & implementations) as well as in higher-ed, and steady progress with enterprises (8 new Global 2000). WDAY continues to disrupt the software landscape."
--Written by Chris Ciaccia in New York
>Contact by Email.