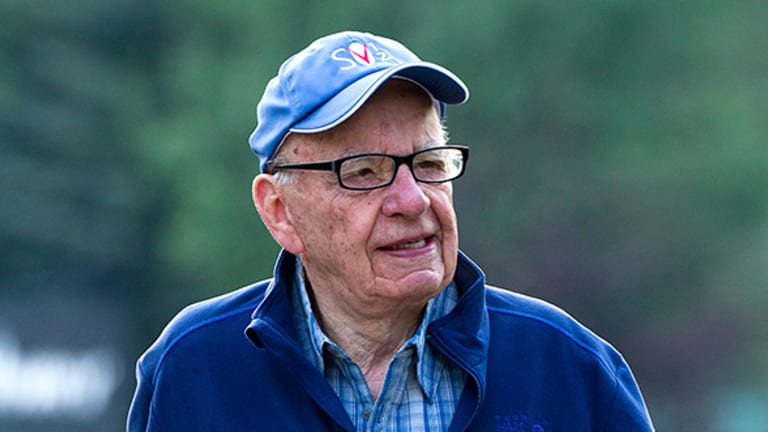 With Watchful Eye, Murdoch Throws Fox Up in the Air
While Rupert Murdoch will still wield ultimate control at 21st Century Fox, it's anyone's guess as to how handing the company over to his sons will play out long term.
LOS ANGELES (TheStreet) -- Wall Street knew this was coming, yet no one knows how it will work out.
Rupert Murdoch's reported planned handing of the CEO reins at 21st Century Fox (FOXA) - Get Fox Corporation Class A Report to son James, 42, and installing son Lachlan, 43, as co-executive chairman, assures the 84-year-old media titan will retain a dynastic grip on his television and film empire. But what to expect from Fox after Murdoch cedes full control is anyone's guess.
What is certain is that the Australian-born Murdoch will maintain a watchful eye and firm hand over the company he built after taking over a local newspaper in his native country and will continue to be the final voice on any and all large decisions.
"The official change is being made at a time when Rupert can still probably be there to provide guidance and advise and even step in if need be," said Marla Backer, the managing director at Research Associates. "I don't see an immediate impact."
But how Murdoch's decision to keep Fox in the family plays out long term has cast uncertainly over the company. The news of the transition sent shares of 21st Century Fox down more than 1% before rebounding in late afternoon trading, bucking overall stock market gains. At the market's close shares of FOXA were priced $32.90, reflecting a drop of .18% for the day and 14.33% for the year thus far.
The company has lost more than 14% over its value so far this year on weaker earnings due in part to sliding TV ad revenue. Slower ad sales has been a trend across all U.S. television as younger viewers have cut cable bills and move to online streaming. But the company's Fox television unit has struggled in particular, languishing in fourth place in viewership among U.S. broadcast networks despite last season's big hit, Empire, and the cash cow of NFL football. The company's broadcast ad revenue shrank 7% in its most recently completed quarter, and its ratings were down 41%, according to Sanford C. Bernstein analyst Todd Juenger.
How the company positions itself in response to the trend of online streaming popular wiith the younger viewers advertisers desire most and the lower-cost "skinny bundles" of TV channels that cable and internet companies plan to roll out will be some of James and Lachlan Murdoch's biggest tasks.
Another question nagging analysts is how well will the brothers work alongside one another.
"You have two brothers who have a very long history, each of them have worked within the company and have been elevated by their father only to have failed in their respective positions," Sarah Ellison, author of War at the Wall Street Journal, said on CNBC.
"In the short term, you still have Rupert at the company, but longer term you're going to have to wonder how these two are going to work their power structure out," Ellison added.
Lachlan Murdoch, long thought to be his father's successor, was brought back into the fold nearly a decade after leaving News Corp. (NWSA) - Get News Corporation Class A Report, the company run by Murdoch before he split his television and film interests from his publishing business in 2013. Lachlan Murdoch has also been criticized for his role in the company's failed investment in Australian telecom company One.Tel.
James Murdoch did not end up with charges in the phone-hacking scandal that engulfed News Corp.'s British newspapers and led to the shuttering of the News of the World in 2011, though he resigned as chairman of the British publishing arm a year later.
One thing is certain for investors: As long as Rupert Murdoch has a place on the company's board, he will still reign.
"I think that while he's there, there isn't that much that will change about the place," Eillison said.
Case in point: Roger Ailes, the president of top-rated cable-news network Fox News, chairman of the broadcast TV division and one of the most powerful figures in U.S. television, is set to still have one boss: Rupert Murdoch.
This article is commentary by an independent contributor. At the time of publication, the author held no positions in the stocks mentioned.