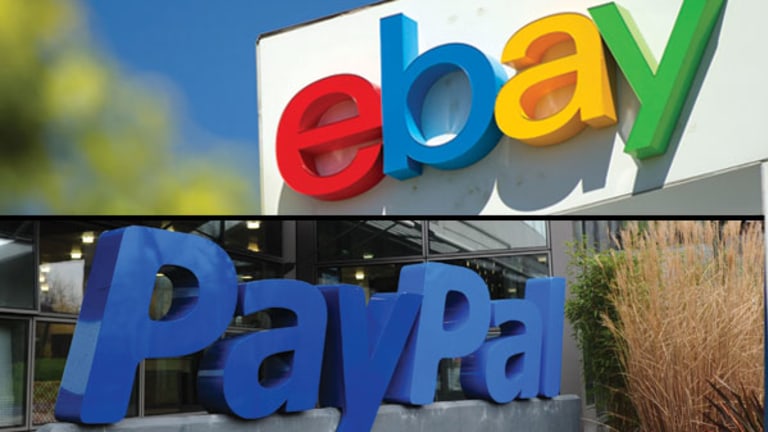 With $5 Billion in Hand, PayPal Gains Increased Flexibility
PayPal will be getting a nice-sized cash gift from eBay, opening the possibility of a dividend, buyback or acquisitions.
NEW YORK (TheStreet) -- The moment eBay (EBAY) - Get eBay Inc. Report announced its plans to spin off its payments unit , PayPal, rumors amassed of the potential for acquisitions. Now the news that PayPal will be parting with $5 billion in cash adds fuel to the fire.
Bob Swan, chief financial officer of San Jose, Calif.-based eBay, mentioned the cash gift at the Goldman Sachs Technology and Internet Conference on Wednesday, saying that the gift would help ensure a smooth transition. While Swan said the cash would "more likely than not" be housed offshore, it still signifies great flexibility for PayPal, leaving open the possibility that the spun-off company will issue a dividend, buy back shares or make acquisitions.
Previously, on its fourth-quarter earnings conference call, eBay disclosed that it was giving PayPal $5 billion in cash.
In the past year, eBay repatriated $6 billion in cash. The company will send the cash back offshore after incurring a roughly $3 billion tax charge. Nonetheless, the cash infusion into PayPal is a big move for the unit's future.
One theory that has been floating around is that PayPal could buy payments startup Square, which was co-founded by Jack Dorsey, a Web entrepreneur who also co-founded Twitter (TWTR) - Get Twitter, Inc. Report  .
According to Needham & Co. analyst Kerry Rice, PayPal could go on an acquisition spree and buy smaller companies such as Square in an effort to consolidate the payments market.
"Square has done a good job of getting mind share and market share, so there might be some innovative things that could be integrated into Square," Rice said.
Both eBay and Square couldn't be immediately reached for comment.
One issue that has challenged PayPal in the past was integrating the company's technology into physical stores. "Square has pushed further into that market and maybe that's something PayPal would be interested in," Rice said.
In 2012, PayPal signed a deal with retailer American Eagle (AEO) - Get American Eagle Outfitters, Inc. Report to allow customers to use their PayPal accounts to pay at the cash register. PayPal also signed deals with Home Depot (HD) - Get Home Depot, Inc. (HD) Report , Foot Locker (FL) - Get Foot Locker, Inc. Report   and Toys R' Us in 2012.
After it's spun off, PayPal may become a prime candidate itself to be acquired.
"I've been asked about Alibaba (BABA) - Get Alibaba Group Holding Ltd. Sponsored ADR Report , Google (GOOG) - Get Alphabet Inc. Class C Report , Amazon (AMZN) - Get Amazon.com, Inc. Report , even Yahoo! (YHOO) (and) Microsoft (MSFT) - Get Microsoft Corporation (MSFT) Report ," ChannelAdvisor (ECOM) - Get Channeladvisor Corporation Report CEO Scot Wingo said. "It makes more sense to me for Alibaba to buy PayPal. They could then compete with eBay; that would be ironic."
Portales Partners analyst Lily Peabody has also been hearing rumors that PayPal will eventually be acquired.
"Speculation out there is they're going to get bought up," she said.
Peabody believes that Wal-Mart (WMT) - Get Walmart Inc. Report  would be an interesting candidate, because payments are directly related to its business and the retailer has yet to really get into that market.
"I thought Wal-Mart was interesting because Wal-Mart has been in legal fights with Visa (V) - Get Visa Inc. Class A Report and MasterCard (MA) - Get Mastercard Inc. (MA) Report ," she said. "By acquiring their own payment processor, it might give them the opportunity to not deal with those issues anymore."
She noted, though, that whatever company takes on PayPal would be opening itself to regulation from the Consumer Financial Protection Bureau, which could be a nuisance to deal with.
"It's whether these companies that don't traditionally have to deal with this regulation really want to go through the headache," she said.
--Written by Rebecca Borison in New York
>Contact by Email.