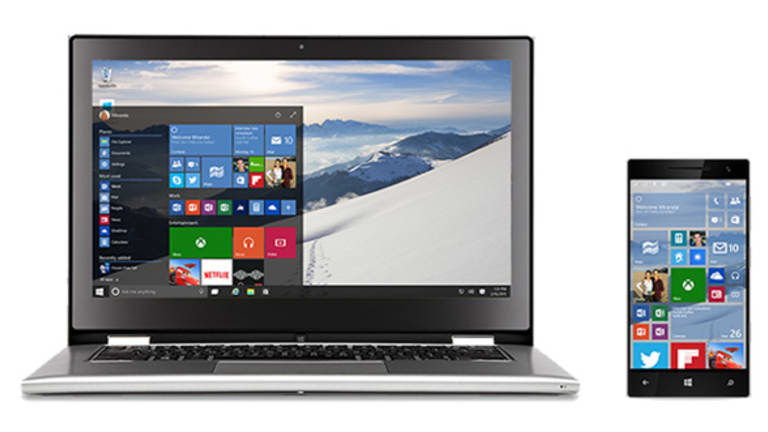 Windows 10 Technical Preview Is Here, but You Probably Won't Use It
This early test version of the next-generation mobile operating system is limited in so many ways.
NEW YORK (TheStreet) -- As promised last month, Microsoft  (MSFT) - Get Microsoft Corporation (MSFT) Report has released Windows 10 Technical Preview, the first public beta preview of its next-generation Windows software for smartphones.
The new software is part of Microsoft's goal to overhaul and upgrade all its operating systems to Windows 10. Last month, Microsoft released its first look at Windows 10 for PCs. Now, there's a very early beta of the new software designed for its Windows Lumia phones and phablets.
What will you see if and when you try the new software? Among the new features currently offered in the preview are:
Full-Size Background Image for the "Start" Screen: A new option to customize the main screen with a full-size background image as larger icons/boxes for a totally new look.
More Quick Actions in the "Action Center": Windows Phone 8.1 has one row of four programmable quick actions. In Windows 10 you can have up to three rows.
Interactive Notifications: Allows you to take action directly such as dismissing an alarm, or seeing images for maps.
Significantly Enhanced Speech-to-Text Capability: You can talk to virtually any data field you choose. Your words show up as you speak them, and punctuation appears automatically. This feature is smart enough to understand when to use "two" instead of "too."
More Powerful Photos App: Photos will show the aggregated set of all your local photos and all your OneDrive photos.
Project Spartan, Microsoft's next-generation Web browser, is not included in the Windows 10 beta, but some code is included in the current version of Internet Explorer included in this preview. 
This is a very early preview, but the highlights listed by Microsoft may not attract large numbers of developers, IT pros or enthusiasts willing to give it a try. Besides the laundry list of "known issues" with this new software, there are other reasons you probably won't try this software on your Windows Phone.
Microsoft recommends that you not try it on your primary device. That's always good advice for beta testers. But, if you still have your heart set on trying it, youmay not be able to.
The software released Thursday afternoon is a very early build. Microsoft says it's only meant for a very limited number of handsets (Nokia Lumia 630, 635, 636, 638, 7309 and 830). These are the only models that can easily be rolled back to the previous version of the software if necessary. All other Lumia models, such as the popular 900 series or phones in the 1000s, including the big Lumia 1520 phablet that was used in the company's demo last month, will have to wait. Microsoft says that wait won't be too long.
In this trial, after downloading the special Windows Insider app, I tried installing the beta OS on a number of test units, including a T-Mobile (TMUS) - Get T-Mobile US, Inc. Report Lumia 635 (which is on the list). Absolutely nothing happened. I was informed that there is "No Build" of the preview OS available for that device. I found a footnote on the special Technical Preview site with a warning:
"Some phones, regions, and mobile operators might not support Technical Preview. If your phone isn't listed, and no preview builds appear under "Enroll" in the Windows Insider app, then your phone isn't supported and it may or may not be supported in the future."
I've asked Microsoft for an explanation as to why the software won't install on this Lumia 635. I'm waiting for a response from the experts in Redmond.
If after all of this, you still want to try the Windows 10 preview, and if you're able to install it, note that Microsoft says the software will be in a constant state of flux in the near future. Plan to see a huge number of updates as more features are rolled out and more approved hardware is added to the list of supported test platforms. Unless you really have to install the preview, I suggest waiting a while longer to try it. I know I will.
Windows 10 is expected to be released before the end of the year in plenty of time for the holiday shopping season. Expect to hear a lot more about this next-generation smartphone OS at Microsoft's upcoming event at the Mobile World Congress trade show in Barcelona, Spain early next month.
-- Written by Gary Krakow in New York.
To submit a news tip, send an email to tips@thestreet.com.
Gary Krakow is TheStreet's Senior Technology Correspondent
This article is commentary by an independent contributor. At the time of publication, the author held no positions in the stocks mentioned.