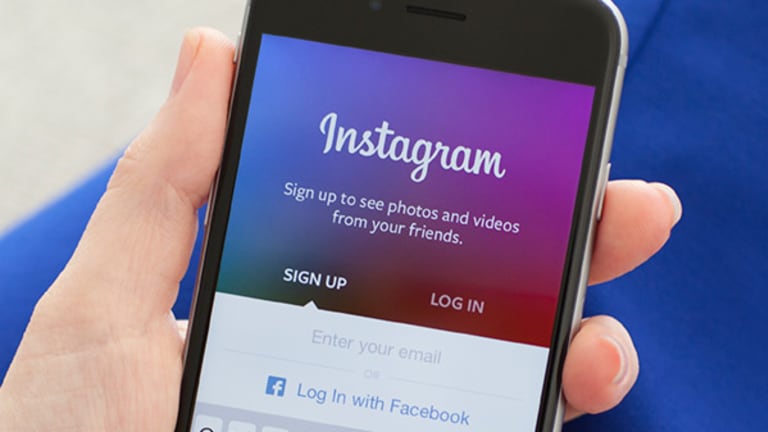 You've probably seen the gorgeous sunset photos, the inspiring memes neatly written, countless photos of shoe porn or the pictures of a breakfast so delicious it looks as if it was created in heaven. 
Instagram, which Facebook (FB) - Get Facebook, Inc. Class A Report  purchased for about $1 billion in cash and stock in 2012, has become the social network where images live and are gawked over -- a fad that isn't stopping anytime soon. Heck, it even created its own pop culture reference, the Rich Kids of Instagram.
(Full disclosure: I'm an Instagram user and log in at least a few times every day.)
Now with more than 400 million monthly active users around the world, research firm eMarketer expects user growth at Instagram, led by CEO Kevin Systrom, to outpace that of the overall industry, growing 15.1% in 2016 compared to 3.1% for the social networking space as a whole. 
Yet as Instagram ramps up advertising in the feed via sponsored posts and video ads, it risks alienating the very users it has worked so hard to attract. So far, most of the pushback isn't coming from regular users, but instead, some of tech's most influential minds.
True Ventures Partner'sOm Malik, who co-founded the popular tech website GigaOm, wrote in a post earlier this week that he was considering taking Instagram off his phone's home screen because of the number of ads cropping up.
Here's a quote from Malik's post:
Instagram is starting to feel less authentic and instead more like a giant marketing platform, where the very atom of a social network -- a person -- is the last thing to factor into experience and other decisions. The latest onslaught of ads is a far cry from the seamless and high-quality native-advertising experience promised by co-founder Kevin Systrom when the company launched its initial advertising experiments. He even went as far as saying that he was vetting ads personally. Well, it doesn't seem so, and longtime users of the service are noticing.
Jake Counselbaum, who uses the service quite frequently and is Director of Social Media at Socialrithm, a digital marketing company, said "I wouldn't say the ads have affected my usage just yet, but I'm definitely starting to see more of them and it's getting annoying."
Jackdaw Research chief analyst Jan Dawson said he's concerned Instagram users are being treated worse than the advertisers.
"Its users are still restricted to 15 second videos, while advertisers now get up to 60 second videos, and advertisers also get to use the photo carousel feature and include links, neither of which are available to users," Dawson said via email. "It sometimes seems like all the innovation on Instagram recently is directed at advertisers rather than users."
Over the past few months, Instagram has released just a few features for consumers, including the ability to switch accounts, two factor authentication to prevent against hacks and Instagram Spotlight Compilations. Launched on Jan. 6, Spotlight Compilations appears to be Instagram's competitor to Snapchat's Live Stories feature, which lets users stitch together pictures or videos to tell a whole story.
Despite the lack of user-focused features over the past few months, Instagram has been innovative on the user front, having unveiled new apps such as Layout and Boomerang, both among the top 60 free apps on the App Store.
And to be sure, many users seem perfectly fine with the targeted ads showing up in their feeds.
"I follow a lot of fashion and clothing companies, so I can tell that the ads are somewhat relevant to me," said Sarah Salbu, Director of Communities at Orig3n, who uses the service at least five or six times a day. "It's usually visually appealing and it's simple, so if I see something I don't like, then I can just continue scrolling." 
"It hasn't impeded the way I use it personally," said movie producer Sean Fowler. Fowler uses the service a few times a week and has a personal account as well as a business account. He noted that unlike ads on Facebook or Twitter (TWTR) - Get Twitter, Inc. Report , he's found (and bought) products on Instagram that have been useful to him.
For its part, Instagram said it's been careful about how it's introduced ads and has been monitoring users' responses.  
"A quality Instagram experience is important to us," said an Instagram spokesperson. "We've been thoughtful with our ads approach and are closely monitoring community sentiment. We've been pleased with those metrics so far. Our goal is for Instagram ads to be as relevant as the organic content people see."
As users spend more time on the platform, the number of ads increases, according to a person familiar with the way ads are shown. A user has the choice to remove an ad by clicking on the Sponsored label and then selecting Hide This if they feel the ad is not relevant to them. Once a user hides the ad, Instagram takes the feedback from this and several other signals to adjust what ads a user sees.

For iOS users, a person can also opt out of ads based on third party sites and apps, using the Privacy setting on their iOS device (iOS 7 or higher) to turn on Limit Ad Tracking.
The ability to serve up ads to Instagram's rapidly growing user base figures to be an important part of Facebook's revenues in the future.
Facebook is a holding in Jim Cramer's Action Alerts PLUS Charitable Trust Portfolio.

Exclusive Look Inside:
You see Jim Cramer on TV. Now, see where he invests his money and why Facebook is a core holding of his multi-million dollar portfolio.
Want to be alerted before Jim Cramer buys or sells FB?Learn more now.

On Tuesday, the company announced it now has more than 200,000 advertisers on the platform. In a release citing a user survey from November 2015, the company said 60% of Instagrammers learn about products and services on Instagram, with three quarters of them taking action after seeing the ad, be it visiting the advertisers' website, searching, shopping or even telling a friend.
Instagram is seeing some spillover from Facebook, as well. On Facebook's fourth quarter earnings call, COO Sheryl Sandberg said 98 of the top 100 advertisers on Facebook also advertised on Instagram, showcasing the power of the visual heavy platform.
"Instagram has a lot of momentum with advertisers, and its revenue is increasing rapidly," said eMarketer principal analyst Debra Aho Williamson in a statement earlier this week. For marketers that want to target mobile millennials, Instagram is an attractive option."
By the end of 2020, eMarketer expects Instagram to have added 26.9 million Americans to the estimated 89.4 million Americans who now log on once a month, giving it a user base of just over 116 million. By comparison, Facebook is expected to have 177.5 million monthly active users in the U.S. by 2020, while Twitter is expected to have 70.7 million MAUs, Pinterest 66.6 million MAUs and just 29.4 million for Yahoo! (YHOO) -owned Tumblr.
Those figures put Instagram firmly in place as the number two social network in the U.S., a country that is not only attractive for its millennial demographic (by 2019, eMarketer expects nearly two-thirds of all U.S. millennials with a smartphone will use Instagram), but its discretionary income as well.
In 2013, $430 billion of $1.3 trillion in spending from millennials was discretionary, according to The Boston Consulting Group, figures that are only likely to rise in the future.
Facebook doesn't break out revenue from Instagram, but it does separate mobile advertising revenue from overall advertising revenue, giving us a tiny window into Instagram's revenue potential. In the fourth quarter, Facebook's advertising revenue was $5.64 billion, up 57% year-over-year, with 80% of that coming from mobile. 
In 2016, eMarketer expects 9.5% of global mobile ad revenue for Facebook will come from Instagram and will be 14% by 2017. Analysts surveyed by Thompson Reuters expect Facebook to generate $25.5 billion in revenue in 2016 and $33.8 billion in 2017.
Assuming payments revenue stays around 4% of global revenues (it was 4.7% in 2015), and mobile ad revenue is around 80% of advertising revenue, Instagram should generate roughly $1.86 billion in 2016 revenue and $3.63 billion in revenue in 2017, using eMarketer's 9.5% and 14% totals.
These projected figured are enormous for a company Facebook paid less than $1 billion for, leading some on Wall Street to call it one of the best acquisitions ever. 
Sterne Agee analyst Arvind Bhatia, who rates Facebook shares "buy" with a $125 price target, believes Instagram will be an "important catalyst to the story and a key source of upside, going forward."
It's a tricky line that Facebook and Instagram will continue to have to walk, one between trying to maximize its acquisition to the fullest extent, while trying not to alienate users, something perhaps best illustrated by one of its own posts.