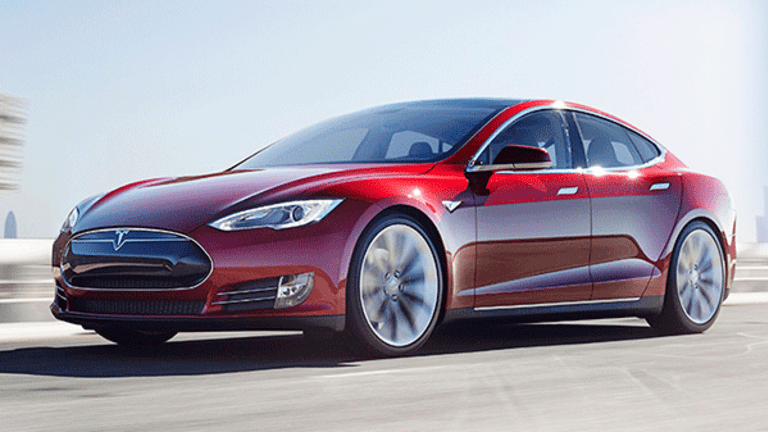 Publish date:
Will Tesla Make the Safest Car Ever? -- Tech Roundup
According to some analysts, Tesla's Model 3 could be up to 10 times safer than the average car on the road.
According to some analysts, Tesla's Model 3 could be up to 10 times safer than the average car on the road.
Tesla (TSLA) - Get Report CEO Elon Musk has been a big cheerleader for his company. And why shouldn't he be? Many view the outspoken executive as being overzealous, with his positive reinforcement acting as some sort of magical force pushing the stock higher.
Agree or disagree, the man has reason to be proud of his company. However, others have also been singing the company's praise as of late, including Morgan Stanley's Adam Jonas.
Jonas argues that Tesla's upcoming Model 3 could be up to 10 times safer than the average car being driven today. He said, "we think the Model 3 will feature hardware and software that provide a level of active safety that could significantly lead all other cars on sale today."
Because Tesla updates its cars' software over the internet, it's able to add new features to existing cars, so long as they have the hardware. Luckily for owners, Tesla has thought ahead and began adding all sorts of sensors and parts that will be used in future updates.
The Model 3 is expected to go into production later this year. For many, its $35,000 expected price tag and all-electric capabilities was the big selling point. But if Tesla can make the vehicle meaningfully safer than its competition, it may be an even bigger selling point for potential buyers.
Shares of Tesla closed at $244.78 Thursday, down 0.1%.
Sound identification has made a marked improvement over the years. We've rapidly built apps that identify songs in seconds, take our food orders and process them online and make out names and complex words despite accents and different pronunciations.
Thanks to these advances, Alphabet's (GOOGL) - Get Report YouTube has also seen improvements. While the company is currently being scorned for its controversial ad issues, YouTube remains a favorite for millions of people. In fact, its the second-ranked website in the world, (right behind Google).
When it comes to speech recognition, YouTube's automatic captioning system has improved as well. Thankfully for YouTube, it is owned by Alphabet, so its machine-learning advances have helped in this regard.
The captioning system is able to transcribe most or all of a user's video in order to provide captioning to viewers. However, it can now caption certain sounds too, like laughter, applause and music.
For now, YouTube is starting with just those three. Others are in the mix, but can be complicated for a machine to break down on its own. Down the road, more sounds should be included, like ring, knock, bark, etc. Additionally, more detailed sounds will be picked out. Rather than just "music," it will say "piano music," for example.
Shares of Alphabet closed at $839.25 Thursday, down 1.2%.
Is Lyft better than Uber? It depends on who you ask. Some customers prefer one brand over the other, while some just go with whoever's cheapest. For drivers, it's a different -- and complicated -- story.
At any one time, customers can face surge pricing. As demand for rides increases, the number of drivers (supply) shrinks. This in turn, drives up prices. So who's charging more, Uber or Lyft? For both driver and customer, it's an important question. At least, for drivers of both platforms.
Pay is a major component when choosing where to work. If you're a freelance driver though, it's probably the component to your choice, not a component. That's why Lyft's tip feature may become such a selling point. Uber has notably been against tipping -- customers see their fare, get their ride and pay. It's easy and done.
But Lyft has implemented the tipping feature to be in its app, making it incredibly easy to tip the driver who goes the extra mile (figuratively, not literally). Quickly, Lyft has seen the amount of tip payouts climb to $200 million.
The news is good for drivers, and comes at at time where Uber remains squarely in the spotlight, all for bad reasons.
This article is commentary by an independent contributor. At the time of publication, the author held no positions in the stocks mentioned.