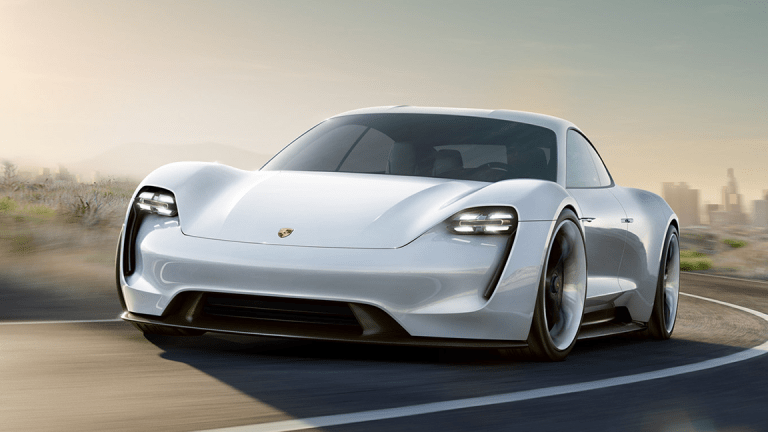 Will Porsche's Electric Car Push Take Down Tesla?
Fomerly known as the Mission E, Porsche's Taycan has some impressive specs and is scheduled to go into production in 2019.
Fomerly known as the Mission E, Porsche's Taycan has some impressive specs and is scheduled to go into production in 2019.
While Tesla Inc.  (TSLA) - Get Report is making strong progress in its production of the Model 3, other car companies aren't sitting by idly.
General Motors Co.  (GM) - Get Report recently said it will up its production of the Chevy Bolt as global demand for the mid-priced all-electric sedan remains high. Further, the Detroit-based automaker says it plans to introduce 20 electric vehicles globally by 2023. It's not alone either, as Mercedes-Benz has said it plans to introduce 10 electric vehicles by 2022. Others are falling in line, too.
One those players? Porsche, which has been pushing forward with its electric car plans. Just this month, it announced that its Porsche Taycan model, formerly known as Mission E, will go into production next year. The company says the new vehicle will look like a Porsche and drive like a Porsche.
Everything You Need to Know About Tesla
That's good news for drivers and maybe not such good news for Tesla. Some are even saying they expect the vehicle to start around $75,000, although added options and high-end versions of the car will likely run its top costs over $100,000. It should be noted, though, that Porsche has not provided a starting price for the Taycan.
The automaker expects a 250 mile range and a 0-60 mph acceleration in 3.5 seconds. The vehicle should also be capable of fast charging, reloading up to 80% of its battery in just 15 minutes. Porsche has also confirmed the Taycan will have wagon-like crossover version available, too. 
The Tesla Model S, considered the gold standard in electric driving, may finally have a competitor. It starts at $74,500 and its base model achieves 259 miles in driving range and can go from 0-60 in 4.2 seconds. That drops to 2.5 seconds if customers opt for the P100D version, Tesla's top offering.
Still, so far we haven't seen a production vehicle, particularly from a luxury automaker, that can produce something similar. Now, though, if Porsche can deliver with the Taycan, we have similar performance and price, and a sexy look. 
Besides, even if Tesla beats out the Taycan, the latter's brand name certainly has some leverage. Porsche also is slugging through multiple controversies and shouldn't face the same production headaches as Tesla either.
Worth mentioning is that Porsche just took a 10% stake in Rimac. While small and, likely a company many haven't heard of, Rimac has made quite a bit of progress in the high-end battery and hybrid engine part of the market. Notably, it's become a supplier to companies like Jaguar and Aston Martin. Plus, its own work is pretty impressive, too.
Combine Porsche's stake in Rimac with its own advances and it's shaping up as a formidable electric-car player. Toss in the realization that its parent company is Volkswagen (VLKAY) and Porsche has even more potential. Specifically, as Audi (another company under the Volkswagen umbrella) makes strides in autonomous driving, that too could bolster Porsche's futurist vehicles. Remember that Audi's A8 should be the first production car to feature Level 3 autonomous driving.
All of this is to say that, essentially, Porsche is very serious about its electric car ambitions and it will be important for Tesla to nail its execution if it wants to stay afloat as other high-end automakers enter the space.
So far, Tesla hasn't had a ton of competition (no offense to Nissan, Chevy and others). But with Porsche entering the mix with a real stud, only one thing's for certain: This race is about to get exciting.
This article is commentary by an independent contributor. At the time of publication, the author had no positions in the stocks mentioned.