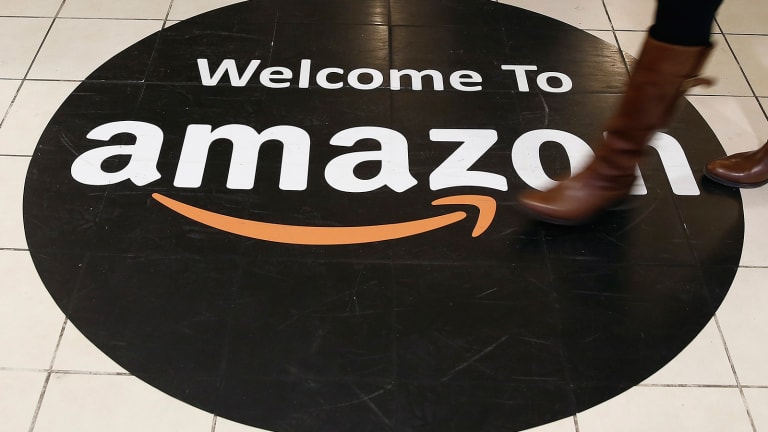 Will 'Pay With Amazon' Hurt PayPal?
The company is trying to expand its payments business outside the Amazon ecosystem by encouraging retailers put a 'Pay with Amazon"'option on their sites and apps.
The company is trying to expand its payments business outside the Amazon ecosystem by encouraging retailers put a 'Pay with Amazon"'option on their sites and apps.
NEW YORK (TheStreet) -- The last time you made a purchase on Amazon (AMZN) - Get Report , you probably didn't think twice about the checkout. You were probably already logged into your account, so you just clicked "Buy now" and went on your merry way.
That one-click process has become fairly standard on Amazon, but the e-commerce giant is now hoping to make that the standard outside of the Amazon ecosystem, too.
Amazon now lets other retailers integrate Amazon's "log-in and pay" feature within their own apps and sites. So if you visit Fathead.com, alongside the "Checkout with PayPal" (PYPL) - Get Report option, you will see the option to "Pay with Amazon." And similar to the PayPal process, once you log-in to your Amazon account, your stored credit or debit card can be accessed.
"We will continue to work with a variety of merchant providers, to make it easy to create an Amazon-like experience for Amazon customers," Amazon Payments Vice President Patrick Gauthier said in an interview.
Gauthier declined to share the number of retailers that currently offer "Pay with Amazon," but he did say that the service was outperforming PayPal for retailers. After the British retailer AllSaints added Amazon Payments to its Web site, the company saw its conversion rates increase by 34%.
The benefits for retailers who integrate Amazon Payments are clear, especially when it comes to mobile. The faster you can get a consumer through the checkout process, the better.
As Amazon found in a survey it published this week, one of the most important factors that consumers weigh when deciding to make a purchase online is trust. The survey also found that consumers felt more comfortable paying through Amazon, as opposed to Apple, Google, Facebook, and Pinterest.
That may be true that consumers trust Amazon, but it may also be true that this survey is missing a big part of the picture. Consider that it left off one major company when asking consumers about their comfort using new methods of payments-- PayPal.
Gauthier said they were only analyzing "new" payment methods and that PayPal has been around for so long it didn't qualify. "If people out there are comparing PayPal with what I do, we must be doing something right because we've only been at it for a short period of time," he said.
While there has been speculation that Amazon may team up with PayPal now that it has severed its ties to eBay (EBAY) - Get Report , it seems like that partnership is far from today's reality. Gauthier explicitly denied the notion of integrating PayPal on Amazon.com, saying that if consumers demanded PayPal as a checkout method, Amazon would reconsider, but "at this time it's not the case."
PayPal declined to comment for this story.
Amazon has taken its no-PayPal stance so far that it even removed the capability from Zappos after acquiring the shoe company. "We found that it was not only not adding any value to the customer, but it was also at times, by adding an intermediary, making the management of customer relationships more complicated when there was a dispute," Gauthier said.
Perhaps another factor in Amazon's decision not to partner with PayPal could be the rumblings of a rivalry.
"PayPal is a good company and a good brand," Gauthier said. "Amazon is a great company and a great brand."
But if Amazon really does want to extend that "great brand" outside the Amazon ecosystem, it certainly has a good fight ahead.
Consider that of the 200 top retailers in the U.S. and U.K., 67% said that after credit/debit cards, PayPal was the most popular payment method used by their customers, according to a recent survey from ChannelAdvisor. Amazon Payments came in second place, but a much distant second place, with only 15% of the retailers saying it was the most popular payment method.
If Amazon wants to change those numbers, it will have to convince these top retailers that Amazon Payments is superior to PayPal.
"Large retailers don't want Amazon Payments because it's a competitive threat," ChannelAdvisor executive chairman Scot Wingo said. "Because PayPal's not close to a merchant, those top retailers are more open to it."
Retailers will be wary of handing over the payment process to Amazon. They recognize the importance of holding on to data and are hesitant to turn them over to Amazon.
That same ChannelAdvisor survey found that 48% of the top 200 retailers are slightly or very concerned with Amazon's increase in market share in the e-commerce industry.
In order to win over those concerned retailers, Amazon will need to convince them that their payment service offers an invaluable benefit to the retailer, whether that be access to Prime members or Amazon's superior logistics infrastructure.
"To get over the competitive fears retailers have, there has to be something so compelling that causes them to get over that hump," Wingo said. "It's still very early days in the payments industry, so it'll be interesting to see how it plays out. Amazon plays a long game, so they're not close to giving up on payments."