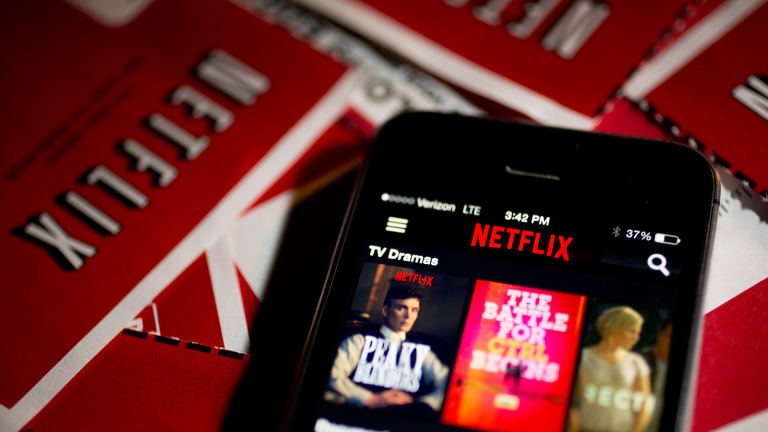 As Carl Icahn Sells, Will Netflix Stock Split Mirror Apple's Success?
Netflix is executing a 7-for-1 stock split taking a page from Apple's disbursement a year ago. But will that boost the shares?
Netflix is executing a 7-for-1 stock split taking a page from Apple's disbursement a year ago. But will that boost the shares?
Updated from 10:29 a.m. to include additional information regarding Carl Icahn selling his stake in the ninth paragraph.
NEW YORK (TheStreet) -- Netflix  (NFLX) - Get Report has been the top performer on the S&P 500I:GSPC for more than seven months despite having a stock price that retail investors might find intimidating.
Yet as the world's largest Internet-TV service executes a 7-for-1 stock split, investors are left to wonder whether Netflix shares can continue their meteoric rise, and in the process mirror the success that Apple (AAPL) - Get Report has had since it engineered a similar disbursement a year ago.
Shares of Los Gatos, Calif.-based Netflix were rising 2.5% to $698.50 on Wednesday, extending the advance of a stock that has gained 89% since November.
A year ago, Apple took a similar turn when the world's largest company by market capitalization also engineered a seven-for-one split. Since then, Apple shares have jumped 38%, with only a small part of that jump occurring in the days after the split. In both cases, the companies are betting that lowering the price of its shares can attract many of the same consumers who buy its products and binge-watch their shows. The stock split will take effect on July 2.
But does that mean Netflix can count on a comparable advance? Media analyst Richard Greenfield of BTIG Research, who has a 12-month price target for Netflix of $950, argues that the stock will move higher because its subscription "direct-to-consumer" model is far better suited to modern viewing habits than advertising-dependent TV networks -- not because it's splitting its stock. 
"Stock splits do not create economic value, simple fact" said Greenfield in a phone interview in New York. "We're focused on the fundamentals."
Similarly, TheStreet's Jim Cramer also cautioned against viewing the stock split as a catalyst for the shares: 
Exclusive Look Inside:
You see Jim Cramer on TV. Now, see where he invests his money and why. Learn more now.
Netflix has had an impressive track record so far this year. Shares began 2015 at half its current price, and have grown over three times its size in two years. As the service has become nearly standard in U.S. households -- surpassing 40 million subscribers domestically in the first quarter -- Netflix has become as much a name-brand as Apple. 
The company has opportunities to expand that brand beyond the U.S. markets, according to Nat Schindler, a research analyst at Bank of America Merrill Lynch. Schindler points out the potential for a "partnership with a Chinese media company to open up access to the large Chinese market," in a recent research note. Netflix currently has 20 million subscribers outside of the U.S. and has a plan to complete its international expansion in the next two year, according to Schindler.
Carl Icahn, activist investor and majority shareholder in Icahn Enterprises, has a differing opinion than most.
The subscription video company asked for shareholder approval for the split earlier this month, and share prices have risen more than 8% since then, anticipating the split. Shareholders approved up to a 30-for-1 split after the company's annual meeting in mid-June. The 7-for-1 split that Netflix is still rather high compared to other stock splits, and directly mirrors Apple's decision.
Shares will begin trading at the split price July 15, and with a similar brand recognition, split ratio and share price from Apple's split last year, Netflix could see the same success as its fruity brethren.