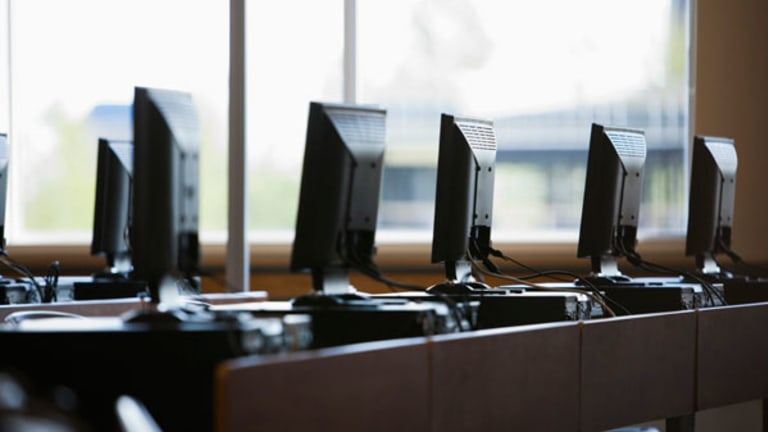 NEW YORK (TheStreet) -- Don't be alarmed if you find that the Internet is a tiny bit slower Wednesday. It's part of an organized protest in favor of stronger "net neutrality" rules and against the practice of large companies being able to pay for much faster connections to the Internet.
Web sites, including Twitter (TWTR) - Get Twitter, Inc. Report , Netflix (NFLX) - Get Netflix, Inc. (NFLX) Report , Etsy, Vimeo, Word Press, Foursquare and Reddit, are joining with dozens of digital rights organizations, like Electronic Frontier Foundation, Mozilla and Fight for the Future and NEt activists to show what they believe the Internet could look like in the future if high-speed providers such as Comcast (CMCSA) - Get Comcast Corporation Class A Report  , Time Warner Cable (TWC) and AT&T (T) - Get AT&T Inc. Report   were given preference.
Net neutrality is the concept that Internet service providers should treat all data that travels over their networks equally. Recently proposed regulations being considered by the Federal Communications Commission would allow ISPs to create "fast lanes" for Web sites that can afford to pay extra for faster connections for their users. In theory, fast lanes would be similar to HOV lanes on local highways.
Read: Why Apple Pay Is So Important to Apple's Future
In the same proposal, the FCC also announced it was considering reclassifying broadband as a telecommunication service which would serve to place Web access under neutrality rules currently on the books.
But when you create a separate fast lane you're also relegating many other Web sites to what will become a "slower lane" -- the sites which can't or won't pay extra for super-speed connections. Wednesday's protest will attempt to show what that slow lane could look like in the future. Many of the Web sites participating in the action will add an infinitely spinning graphic "page loading" warning on their sites which won't actually slow down page loading but should simulate what might happen if and when a two-tiered, paid priority system goes into full operation.
Google (GOOG) - Get Alphabet Inc. Class C Report has proposed a different kind of neutrality, one which wouldn't give preference to cable operators. Its plan would allow speed discrimination based on the type of data, but would prohibit ISPs from targeting individual organizations or Web sites. Google's CEO Eric Schmidt has explained that if the data in question is video, for instance, then there would be no discrimination between one person's data vs. another's. But under his plan discrimination between different types of data would be allowed so that voice data could be given higher priority than video data.
Read: Microsoft Can Use Minecraft Maker Purchase to Drive More Traffic
As required by law, the FCC has been gathering public comments on the proposed new regulations. In the process it has heard from hundreds of thousands of people and companies who have opinions on the matter. One group, The Sunlight Foundation, said it has checked more than 800,000 public comments and reports that "less that less than 1% of comments were clearly opposed to net neutrality."
Sept. 15 is the official end of the FCC's public comment period.
An interesting side note: The actual term "net neutrality" is believed to have originated in a paper called Network Neutrality, Broadband Discrimination. It was written by Columbia University Law professor and neutrality expert Tim Wu more than a decade ago. He is also an aspiring politician.Wu was defeated Tuesday in his bid for the New York Democratic lieutenant governor nomination in a statewide primary election.
-- Written by Gary Krakow in New York.
To submit a news tip, send an email to tips@thestreet.com.
Gary Krakow is TheStreet's Senior Technology Correspondent.