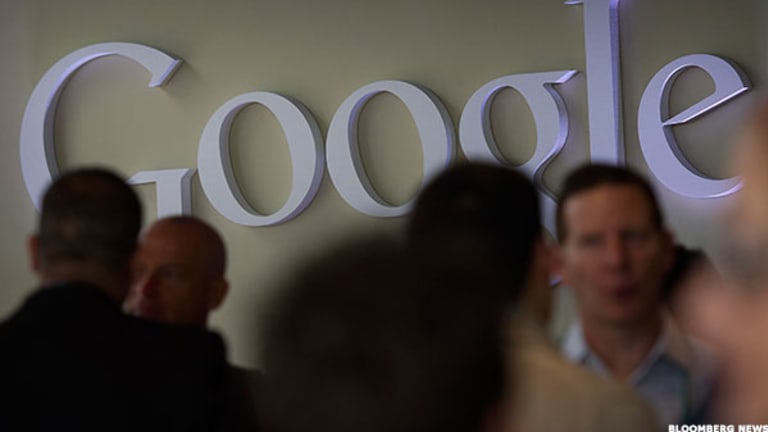 Publish date:
Will Google's Quarter Be Strong Enough to Shake Off Antitrust Concerns?
The EU's antitrust investigation will be a key topic of interest when Google reports first-quarter results.
The EU's antitrust investigation will be a key topic of interest when Google reports first-quarter results.
Updated from 1:16 p.m. to include information on Project Fi in the fifteenth paragraph.
SAN DIEGO (TheStreet) -- Google (GOOGL) - Get Alphabet Inc. Class A Report faces immense scrutiny when it reports first-quarter results on Thursday, and its slowing search business won't be the only thing under the microscope. The company heads into the report with the additional overhang of recent antitrust charges lodged against it by the European Union.
The EU's investigation, which alleges anti-competitive behavior associated with Google Shopping and Android device manufacturers, will be a key topic of interest when Google reports after market close. The threat of a potential $6 billion fine or forced changes that would affect Google's ad business could overshadow any signs of improvements in the company's advertising business or erase enthusiasm for Google's most promising products.
For Google's first quarter, analysts will be looking at paid click growth, an important indicator of how well Google's sponsored search results are performing, as an indicator of the health of Google's advertising business. Paid click growth is anticipated to decelerate again, Goldman Sachs analyst Heather Bellini wrote in a note. Bellini is forecasting 13% growth, a slowdown from 14% growth seen in the fourth quarter. In the first quarter of 2014, paid click growth was 26%. Bellini has a neutral rating for the stock and a 12-month price target of $540.
Google's first quarter "will be the first full quarter with Yahoo! serving as the default search engine for the Firefox browser in the U.S., which we see as an incremental headwind to paid clicks growth versus last quarter," Bellini said. "We also believe that the pace of growth of mobile search queries continues to slow as the installed base growth in these form factors also declines." 
Bellini is referring to one of Google's greatest challenges: finding a way to keep search relevant to mobile audiences who are turning to apps, not Google, for queries. 
This year, category-specific apps will collectively consume close to 27% of total mobile search ad spending in the U.S., up from around 25% in 2014, according to projections from research firm eMarketer.
Wall Street is anticipating earnings of $6.60 per share on gross revenue of $17.5 billion, according to analysts polled by
Thomson Reuters
. Revenue excluding traffic acquisition costs, or TAC, is estimated at $14 billion.
Google's Class A shares currently trade around $548, up over 3% for the year to date. The stock, however, is off by 7% since early March.
"We continue to see Google as facing pressure on net ad revenue growth and that this metric will decelerate faster than many in the market currently expect. Our concerns stem around our view of a maturing desktop search market and challenges in mobile," Bellini said. "We see Facebook (FB) - Get Facebook, Inc. Class A Report as a significant competitor in the mobile arena and as such, given the growth in that market versus the desktop market, we see Google's share of digital advertising continuing to move lower."
The EU's allegations of anticompetitive behavior, then, certainly aren't helping boost sentiment. Still, many analysts believe that any negativity impact associated with the battle is already priced into the stock, at least for the near term. Some also see a silver lining associated with the antitrust battle, which could drag on for years. BGC analyst Collin Gills said that a benefit of the investigation is that Google likely won't make any large acquisitions. And the legal trouble may open the door for one happy development: a humbler Google.
"A key question for post-call stock performance is if management will be more shareholder friendly on the call given the escalating antitrust battle ... and the need to placate employees," Bank of America Merrill Lynch analyst Justin Post said in a note.
On the shareholder-friendly front, analysts' have high hopes for incoming CFO Ruth Porat to open up the dialogue between Google and its investors, and to advocate for returns to shareholders. Analysts, however, don't expect any new developments to be announced on Thursday.
"We, like many investors we speak with, view the choice of new CFO Ruth Porat as a positive development," SunTrust Robinson Humphrey analyst Robert Peck said in a note. "While we don't have visibility into timing or particulars, the areas of focus seem to be greater disclosure around business lines and investments, operating leverage, and cash management."
Google executives will likely point to the items that promise to pad future results such as increased revenue from and viewing on YouTube, Android's still-growing share of the mobile operating system market, and the addition of ads to the Google Play application store. In addition, the company should spell out the implications of algorithmic changes to search rankings, which now favor mobile-friendly Web pages for people searching on smartphones.
And now that Google has launched Project Fi, it has that hot topic to talk up as well. Project Fi, announced Wednesday, is an only-pay-for-the-data-you-use U.S. wireless service for Nexus 6 phones. It piggybacks on both T-Mobile's (TMUS) - Get T-Mobile US, Inc. Report and Sprint's (S) - Get SENTINELONE, INC. Report networks to provide users with the fastest available network at any given time.
TheStreet's Chris Versace believes a Google wireless network could be a good thing for the company. "Does Google need to do this? In my view the answer is a resounding yes, and all you need do is look at the mobile explosion that is about to happen -- the Connected Car, the Connected Home, eHealth, the Internet of Everything and some other buzz phrases that you've probably heard."
The biggest variable for earnings, however, is just how much the continued strength of the U.S. dollar will eat into Google's first-quarter sales and profit. Currency weakness in other countries likely materially impacted the discretionary ad budgets for multi-national corporations, Peck said. Bank of America Merrill Lynch estimates around a negative impact of around $1 billion on total revenue, which is in line with other projections.
Whatever the case, Google has its work cut out for it if it hopes to impress Wall Street.