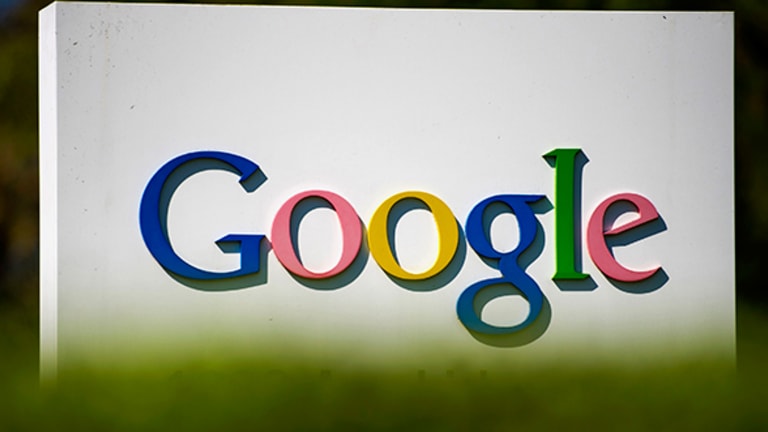 Will Google Become the Next Microsoft After the Antitrust Claims?
Analysts are brushing off concerns that a potential legal action by the EU will damage Google in the long run.
NEW YORK (TheStreet) -- The European Union's accusation that Google (GOOG) fixes certain search results to benefit the company's self-interests may cause a headache for the search giant's legal department. But Wall Street analysts don't see the claim weighing down the company's stock and setting it on a path toward becoming the next Microsoft (MSFT) .
"I don't think what Google may be accused of even comes close to what Microsoft did," Robert W. Baird & Co. analyst Colin Sebastian said via email. "Paying a fine is a better outcome for Google than any regulator forcing changes to their business model or search algorithm."
Microsoft's shares entered a decade-long period of lethargic growth after the company was forced to pay $1.8 billion in fines through 2012 in connection with its battle with the EU over claims of antitrust violations.
The Google investigation, which will now include a look at the company's Android mobile operating system, is the EU's largest-profile antitrust case since the Microsoft one. Google faces a potential $6 billion fine if it is found to be guilty of any wrongdoing. 
During the last year Google's stock has gained only 0.97%, broadly underperforming both the S&P 500 and the Nasdaq. In 2014, Google's revenue was $66 billion, a rise of 19% year on year. On Wednesday, at 2:41 p.m. EDT, GOOGL shares were priced at $541.77, a rise of about .37% thus far for the day.
Led by the EU's commissioner in charge of competition, Margrethe Vestager, the organization issued on Wednesday an announcement indicating it sent a statement of objections that could result in massive fines being levied against Google if it is found to have violated antitrust regulations by fixing search results.
"The Commission's objective is to apply EU antitrust rules to ensure that companies operating in Europe, wherever they may be based, do not artificially deny European consumers as wide a choice as possible or stifle innovation," said Vestager in a written release.
Google countered the EU claim in a blog by Amit Singhal, senior vice president of Google search. In the blog, Singhal cited a long list of the competition that Google faces in Europe summarizing the opinion of company officials who "respectfully but strongly disagree with the need to issue a Statement of Objections and look forward to making our case over the weeks ahead."
Even though Google faces an enormous legal headwind -- one that may take years to play out -- the company does have several things going for it.
"We continue to see Google as one of the best plays on global online ad and commerce growth at a compelling valuation," said Cantor Fitzgerald in a note. Cantor rated Google shares a buy with a $635 price target.
Morgan Stanley is enthusiastic about Google's new CFO, Ruth Porat (who happens to be Morgan Stanley's former CFO) and some new ad initiatives, including the app install ads inside Google Play but cautioned about the Internet firm's slowing core business. Morgan Stanley rates Google equal weight with a target price of $565.
"Google's core business may be slowing faster than previously expected, as our ad agency conversations indicate decelerating Google first quarter ad budget growth, primarily from slowing click growth," Morgan Stanley said in its note issued Wednesday.
This article is commentary by an independent contributor. At the time of publication, the author held no positions in the stocks mentioned.