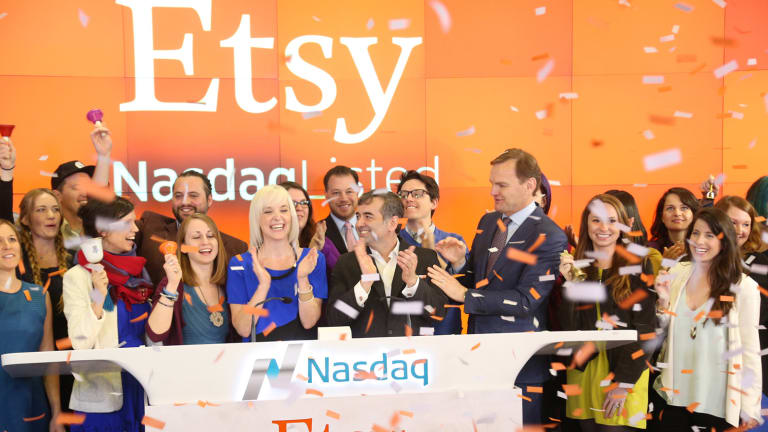 Will Etsy's Recertification as a Socially Responsible Firm Help Its Stock?
Etsy confirmed its status as a B Corporation as a public company. But will investors care?
Etsy (ETSY) - Get Report  reaffirmed its social values today with a recertification as a B Corporation, a label that means it values social and environmental responsibility.
The Brooklyn-based company had already been certified before its IPO, but it was required to be reassessed after going public. The corporation that hands out the certification, B Lab, decided that Etsy still warrants the label.
Etsy CEO Chad Dickerson celebrated the recertification in a blog post, saying that the news shows how the company is reaffirming its mission.
"The B Corp assessment, established by B Lab, is a way to measure how we're upholding our mission and values, and the progress we've made in creating value for all stakeholders, including our employees, our communities, our investors and the planet," he wrote.
Etsy is the second B Corp to go public, following Boulder, Colo.-based Rally Software Development (RALY) , and it is the first U.S. company to get the recertification after an IPO.
But while Dickerson celebrated the victory, it's unclear how the news will impact investors. 
Since going public in April, Etsy shares are down 76% to $7.14. Analysts and investors aren't happy with the growth potential of the company, and it's unlikely they will be swayed by a B Corp classification. In morning trading on Tuesday, Etsy shares were down about 6%.
"Investors have never put much weight on the B Corp certification, since it hasn't seemed to impact the company's decision-making so far," said Wedbush analyst Gil Luria. "While the renewal may be important for the company's brand and positioning towards its customers, it is unlikely to be noticed by investors."
On the one hand, the recertification solidifies the company's brand. which could help retain loyal buyers and sellers and perhaps even spur growth. But on the other hand, B Corp values may not align with Wall Street demands. For example, Wall Street may want Etsy to lower employee wages and stop giving 40 hours of paid volunteer time to workers, but those are two of the company's B Corp-qualifying actions.
"Primary responsibility of a corporation is towards the shareholders," IBISWorld analyst Zeeshan Haider said. Being a B Corp in theory "would authorize Etsy to take in social factors that might not align with shareholders," he said.