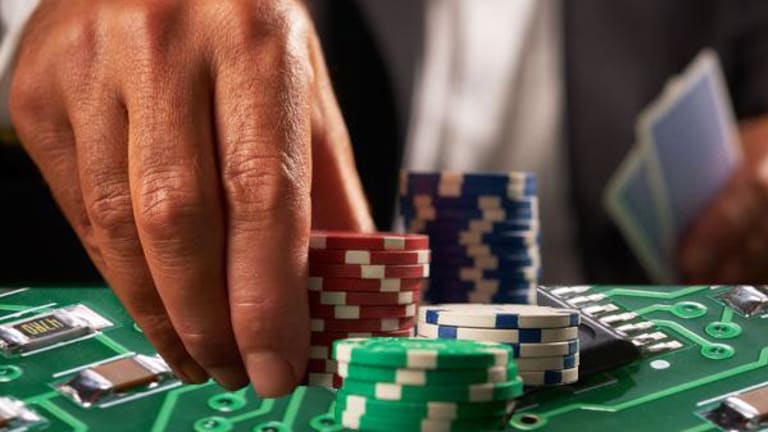 Will Cypress Semiconductor's New CEO Bet on Private Equity?
The San Jose, Calif.-based chipmaker has a new CEO who is touted for his ability to drive transformation.
Amid semiconductor industry consolidation and a July rumor that it is seeking strategic alternatives, Cypress Semiconductor Corp. ( (CY) - Get Cypress Semiconductor Corporation Report ) is making Hassane El-Khoury its CEO. The Betaville blog cited sources familiar with the matter saying Cypress has been working with bankers from Goldman, Sachs & Co. ( (GS) - Get Goldman Sachs Group, Inc. (GS) Report ) on strategic options after receiving interest from three private equity firms, including TPG Capital LP, and is looking for $15/share. This came shortly after a Financial Times report that Chinese private equity firm SummitView Capital was said to be pursing the San Jose, Calif.-based chipmaker.
In April, the company announced co-founder, president and CEO T.J. Rodgers was stepping down, and at the same time said it is acquiring Broadcom Corp.'s 'Internet of Things' portfolio for $550 million.
Rodgers founded Cypress in 1982 and took it public in 1986. In a statement on his departure, Rodgers said "This March, Valeta and I celebrated my 68th birthday in Mexico. Upon reflection, while I am still passionately interested in Element 14, silicon, I have always planned not to be spending most of my time in the last decade of my career immersed in the details of the operations, including those of the 7,000-person company that Cypress has become. And, to be completely candid, the board and even the executive staff have urged me to bring new blood into operations." He also noted, "In the future Cypress management will be able to assign a key project to me and count on it getting done right."
El-Khoury takes over as president, CEO and a member of the board, while Ray Bingham's role as chairman of the board has been expanded to executive chairman. Bingham stated the goal of the executive search was "to identify a CEO who would drive the transformation of Cypress ... [he is the] clear executive leader to deliver on Cypress's enormous potential and unlock its value for customers and investors."
El-Khoury, who played a key role in Cypress's integration with Spansion (bought for $1.6 billion in stock in 2014) over the last year and a half and with the Broadcom deal, stated that "Cypress is at an inflection point." El-Khoury was executive vice president of the programmable systems division. Before joining Cypress in 2007, he worked at Continental Automotive Systems in the U.S., Germany and Japan.
Bingham, who came up through the ranks of Cadence Design Systems Inc. ( (CDNS) - Get Cadence Design Systems, Inc. Report ), served as the nonexecutive chairman of Cypress's board since its merger with Spansion in March 2015. He serves on the board of Oracle Corp. ( (ORCL) - Get Oracle Corporation Report ), is the chairman of the board of Flextronics International Ltd. ( (FLEX) - Get Flex Ltd. Report ), and he has been the managing director of General Atlantic LLC, a technology-focused private investment firm.