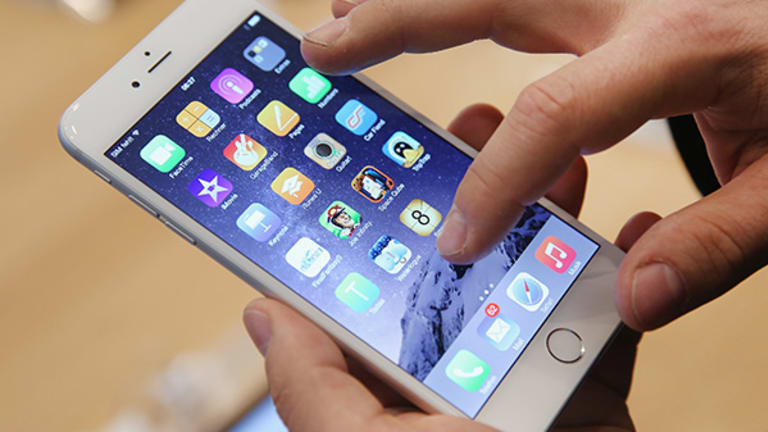 Will Bendgate Have Any Long-Term Effect on Apple's iPhone 6 Plus Legacy?
The "phablet's" ultimate flexibility is only one of the problems facing Apple's new products.
Updated from 2:07 p.m. to include Apple's response on the matter.
NEW YORK (TheStreet) -- As Apple (AAPL) deals with its latest snafu, dubbed "BendGate," there is the concern that Apple needs to take this seriously, though any impact on iPhone sales is likely to be muted.
Analyst Longley Zephirin of the Zephirin Group believes Bendgate is a problem which Apple needs to take seriously. In a phone interview he said, "It's not a short-term issue and it needs long term fixing." Zephirin believes Apple needs to take steps to improve the situation, at least "for the iPhone 7 and future generations."
The larger of the two new iPhone handsets - the one with the 5.5-inch touchscreen, dubbed the iPhone 6 Plus - has been shown to be "bendable" up to a point and then stays permanently bent out of shape.
In this case, the fear is not that owners will purposely try to determine the limit of bendability for themselves but that the large smartphone will accidentally suffer damage whether being carried in a front or back pants pocket, backpack or overloaded pocketbook. Every smartphone, tablet and laptop allows for some small degree of flexing. With a minimum of care and forethought the problem can be minimized if not completely avoided.
Cantor Fitzgerald analyst Brian White believes durability with the new iPhones is not an issue, and the concern surrounding it could be an issue for investors. "After taking both new iPhones for a spin at Apple's Special Event, and again this week in Hong Kong, concerns with bending the iPhones never crossed our mind as both felt very durable," White wrote in a note. "As such, we believe this concern offers investors an opportunity to take advantage of this media-hyped situation and participate in what we believe is the next "super cycle" for Apple."
The company told several publications, including The Wall Street Journal and CNBC that only nine customers had complained of the bending issue, and that it was extremely rare under normal usage.
But that hasn't stopped some users and potential owners from worrying about the problem and others from performing the same test on other large smartphone such as the HTC One, a Nokia Lumia 1020 and the new version of Motorola's Moto X (it was the most resilient).
Following the turmoil over Bendgate and yesterday's problems encountered by users installing a newly-released software update for iOS 8, Apple shares were off more than 3% to $98.20 in late afternoon trading in New York.
Another recently released large-sized smartphone, the curved-screen LG Flex was designed an extra degree of flexibility. LG decided to embrace the inevitable fact that large, lightweight smartphones tend to bend a little in everyday use.
Apple is aware of the issue, and is reportedly looking into consumer complaints. So far, the problem doesn't seem to have slowed down sales for the company's new phones. Earlier this week, Apple announced it sold 10 million new handsets in the first weekend of release, with the company saying it would've sold more if it had the supply. Currently, the devices are available in the U.S., Australia, Canada, France, Germany, Hong Kong, Japan, Puerto Rico, Singapore and the U.K.
An additional 20 countries will get the devices starting this Friday, Sept. 26, and the phones will be available in 115 countries by the end of the year. 
Apple is expected to report earnings in October, though an official date has not been announced. Analysts surveyed by Thomson Reuters expect the company to earn $1.39 a share on $39.48 billion in revenue.
In the meantime, someone has taken the time to make light of the iPhone 6 Plus problems by spoofing an Apple Webpage that claims the bending isn't a really problem but is an intentional feature.
JG Capital's Andrew Abrams says the flexing problem isn't big enough to do any real damage to the company. "If you need a smartphone that flexes more than a little pick one made solely out of plastic," Abrams said in a phone conversation. "One with an OLED screen. Or, you can choose an iPhone."
Gary Krakow is TheStreet's Senior Technology Correspondent.