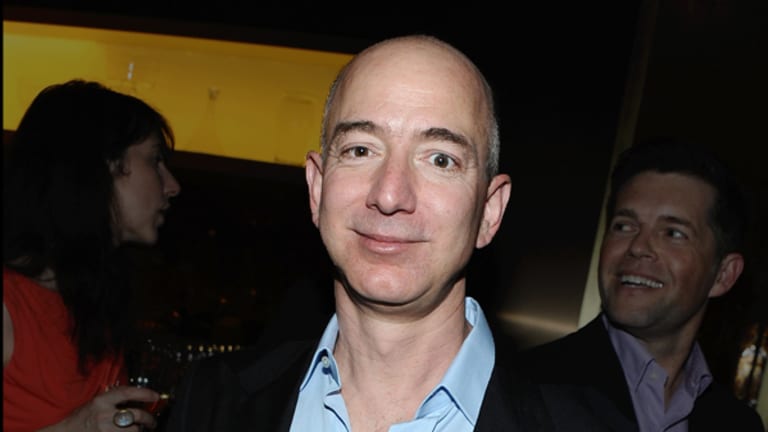 Will Amazon Handle the Strong Dollar Better Than eBay?
Amazon reports fourth-quarter earnings Thursday and analysts want to know how badly the impact of a stronger dollar hit its bottom line.
Updated from Jan. 28 at 5:17 p.m. with more information on international influences on Amazon and with current stock prices.
NEW YORK (TheStreet) -- Amazon (AMZN) - Get Amazon.com, Inc. Report is set to report its fourth-quarter earnings Thursday and analysts want to know if the online retailer can handle the impact of a stronger dollar better than its competitor eBay (EBAY) - Get eBay Inc. Report . In its earnings report Jan. 21, eBay narrowly missed estimates, reporting fourth-quarter revenue of $4.92 billion, up 8.6% year-over-year. Analysts were expecting revenue of $4.93 billion. eBay stock was trading at $53.43 on Thursday at noon, just above its closing price of $53.38 just before earnings were announced on Jan. 21.
Amazon investors want to know if they can do better. But it won't be easy. U.S. companies with international business are already suffering as the dollar strengthens. The dollar has been getting stronger against the euro -- more than 20% stronger since May 2014 -- and with the European Central Bank's €1 trillion ($1.15 trillion) stimulus, the euro looks headed even lower. The Swiss National Bank's decision this month to let the Swiss franc float against the euro hasn't helped.
According to Thomson Reuters, analysts expect Amazon to report quarterly revenue of $29.67 billion, up from last quarter's $20.58 billion. Earnings per share are expected to be 17 cents, a turnaround from last quarter's negative 95 cents.
According to SunTrust analyst Robert Peck, Amazon generates about 38% of its revenue outside of North America, so currency movements, the European economic outlook and other international troubles are likely going to have a real impact. Peck has lowered his revenue estimate for the quarter to $29.96 billion. The company has a buy rating on the stock and a $360 price target. Shares closed Wednesday close to $304, down 2.1% for the year to date.
Amazon is known for keeping its numbers close to the vest. But ChannelAdvisor (ECOM) - Get Channeladvisor Corporation Report , a company that makes e-commerce software for online retailers, reported Amazon's same-store sales growth for third-party sellers increased 21.8% year over year in December, down from 35.7% year over year in November. Amazon is outpacing its competitors in e-commerce. Competitors' online sales increased only 16.2% during November and December. By comparison, eBay showed only single-digit growth over the holidays.
Amazon's domestic strengths could offset the foreign exchange headwinds that have afflicted the earnings of many large multinational companies lately.
ChannelAdvisor CEO Scot Wingo points to a few reasons for Amazon's success over the holidays and the quarter as a whole. For one, Amazon extended the holiday season by starting Black Friday promotions earlier and running them longer than usual.
"They've invested a lot in fulfillment, so I think that extended the holiday for them," Wingo said in a phone interview.
"I think Amazon Prime is a real strength at Amazon right now," Wingo said of Amazon's premium delivery service. "That creates this lock-in that's really hard to get around if you're a competitor to Amazon. Another thing that could be interesting is mobile. All the mobile stats I see are in favor of Amazon; Amazon has won that coveted spot on smartphones as the app consumers go to."
However, Amazon rarely releases its numbers, especially when it comes to how many Prime members it has. Unlike Apple (AAPL) - Get Apple Inc. (AAPL) Report , Amazon does not break out revenue from individual products when it reports overall numbers. As Amazon beefs up its Prime offerings -- with perks such as extended free shipping, original content, and same-day delivery -- we won't know how these new services are affecting the number of Prime members and how Prime is growing.
Amazon recently said the number of Prime members was in the tens of millions.
Re/Code's Jason Del Rey predicted this will be the quarter Amazon finally discloses these numbers, but it seems doubtful that Amazon will alter its information-sharing strategy. Either way, it is clear Amazon will continue to invest in Prime, adding new content and partnering with such notables as director Woody Allen.
While Amazon maintains its spot as frontrunner in e-commerce, it won't be totally immune to foreign currency turmoil. The company's domestic business will likely offset international troubles, according to Cantor Fitzgerald analyst Youssef Squali. "A weak Europe, higher investments and continuous price cuts at AWS are likely to keep a lid on profitability, even as the company grows materially faster than the market," Squali wrote in a research note.
Merrill Lynch's Justin Post is also pessimistic about foreign influences on Amazon's revenue. "While we think Amazon benefited from strong Prime activity in the fourth quarter, especially in North America, we expect [foreign exchange] and Japan headwinds to weigh on fourth-quarter international revenue and first-quarter outlook," Peck wrote in a research note.
Besides revenue, investors and analysts are also looking to find out more about Amazon's other programs.
--Written by Rebecca Borison in New York
>Contact by Email.