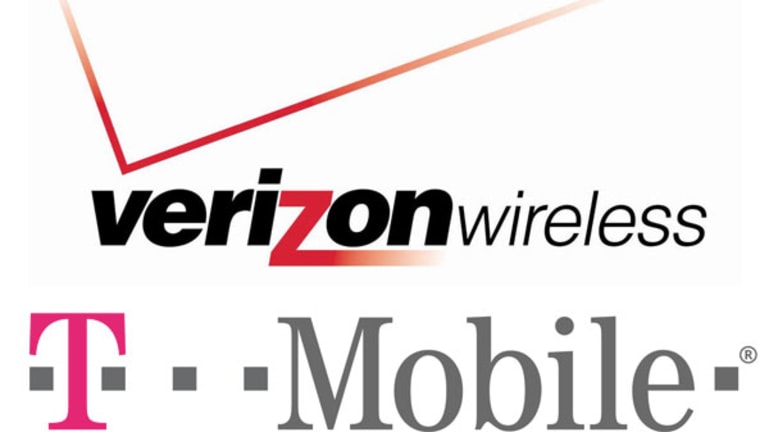 Why Verizon Has No Intention of Rolling Over Like T-Mobile and AT&T
Verizon CFO says despite increased customer 'churn' his company is 'a leader not a follower.'
NEW YORK (TheStreet) -- Verizon (VZ) - Get Verizon Communications Inc. Report doesn't care what some of the other carriers are doing to attract customers. A Verizon official says the company has no plans to offer its customers the ability to bank unused data limits like rivals T-Mobile (TMUS) - Get T-Mobile US, Inc. Report and AT&T (T) - Get AT&T Inc. Report .
On Thursday, Fran Shammo, Verizon's chief financial cfficer, rejected the idea, saying, "We're a leader, not a follower."
Shammo explained, "We did not go to places where we did not financially want to go to save a customer. And there's going to be certain customers who leave us for price, and we are just not going to compete with that because it doesn't make financial sense for us to do that."
Analyst Craig Moffett of MoffettNathonson told TheStreet in an email statement, "Verizon has mostly stayed above the fray and has maintained its premium positioning. But it is getting harder and harder to do. Customers see less differentiation between networks than they used to, and they are, therefore, becoming more and more focused on pricing and promotions. Data rollover is just one example of that."
Shammo's interview followed Thursday's release of his company's latest financial numbers. Verizon reported earnings of 71 cents a share for the fourth quarter, below analysts' estimates of 73 cents a share. Revenue grew 6.9% year over year for the telecom to $33.2 billion for the last quarter, compared to analysts' estimates of $32.69 billion. The top U.S. wireless carrier said subscriber growth was strong but its customer turnover, or "churn," rate was up slightly and profits fell because of competitive pressure.
Verizon shares were off 1.3% to $47.16 recently following a downgrade from overweight to equal weight by Barclay's analysts earlier this morning.
Jefferies' analyst Mike McCormack thinks some of these promotions could become permanent during the year. In a telephone interview, McCormack said Verizon made it clear on yesterday's call that it sees no need to compete with ideas like T-Mobile's or Sprint's (S) - Get SENTINELONE, INC. Report  aggressive half-off pricing and that "2015 will see less participation by Verizon and AI&T" in these low-price deals. McCormack said he thought T-Mobile still has unused data capacity to spare, which will allow that provider to continue offering aggressive deals to attract new subscribers.
Last month, T-Mobile announced its "Data Stash" initiative that allows customers to keep unused data and roll it over for use in subsequent months. T-Mobile's offer runs through the end of 2015. AT&T announced its similar plan a few days later. AT&T lets you roll over data into the next billing period but it has to be used in that month.
Yesterday, T-Mobile announced its latest attack on mobile industry practices when it said it would begin offering an easing of restrictions for customers without perfect credit reports. CEO John Legere says that beginning next week, if a customer can prove he or she pays their bills on time (over a 12-month span) they'll be allowed to take advantage of the carrier's "no money down" phone deals (or wait a year until their payment problems improve).
-- Written by Gary Krakow in New York.
This article is commentary by an independent contributor. At the time of publication, the author held no positions in the stocks mentioned.