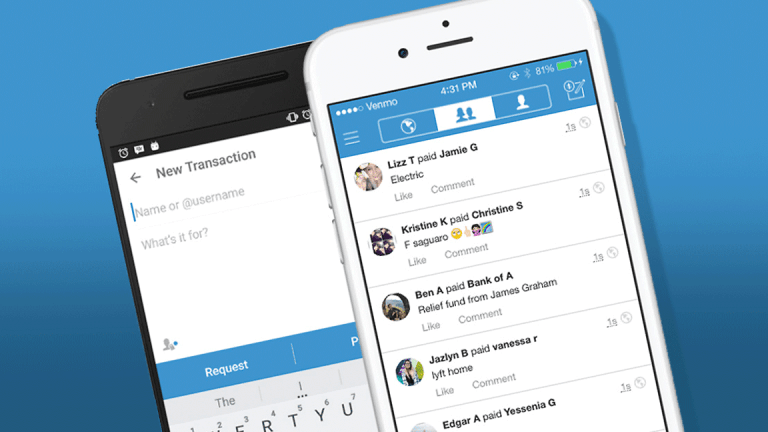 Publish date:
How Venmo Is Turning Into PayPal's Instagram
With the help of its social features, the mobile payments platform has seen enormous growth among younger consumers.
With the help of its social features, the mobile payments platform has seen enormous growth among younger consumers.
Much like Facebook's (FB) - Get Report $1 billion 2012 acquisition of Instagram, PayPal's (PYPL) - Get Report $800 million 2013 purchase of payments peer Braintree is looking like quite the bargain.
Part of the reason for this is that Braintree's core business -- providing white-label payments services for websites and apps -- has been doing quite well. Braintree, whose clients include Uber, Airbnb, Dropbox and Yelp, surpassed $50 billion in annual payment volume in 2015 and is likely doing more than that now.
But perhaps the larger reason -- at least from a long-term perspective -- why the Braintree deal looks like a steal today is the meteoric rise of mobile payments platform Venmo.
Venmo is often referred to as a peer-to-peer (P2P) payments service. And certainly, its rise has much to do with the use of Venmo's mobile apps to quickly and easily send money to other consumers, including for situations in which friends or relatives are looking to split a bill. However, calling Venmo a mere P2P service doesn't do it justice, especially today.
In addition to acting as a payments platform, Venmo functions as a social network of sorts. Users can (and often do) share their payment activity with friends, who in turn can like or comment on it through a "Friends" feed. A user can also make his or her payment activity fully public (the transaction amount isn't shared, but other details are), in which case complete strangers can see and react to it (and vice-versa) through a Public feed.
At this point, I suspect many readers are asking, "Why would I want to share my payments activity with my friends, never mind complete strangers?"
That's a bit like asking why untold millions of consumers choose to share with friends (and in some cases, strangers) what they ate, what stores they visited and what hotels they stayed at via Instagram.
For many younger consumers, constant sharing of one's daily activities via social platforms has become a way of life -- even if you and I have some misgivings about it. The same goes for interest and status signaling via social platforms, and in some cases a voyeuristic interest in what other people are up to. In their own ways, Venmo and Instagram cater to such consumers.
The other way in which Venmo is more than just a P2P service: Thanks to PayPal's efforts to promote Venmo to its giant online merchant base, more than 2 million U.S. merchants now give consumers the ability to pay via their Venmo accounts through their mobile websites and/or apps. The list includes retailers such as Walmart, Target, Foot Locker and Lululemon; unlike P2P Venmo transactions, which are free unless a credit card is used as a payment source, Venmo collects a fee (from merchants) when users rely on it to pay online sellers.
In addition, Venmo just rolled out a MasterCard-backed debit card. Consumers can use the card to pay for retail purchases via their Venmo accounts anywhere that MasterCard is accepted, as well as to withdraw cash from MoneyPass ATMs without paying a fee.
Paying an online merchant via Venmo isn't necessarily much more convenient than paying one via PayPal. And if a consumer already has a debit card linked to a bank account, adding a Venmo debit card might on the surface feel redundant. But if a consumer enjoys the social aspects of Venmo and/or the user experience delivered by its app, then it's not hard to grasp why he or she might choose to use it, given that there's no added cost to paying via Venmo relative to PayPal or a third-party debit card.
Certainly, Venmo's growth speaks for itself: Its payment volume rose 97% in 2017 to $35 billion, and was up 80% in Q1 to $12.3 billion. The latter figure is equal to roughly a quarter of PayPal's total first-quarter mobile payment volume, which rose 52% to $49 billion (37% of PayPal's total payment volume).
Just as Instagram's rapid growth helps protect Facebook's flank as Facebook's core platform sees declining use among younger U.S. consumers, Venmo helps protect PayPal's flank as it deals with a highly competitive mobile payments landscape. Notable rivals include everyone from Apple (AAPL) - Get Report (seeing strong volume growth for Apple Pay, which works on websites and apps in addition to physical stores) to Amazon.com (AMZN) - Get Report (reportedly set to offer merchants a discount if they adopt Amazon Pay) to Visa and MasterCard (they're looking to integrate their respective online instant-checkout services).
As its mobile payments growth shows, PayPal, aided by its convenient One Touch login service, has been doing a decent job of handling this competitive environment.
However, it's safe to say that the company's mobile competitive position with younger consumers wouldn't look nearly as strong if Venmo wasn't part of its empire.
PayPal, Facebook, Apple and Amazon.com are holdings in Jim Cramer's
Action Alerts PLUS member club
.