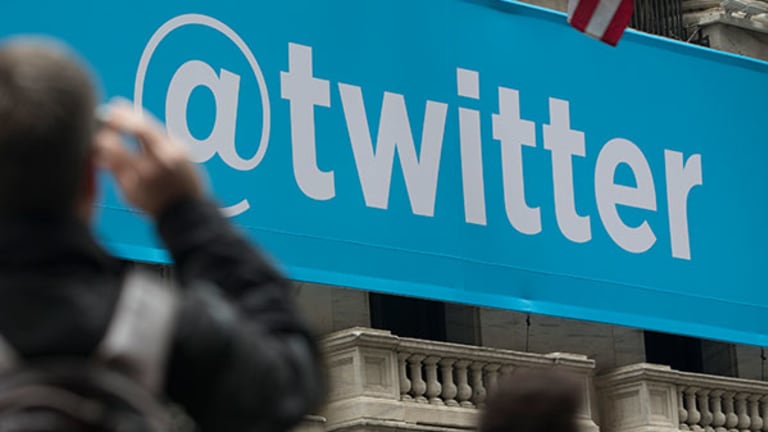 Why Twitter Shares Have Soared Over the Past Month
Twitter appears to have heeded investors' cries for more engagement, as the company is doing more with its user base, including keeping users up to date on World Cup scores.
Updated from 9:24 a.m. to include information on new CFO.
NEW YORK (TheStreet) -- Twitter (TWTR) - Get Twitter, Inc. Report appears to have heeded investors' cries for more engagement, as the company is doing more with its user base, including keeping users up to date on World Cup scores. Investors are responding in kind, sending shares up 20.8% since TheStreet said the micro-blogging site had more upside than Facebook (FB) - Get Meta Platforms Inc. Class A Report (up 12.5% over the same time frame).
The World Cup, soccer's biggest event and one that happens every four years, has been a boon for Twitter. Twitter noted that over 300 million tweets were sent during the group play part of the World Cup.
Despite the fact that World Cup has entered the knockout stage, engagement has not stopped. The Brazil/Chile game saw more than 16 million-related tweets, as Brazil (the host country) sweated out a win against Chile, winning the game via penalty kicks.
Why Twitter Has More Upside Than Facebook
How the World Cup Has Helped Twitter
Apple iPhone Ad Sets Tone for Smart Home Products in the Pipeline
The company recently took its App Install Ads feature out of beta, and with the World Cup proving a catalyst for engagement, this isn't lost on Wall Street. Pacific Crest Securities analyst Evan Wilson, who rates shares "outperform" with a $45 price target, believes this was the right move by the company. "With an initial impact in Q2 and a growing impact in Q3, App Install Ads have provided a near-term revenue catalyst at a time when the World Cup appears to have provided a strong engagement catalyst," Wilson wrote in a note. "This combination, plus a negative Street bias, has set up TWTR nicely, especially as investors rotate back to Internet stocks after the March to May sell-off."
App Install Ads could be a huge opportunity for Twitter, as Facebook has seen tremendous success with its App Install ad program, with Wilson believing it could be more than 30% of mobile advertising revenue for Facebook. Once the product is fully ramped up, Wilson believes it could be worth as much as an additional $200 million in revenue for Twitter at its current user base size, an issue that's weighed on Twitter since it went public.
Following the company's first-quarter earnings, Twitter CEO Dick Costolo promised to increase user engagement, making changes to the login process on mobile, making photos more prevalent and changing the look of people's profiles. Twitter has offered a look that's more similar to Facebook than the previous version of Twitter.
"We think of Twitter as this companion experience for what's happening in your world," Costolo said on the company's earnings conference call. He added that Twitter is already a mainstream platform, with users beginning to realize the value of the platform. It appears Twitter has done that, as it now shows World Cup scores on its home page, as well as various customizations pertaining to the World Cup.
In May, sentiment for Twitter had gotten extremely low, with the Relative Strength Index (RSI) on Twitter near 20, a level indicating the asset is sharply oversold and is due for an upturn. Currently, the RSI is approaching 70, a level that indicates the stock is overbought, and may be due for a pull back.
Despite the sharp run since the middle of May, Twitter still has several things going for it. The company, unlike other nascent technology companies, is profitable on a non-GAAP basis, having posted break-even results for the first quarter, on revenue of $250.49 million, beating analysts' estimates of a loss of 3 cents a share and $241.47 million in sales.
This morning, Twitter also announced a new CFO, Anthony Noto, the former Goldman Sachs investment banker who helped take the company public. Noto will receive an annual salary rate of $250,000, and will receive a one-time stock award in the form of Restricted Stock Units for 1.5 million shares of Twitter, vesting over four years. He'll also receive a one-time option grant to buy 500,000 shares of Twitter common stock on the date of grant, vesting over 4 years.
Noto replaces Mike Gupta, who will become Senior Vice President, Strategic Investments within the next 30 days.
Outside of boosting App Install ads, the company appears to be expanding into new businesses such as e-commerce, including a recent deal with Amazon (AMZN) - Get Amazon.com, Inc. Report, as well as recent images cropping up of "Buy Now" buttons being placed on tweets. Twitter also just confirmed it acquired New York-based mobile ad startup TapCommerce, for a reported $100 million.
Twitter could not be immediately reached for comment for this story.
Wall Street has chided Costolo time and time again, as the company only has 255 million monthly active users (MAUs), compared to more than 1.2 billion for Facebook. Though Twitter may never wind up being as big as Facebook in terms of user base, the company is demonstrating that it is working on increasing engagement, and making it a more user-friendly experience.
--
Written by Chris Ciaccia in New York
>Contact by Email.