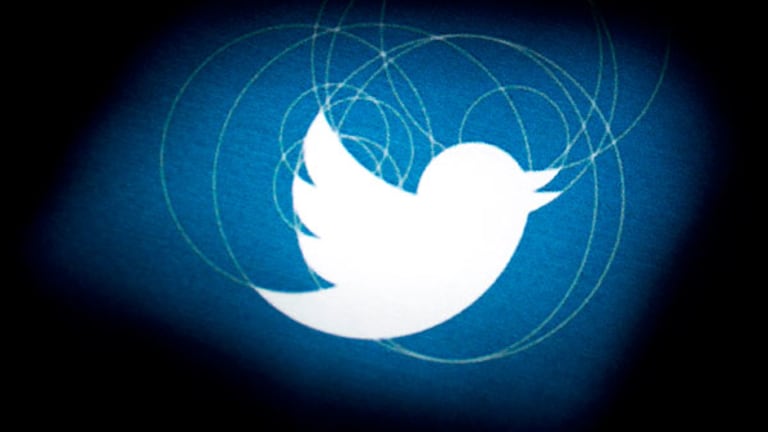 Why Twitter Investor Chris Sacca Is Changing His Stance on the Social Network
Twitter has had its fair share of critics since going public in November 2013, but now a major investor is going after the micro-blogging social network.
NEW YORK (TheStreet) -- Twitter (TWTR) - Get Report has had its share of critics since going public in November 2013, as the micro-blogging social network has had several major stumbles.
Throughout that time, a longtime Twitter investor and one of the most influential people on the medium, Chris Sacca, has stood by the company.
Long an adviser to the company (despite not having an official role), Sacca has defended it at nearly every turn -- when CFO Anthony Noto made a private message public (known as a DM fail), when the company had an earnings leak, and when many on Wall Street were calling for CEO Dick Costolo's head.
Now, Sacca is going to be a lot more candid about the company.
In a blog post on his Web site, Sacca, who runs the venture capital firm Lowercase Capital, has come out (some might say guns blazing) announcing that he no longer is going to coddle the San Francisco-based Twitter publicly.
All thanks to TheStreet's and CNBC's Jim Cramer.
A key passage from the post:
"During all of these years, I haven't been as candid as I could be in public discussions about Twitter. I have made dozens of television appearances in support of Twitter and thousands of emails and calls with analysts, investors, reporters, potential hires, partners, you name it. I always felt like the birdie was one of my children and I needed to defend it at all costs. I never expressed any frustration or disappointment at missed opportunities or any exasperation at what wasn't happening. However, a recent Periscope I did with Jim Cramer at CNBC changed my stance on that.

"In the hours following the latest earnings call, Cramer and I traded insights as to what we each thought was going wrong and what could be better. It felt good to be both a critic of Twitter and yet reaffirm my steadfast belief in its potential. It was cathartic to say what was on my mind to an audience broader than just a few executives at the company. Most importantly, those messages resonated with the viewers, some of whom were Twitter employees. My Tweet mentions and email inbox were filled with passionate stockholders and Twitter users who cared deeply about what was ahead for the company."
Sacca has not commented recently on how exactly many Twitter shares he owns, simply saying he "owns a lot personally" and in his funds. In 2011, Sacca's fund had purchased $400 million in Twitter shares, giving him a 9% stake. In October 2013, one month before the company's initial public offering, Sacca teamed up with private equity firm Rizvi Traverse, with Rizvi owning 15.6% of the company.
All indications are that Sacca is not reducing his stake, despite the change in stance.
Twitter has long come under fire because it does not have the size and scale that Facebook (FB) - Get Report has. Facebook has 1.4 billion monthly active users, vs. 302 million for Twitter.
Twitter's domestic growth has slowed to a near crawl, with the company adding just 2 million monthly active users since the third quarter of 2014, and only 8 million since the first quarter of 2014. Internationally, the company has fared a bit better, adding 15 million users over the past three months and 47 million since the first quarter of 2014.
Exclusive Look Inside: You see Jim Cramer on TV. Now, see where he invests his money and why he owns Twitter in his multi-million dollar portfolio. Want to be alerted before Jim Cramer buys or sells TWTR? Learn more now.
"Twitter's top-line is forecast to rise from $1.4 billion in 2014 to more than $9 billion by 2021," Jim Cramer wrote last week regarding Twitter. "When we look at the drivers of this, monthly active users (MAU) will have to rise to 550 million and ad loads will have to rise to 3%. While it's possible that both MAUs and ad loads will fall below those estimates, we believe the risk/reward is skewed heavily to the upside, especially considering how low the sentiment is currently. Our target is $52."
Twitter has fallen way behind its peers among teens, indicating that this coveted demographic for advertisers doesn't see much use for the service.
In recent months, the company has tried to address these concerns, with changes to private messaging and the homepage and perhaps, most notably, the set-up of an instant timeline for people as soon they sign up for an account.
Twitter has also long had a problem with hate-filled messages and trolling (when users send nasty messages and try to goad others into fights).
The most high-profile and recent case of this was experienced by President Obama, who recently launched his @POTUS account. Costolo has said in the past the company is working toward ending these kinds of attacks, but much work remains to be done.
Despite these issues (and several more), Twitter has a lot going for it:
The recent deal with Google to bring tweets to Google's real-time search.
Its video properties, which CFO Anthony Noto talked about extensively at a recent J.P. Morgan conference, of which one, Periscope, helped shape Sacca's new mindset.
It is an open platform where anyone can talk to anyone, be it a politician, Wall Street heavyweight, celebrity or average Joe or Jane.
Last, but certainly not least, is one of the primary reasons people use Twitter -- news breaks on it. Often times, you'll see people discussing an event on Twitter before it hits TV.
The platform is perhaps the world's most powerful, given its ability to affect change both good and bad: the Arab Spring, Egyptian revolutions, the plane crash in the Hudson and fake reports that the White House had been attacked and President Obama was injured.
It will be interesting to see what changes or suggestions Sacca makes (Perhaps he'll take this reporter's suggestion that Twitter should no longer do traditional earnings calls.) to give more utility for the platform, and ultimately drive the shares higher, as revenue and earnings increase.