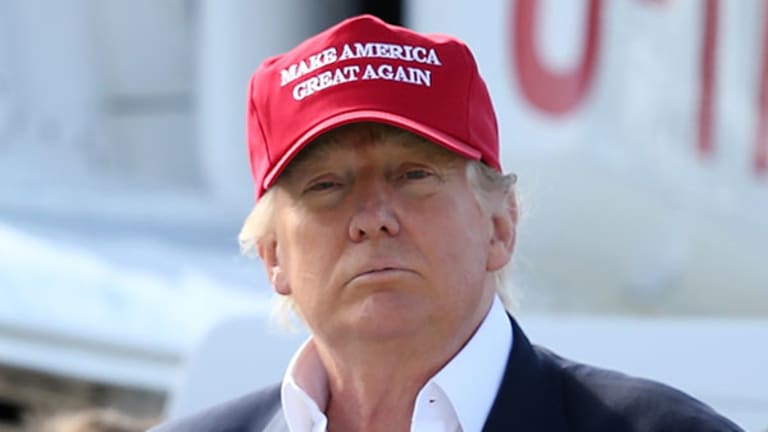 Why Tonight's GOP Debate Could Be Big for Twitter
In need of users and ad revenue, Twitter could catch some of the millions of eyeballs tuning in
NEW YORK (TheStreet) -- After releasing disappointing active user numbers last week, Twitter (TWTR) may have a shot a redemption Thursday night, thanks to #GOPDebate.
As millions of likely Republican voters watch the 10 highest-polling Republican candidates in the 2016 presidential race debate each other, Twitter and other social media platforms will be vying for voter attention.
Based on its most recent earnings report, the San Francisco-based social network needs the users: It reported an average 304 million monthly active users (excluding SMS users) for the second quarter of 2015 on July 28. That fell short of the 310 million consensus estimate.
Well-watched events similar to Thursday night's debate have given Twitter a user boost in the past, said Blake Harper, an Internet equity research analyst at New York-based Topeka Capital Markets. The key, he said, is building "dedicated products and events around those experiences," such as hashtag event pages, which aggregate tweets and accounts associated with an event.
Twitter has set up those pages for events since 2012, including the 2014 FIFA World Cup in Brazil and the 2012 U.S. General Election. The page for the latter event included a total of 31 million tweets posted on Election Day alone, according to the company.
While it's unlikely that Thursday's debate will reach those totals, viewership is likely to be in the millions. The first Fox News-hosted debate of the 2012 GOP primary season drew just over 5 million viewers, according to information from television ratings firm Nielsen, published by TVNewser.
And with Donald Trump, a real estate mogul and the former host of NBC reality show The Apprentice, already attracting a lot of attention for his thoughts on race, immigration and his fellow Republicans, that number could be higher this time.
That could be particularly good news for Twitter's advertising clients, who will likely use the first nationally televised debate of the 2016 election to test the water for ad revenue. "There definitely will be advertisers that are experimenting to see how their ads perform" on Twitter Thursday night, Harper said.
For Twitter, that will mean making sure ads targeted directly at users by advertisers are successful.
"Direct response advertising is growing quickly and now represents 25% of total ad revenue," BMO Capital Markets analyst Daniel Salmon wrote in a July 29 note. "As importantly, DR's more self-serve sales orientation continues to provide a tailwind to long-term margin expansion."
When it announced the debate in May, Fox created a challenge for Twitter and other social media companies looking to grow ad revenue and user numbers through the event: The network partnered with rival Facebook (FB) , which will provide user sentiment data on select issues during the debate and user-submitted questions that may be asked during the debate.
Anchors of programs on Fox channels typically include content from Facebook in their broadcasts "to connect with viewers authentically," Andy Mitchell, Facebook's director of news and global media, said in a statement announcing the partnership in May.
While Twitter has beaten Facebook to some important innovations, such as the use of hashtags, Twitter still lags Facebook in audience size, Harper said.
For June, Facebook reported 1.49 billion monthly active users, almost five times Twitter's monthly average for the second quarter.